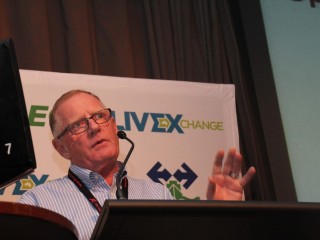 The imperative facing the northern Australian cattle industry to reduce its heavy reliance on Indonesia has once again been reinforced by the latest breakdown in diplomatic relations between Canberra and Jakarta over spying allegations.
To a large extent exporters have already made considerable inroads towards diversification this year by increasing shipments to Vietnam (on track to take 50,000 cattle this year compared to just 3500 last year), the Philippines (40,000 cattle) and Malaysia (20,000).
Another country that is creating considerable excitement as a potential growth market is China.
The world's most populous country ticks many boxes as a possible major market of the future for Australian feeder and slaughter cattle, which is why Australian exporters and their industry representatives have been directing considerable time and energy toward the challenge of securing a health protocol with China that can allow the trade to commence.
But while commercial interests and provincial Governments within China show a strong desire to get a trade underway, the big unknown at this point, according to one of the Australian red meat industry's foremost experts on South East Asia, is whether China's Central Government actually wants to import feeder and slaughter cattle.
Tim Kelf from Prime Advice Consulting, who serviced the SE Asian region for more than 30 years with Meat & Livestock Australia and its predecessors, told the recent LiveXchange Conference in Townsville that there were many reasons to support the view that China could become a significant market with the potential to rival Indonesia in volume terms.
In simple terms, its huge and growing middle class is demanding more beef, its domestic herd is no longer capable of satisfying that demand, and its cattle industry is getting smaller as more and more small farmers leave the land to take up work on the urban fringes.
At the same time the illegal or 'grey' channels which have traditionally helped to supplement supply in China have also been severely disrupted by Government policy crackdowns this year, resulting in significant increases in boxed beef imports through official channels (hence the remarkable rise in Australian beef exports that has been witnessed to the market in the past 12 months).
Industrialisation of Chinese cattle industry
While beef imports will be needed to bridge the gap between demand and local production for the forseeable future, the Chinese Central Government has clearly indicated that it wants to see its own domestic beef industry return to a position of provding self-sufficiency.
Food security is an essential goal for any country, not least of which for a country with almost 1.4 billion people, where ensuring a stable supply of food is mandatory to maintaining social harmony.
With pastoral land under pressure from urbanisation and degradation, China is not in a position to produce the cattle it needs off grass.
However, like Indonesia, it has no shortage of agricultural by-products suitable for feeding cattle. For this reason the Chinese Central Government has been encouraging the industrialisation of its beef sector through the construction of large-scale feedlots and modern abattoirs.
As Mr Kelf pointed out, this has created a potentially significant opportunity for Australian exporters to supply Chinese feedlots with the cattle and productive genetics they will require to optimally utilise their understocked facilities now and into the future.
However there are many barriers to be overcome at the diplomatic table before that can happen.
Protocol negotiations
Australian industry and Government officials have been meeting with their Chinese counterparts for a number of years in an attempt to reach an agreement on the health protocols that would be required for a feeder and slaughter cattle trade between Australia and China to get off the ground.
Just one of the many issues under discussion surrounds import requirements relating to the Bluetongue Virus, which could potentially restrict exports from northern Australia.
This is also the section of the Australia's cattle industry most geared to live export and most in need of alternative markets for cattle. As a result, for significant trade to be established, agreeing to workable health conditions that allow access to China from northern Australia will be essential.
Australia's position is helped by the fact that Australian cattle do not carry the harmful, pathogenic strains of Bluetongue that can cause commercial loss. Additionally, numerous studies have confirmed that several Bluetongue serotypes exist within China's own cattle herd.
However, the outcome of the current negotiations is unlikely to be decided solely on technical details.
Rather, as Mr Kelf explained to the recent conference in Townsville, the big question now is whether the Chinese Central Government actually wants to import feeder and slaughter cattle.
On this front there has been very little to indicate where it stands.
Does the Chinese Government want feeder cattle imports?
Existing levels of trade suggest that China has no ideological opposition to importing cattle given that it imports more than 50,000 dairy breeding cattle from Australia each year and a handful of beef breeding cattle from southern Australia. These cattle are imported under a detailed breeding cattle health protocol, the complexity of which applies significant costs for exports.
Australian exporters have also indicated that demand from commercial players and provincial Governments within China for Australian cattle is also very strong.
Ultimately the outcome will be decided at political level within China.
In an observation that raises strong parallels with the internal politics that influence trade outcomes in Indonesia, Mr Kelf said there are signs within China that its minister of commerce supports the importation of beef cattle to improve beef supply and to lower beef prices, but its agriculture minister, whose job it is to protect local farmers, opposes the idea.
"I'd be trying to find out right now what is going on, digging holes in the (Chinese) bureaucracy, and just finding out, are they fair dinkum about wanting to take our cattle in," Mr Kelf told exporters at the recent Townsville conference.
"They don't necessarily want to."
'Mind-blowing' potential
While it was difficult to know if China would agree to establish a trade in Australian feeder and slaughter cattle, if it did, the opportunities were "mind-blowing", he said.
If Australia can achieve a breakthrough in negotiations, Mr Kelf believes the future could lie in exporting young bulls to the market.
China's focus was on securing an affordable supply of red meat protein. It was not looking for high-end MSA product, rather cattle that produce red meat easily.
"I think that (exporting young bulls) is something that needs to be thought about, because the Chinese are used to eating young bulls."
His take home message was that anyone aspiring to deal with China had to invest time and energy in China and work hard to understand the market deeply.
"It is critical to understand Government policy. You need to have contact with the Government to understand what is going on, and people who can reliably tell you what the feelings are."