The only registered export yard available for cattle being shipped to Indonesia from Townsville will have to partially close in coming weeks, just as trade activity is in the process of gearing up.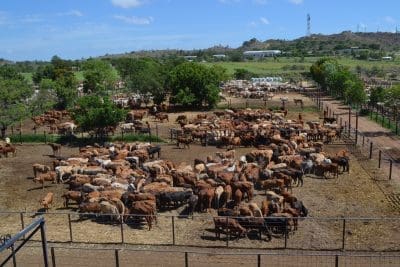 But the owners of the Dalrymple Saleyard at Charters Towers say they are doing everything they can to minimise and avoid any potential disruption to the live cattle trade.
Exporters can only use formally approved 'Registered Establishments' (REs) to assemble and quarantine cattle prior to export.
At present the only RE exporters can use to ship cattle from Townsville to Indoneisa is the Dalrymple Saleyards at Charters Towers, because it is the only facility with a current approval from the Indonesian Government.
Delays caused by COVID in recent years have apparently led to approvals for other premises expiring, with other REs still waiting for visits by Indonesian auditors to gain re-approval.
But even the last remaining accredited yard will not be fully available in coming months, just as the northern export season is starting to gain momentum as first round musters are completed.
In a note sent to exporters last week Dalrymple Saleyards manager Jeff McHugh advised that the facility will have to close in late May/early June due to urgent soil replenishment work that is required to keep the 55 year old facility compliant with export and welfare standards.
Mr McHugh told Beef Central the saleyard closure is being managed around existing export bookings with a 14-day window in late May, early June when no shipments are booked for the yards currently earmarked for ground-works to be conducted.
He added that the closure would be a partial closure allowing for small shipments to still be handled if required.
"We're planning to do the project in stages, so if there is a small shipment coming they can roll in the yards behind us," he said.
Mr McHugh said the yards opened in 1968, and work is now needed to re-build areas of the ground where it has deteriorated and eroded over time.
He said he had received some concerns from exporters when he advised of the pending closure, but said the team was committed to working with exporters.
"We're not going to turn away export from possibly Indonesia's only licensed yard."
Last year the Dalrymple Saleyards ranked as the number two saleyard in Queensland in Meat & Livestock Australia's rankings of saleyard cattle turnover, with 170,000 cattle handled in 2022, 50,000 behind the number-one ranked Roma with 220,000 cattle.
Mr McHugh said the season is starting to ramp up now as first round musters are completed, with 3500 yarded at the weekly Charters Towers store sale last Wednesday.
The issue has highlighted the tenuous nature of a supply chain that is currently reliant on a single approved export facility, with no clear indication yet as to when Indonesian auditors will return to conduct the audits needed to expand the number of registered establishments approved for export from Townsville to Indonesia.
Australia has exported 87,565 to Indo so far this year, down on the 102,000 exported in the first four months of last year, with 55,256 of the total to Indonesia this year being exported from Darwin and 24,156 from Townsville.
What's happening with live export prices? See Beef Central's daily email newsletter tomorrow