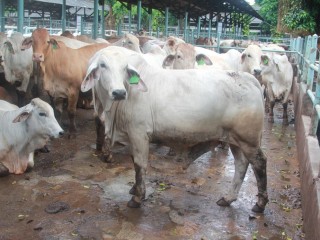 While yesterday's release of new permits for slaughter-weight cattle has added to positive signs of recovery for the live export trade, it is feeder cattle permits that producers who are geared to supplying the Indonesian market most desperately need.
And on that front progress continues to stall.
After four years of being required by Indonesian policies to produce cattle for export weighing less than 350kg, few northern producers are now in a position to benefit from Indonesia's sudden new orders for heavier slaughter-weight cattle, particularly in a dry year.
Fourth-quarter permits for the import of 46,000 feeder cattle just became valid on October 1. However, these permits have been on exporters' radars since the start of this year, and it is estimated that around 75pc of the feeder cattle required to fill this quota would have been secured by exporters by the time the permits became valid on Tuesday.
Three shipments have already left Townsville under the order, others have left from Darwin and another is due out of Broome next week.
With somewhere around just 10,000 cattle left to be secured to fill the fourth-quarter permits, what northern cattle producers geared to supplying Indonesia most need now is not new orders for slaughter weight cattle, but orders for feeder weight cattle.
Indonesia needs more cattle to ease its supply problems and to lower its beef prices, and the sudden release of new permits for 75,000 ready-to-slaughter cattle reflects it desire to address that need as quickly as possible.
However releasing new permits for feeder cattle as well would help it to achieve its goal much faster, trade sources believe.
Producers in the live export zone would be able to supply large numbers of feeder cattle very quickly, but will struggle to supply the large numbers of slaughter cattle Indonesia now wants. At the same time Indonesian importers are also in desperate need of feeder cattle to fill feedlots after being reduced to less than 30pc capacity by import quota restrictions over the past two years.
Another issue is that the further south exporters have to reach to find the cattle needed to fill slaughter weight orders, the more they will have to pay, which in turn works against Indonesia's stated desire to reduce the price of beef in Indonesian wet markets.
One export source pointed out that with bullocks reportedly fetching 180c/kg at Roma, a shipment out of Brisbane wasn't likely. Some exporters are also said to be questioning whether to go after the order at all, given the limits that importers have been told to place on prices to support the Indonesian Government's aim of lowering beef prices in wet markets.
The latest permit for 75,000 slaughter weight cattle released yesterday is a one-off permit that is not linked to the new reference-pricing system Indonesia has introduced to replace the quarterly import quota system.
The new permit system has the potential to deliver substantial new permits for feeder-weight cattle, but technical disputes continue to delay the release of new permits under the revised system.
It is understood that there are concerns from Australia's end that some of the regulations Indonesia's agriculture ministry wants to attach to the new permits 'over-reach' the minimum regulatory mechanisms required to support the policy. One demand is for Australia to provide a revised health protocol for feeder and slaughter cattle. Australian industry sources say a proposed protocol was presented to Indonesian officials yesterday, and discussions on the issue are progressing.
Beef Central incorrectly reported yesterday that Prime Minister Tony Abbott's visit to Indonesia had helped to resolve the technical disputes that continue to block the release of new permits under the reference-price system.
Trade sources have advised that while the Prime Minister's visit had helped to bring higher level attention on both sides to the issue, a resolution has still not yet been achieved.
Meanwhile, exporters are now looking for cattle to fill the new slaughter order.
Katherine based export cattle buyer Richard Bond from Bondstock said finding the cattle Indonesia now wants is likely to present some challenges.
"We were finding it hard to find enough cattle to keep Vietnam (which also buys slaughter-weight cattle) going," Mr Bond said.
"Throw these on top, it is going to create a bit of a supply issue.
"It wouldn't matter what was going on in the world, slaughter cattle in October are difficult to find."
Were Indonesia to release new permits for feeder cattle in addition to slaughter cattle, shipments containing a mix of both types could filled for export far more quickly, he said.