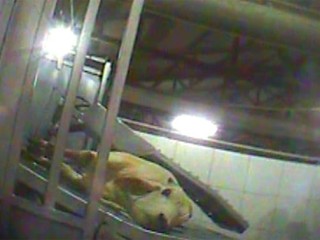 For the second time in nine months Australia's live export industry is facing intense pressure to defend its animal welfare credentials after new footage showing allegedly fresh cases of animal abuse in Indonesian abattoirs was broadcast on ABC television.
Video images shown on ABC Lateline last night documented several examples of animals being mistreated in Indonesian abattoirs, filmed by undercover Indonesian investigators on behalf of Animals Australia.
An investigation into the authenticity of the footage and whether it involves Australian cattle and Australian accredited supply chains is still underway by the Department of Agriculture, Fisheries and Forestry, and is due to be completed by the end of this week.
Animals Australia said the footage was filmed at two abattoirs in Jakarta – Temur Petir and Caking – in January.
Images shown last night included footage of workers cutting an animal while it was vocalising and without checking first to see if it had died, animals being prodded in the face with metal objects, the use of banned unmodified Mark I restraint boxes and the hosing of animals with water immediately prior to and after slaughter.
While the footage did not contain the same level of brutality as that broadcast by Four Corners last year, which led to a two-month shut down of the trade, the RSCPA told Lateline that it could identify at least six examples of breaches of Federal Government and OIE animal welfare standards in the video footage.
Animals Australia says it is confident that one of the abattoirs involved is among the 62 that have been approved for accreditation under the Federal Government's Export Supply Chain Accreditation System.
Of the 10 animals shown in the original three-hour footage, Animals Australia believes at least one is Australian, based on its ear tags and its Drougthmaster appearance.
The footage comes six months after supply chain reforms designed to prevent animal welfare breaches in abattoirs that handle Australian cattle were introduced by the Federal Government.
Animals Australia claims the footage shows that the protection of Australian cattle cannot be guaranteed, and that breaches of animal welfare continue to occur in Australian Government accredited abattoirs.
DAFF is conducting its own independent investigation into the authenticity and timing of the footage but will not complete its report until at least Friday.
Under the Federal Government's ESCAS standards, penalties for non-compliance range from suspension and cancellation of an exporter's license to possible criminal sanctions, depending on the severity of the breach.
The latest footage is another major blow to northern cattle producers still struggling to recover from the financial and emotional pain caused by airing of footage of animal cruelty on ABC Four Corners in May and the two-month shutdown of the live export trade to Indonesia that followed.
It will also shape as the first major test of agriculture minister Joe Ludwig's new ESCAS regulations.
The minister has stated that the regulations will allow the Government to deal with future breaches by dealing with and possibly shutting down individual supply chains, without having to impose blanket bans on the entire trade that punish those who are doing the right thing.
It is understood that further complications are involved in this incident because one of the abattoirs shown in the footage is believed to be owned by the Indonesian Government.
The industry maintains the position that it does not condone cruelty and is committed to driving welfare improvements throughout the entire supply chain.
Northern Territory Cattleman's Association executive director Luke Bowen said the supply chain assurance system implemented in Indonesia, and due to commence in Middle Eastern markets tomorrow, provided a solid foundation that allowed problems to be isolated, cut off and fixed.
Mr Bowen said it was important the investigation currently underway was allowed to run its course.
"There is no point in us second guessing things at the moment because clearly there have been some claims made, and these have not been verified.
"The system, which is regulated by the Federal Government is going through the process of getting an understanding of actually where the failures, if in this case there have been, are in the system."
He added that Australia was the first and only country to have undertaken international animal welfare reforms in live export markets.