THE Young Livestock Exporters Network (YLEN) has held its first annual general meeting, with a new executive team elected to build on the strong groundwork of the foundation committee which was established last year.
The new committee will be led by Kari Moffat as YLEN chair with Patrick Coole as vice-chair, Ryan Olive treasurer and Camille Camp as secretary.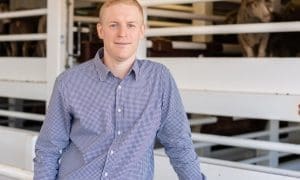 Outgoing chair John Cunnington recognised the achievements of YLEN since its inception and encouraged the incoming executive to continue to build networks among members and to enhance the capacity of young industry stakeholders who represent the future of the industry.
"By collaborating throughout the network, members gain better understanding of the supply chain which ultimately strengthens the industry," Mr Cunnington said. "I commend the work of the outgoing executive committee and am proud of what we have achieved together."
Over the past 12 months YLEN has introduced a number of new initiatives, including scholarships to put members through the LiveCorp Stockperson accreditation course, the Mates to Managers program and to attend industry events. It has also run a series of online workshops to improve skills and social events – the table below  provides more detail"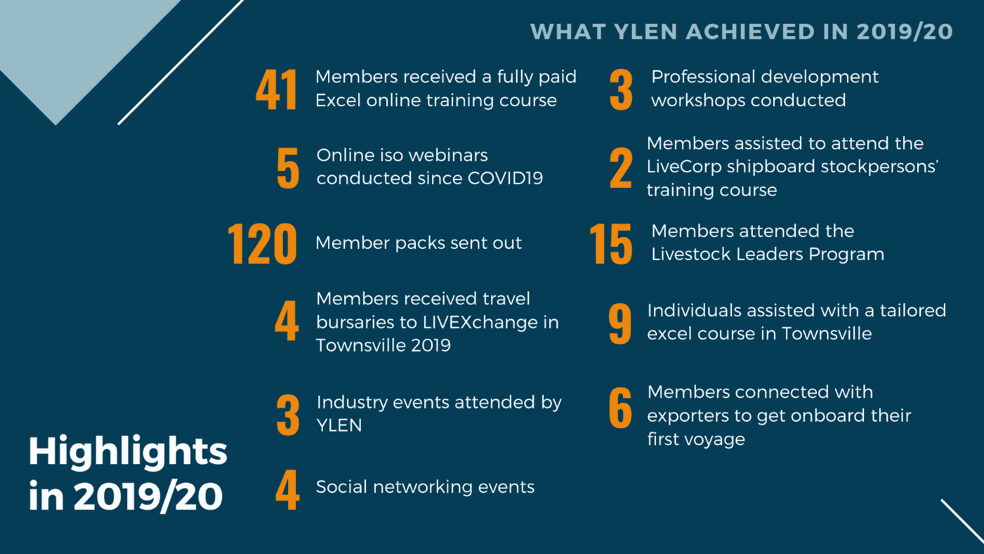 "For a small team of people to have done so much in their spare time away from work is a remarkable achievement," Mr Cunnington said.
Newly appointed YLEN chair, Kari Moffat, noted that future YLEN initiatives would seek to enhance not only the capacity of future leaders as individuals, but of the industry as a whole.
"While it is vital to offer opportunities to build individual knowledge, experience and ability, YLEN has a role in ensuring that these skills are put into practice in the industry and are not lost to us. Building individual capacity is as important to YLEN as the industry retaining it," she said.
YLEN's membership base is broad, representing exporter staff, vets, producers, export yard personnel, and industry body representatives.
While the network was started to provide professional development, a secondary benefit has been the connections members have made to other aspects of the supply chain.
"Over the next 12 months YLEN will develop a framework that will ensure the long-term sustainability of the network. We need to ensure that through YLEN, members have opportunities to develop the necessary skills and connections required to engage with industry and wider community," Ms Moffat said.
Incoming vice-chair Patrick Coole, the recent recipient of the ALEC Young Livestock Exporter of the Year award, said he is looking forward to giving back to the industry.
"It's incumbent on those of us who are recognised as having the potential to be leaders in the industry in the future to make sure we're also contributing to it today," he said.
"It can be hard work and takes up a lot of your time but it's ultimately worth it and I hope it goes some way to helping those that join the industry in the future."
Incoming treasurer Ryan Olive, who is the operations manager of the Central Queensland Livestock Depot situated on Raglan station, said he is looking forward to the challenges of his role.
"I think it's positive that YLEN recognises the industry is made up of a lot of different people with different types of businesses," he said. "I'm keen to provide input on how YLEN can best engage a broad spectrum of young people and bring them into the network's fold."
Camille Camp, a second-generation producer from northern WA and accredited onboard stockperson, has been appointed as the incoming secretary for YLEN.
"My experiences as an on-board stockperson gave me a unique perspective of the challenges facing the industry," she said.
"I'm looking forward to building on this experience and assisting others in transitioning to roles within the industry.
"There's so much producers and exporters can learn from one another and YLEN is a great forum in which to achieve this."
Source: YLEN