Victorian stockman Jim McDonald wanted to see what conditions were really like on a live export ship after hearing protestors describe the "unimaginable cruelty" of the trade during rallies against the industry last year. He joined the crew of a Wellard Rural Exports ship to Israel and Jordan earlier this year, and found there was another side to the story.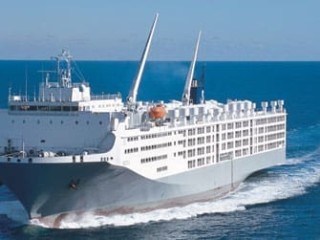 During the second half of 2011 I was involved in the campaign to have the live export trade to Indonesia restored.
I counter-protested at all three Melbourne 'Ban Live Export' events, often accompanied by my partner and friends.
At these protests I was asked many questions about conditions on ships which I could not answer.
I was even told by a high-ranking member of Animals Australia that live export vessels simply throw dead animals overboard and don't report the death in order to reduce the mortality rates (a claim I later found to be baseless).
Many critics use words like "unimaginable cruelty" to describe conditions on live export vessels.
It didn't take me long to decide that I needed to see for myself if this was the case.
With many years' experience as a stockman under my belt, I fired off a few emails to Wellard Rural Exports, and was invited to join the crew of the MV Ocean Drover in Fremantle earlier this year.
When I arrived I was told another vessel in the Wellard fleet, the Ocean Shearer, was soon to be retired and replaced by two improved sisters of the Ocean Drover.
This will effectively bring the average age of Wellard's fleet down to less than four years, with each equipped with the most modern ventilation systems (there are more air changes per hour on a livestock vessel than there are on a commercial aeroplane) and animal welfare facilities available.
The word 'stockman' often invokes images of Akubra hats, horses and RM Williams boots, but on a livestock vessel it takes on a completely different meaning.
You are constantly on patrol and expected to be on the lookout when moving from one part of the ship to another.
You are observing the animals' general condition, body language and position in the pen. The animal hiding in the back corner is often the one most likely to be sick or injured.
You walk kilometres along the decks each day, scrutinising every animal, searching for any tell-tale sign of sickness or discomfort, ensuring the livestock are promptly treated and that any required follow-up is carried out.
This is all performed under the supervision of an AQIS accredited vet.
Prompt identification of respiratory disease is as important at sea as it is on land. Much like a typical office block, a ventilation system can spread a respiratory disease quickly if left unchecked.
It may surprise you to know that cattle never get sea-sick, even in conditions where I certainly did.
The crew of the Ocean Drover comprised a mix of Australian and Filipino stockmen, most of whom are highly experienced. Each worked tirelessly along the decks, cleaning the troughs and feeding the animals three times a day.
Animal welfare itself takes on a special meaning on the vessel.
"Comfort is the key," my head stockman told me. "If we don't keep food and water up to these animals, if they are not kept comfortable they will start giving up."
In contrast to common perceptions, livestock are not kept healthy by pumping animals that look off-colour with drugs.
It's the less glamorous acts that keep animals healthy, like using your hand to scoop manure out of a feed or water trough (to ignore a dirty trough is considered a sin), or treating an eye infection or being down on your knees on a dirty deck while pens are being washed to scan the legs of the cattle with a torch for any signs of cuts, abrasions or lameness.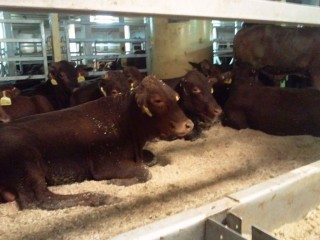 Animals with open wounds are separated and sedated so they can be cleaned and bandaged to prevent infection.
The live export trade is sometimes criticised for taking cattle that would otherwise go to Australian meatworks; however most of the cattle on this voyage are scrub bulls while most of the sheep are old wethers and rams. These animals are worth little to an Australian abattoir or saleyard, but to a poor family in another country they represent an important source of affordable protein.
After a week at sea, scrub bulls that a few weeks earlier would have been charging at men for standing in the same yard begin to warm to the stockmen. They lick and sniff at your legs and arms as you pass, and allow you to pat and scratch them through the pen.
At the end of each day, often in the cool ocean air of the upper deck, the stockmen meet to compare notes on their animals' performance, discussing feed and water intake, weight gain and other details.
The two Aussie stockmen I was fortunate enough to work with were the very definition of relaxed professionalism, a quality seen in all good stockmen.
In contrast to other countries, Australia is one of very few that requires live export vessels to carry accredited stockmen and vets and has world leading standards for livestock vessels, a factor that would have prevented the disaster off Egypt earlier this year when a Brazilian live export vessel lost nearly 3000 of the 5000 cattle she was carrying.
During the live export ban last year, Indonesia indicated it may look to Brazil to fill the gap in supply should Australia ban live exports permanently.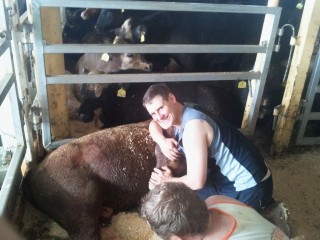 One can only wonder how many animals would perish in inferior conditions should live exports be banned from Australia. On our three-week voyage we lost only five head of 7300 head, with 99.94pc of the cattle consignment and 99pc of the sheep arriving safe and well.
After seeing the live trade for myself, I can honestly say I am proud to support the industry.
I enjoyed my time at sea and felt a true sense of pride at seeing the animals I had helped care-for run off the boat in an even better condition than when they had loaded.
Animal rights protesters will screech about "unimaginable cruelty" for many years to come but the men I lived and worked with could not have cared more for the animals entrusted into their care.
My experience boiled down to one simple lesson: there are two sides to every story.