After surging by more than 60 percent last year, Australian live cattle exports are set to ease back by 30pc in 2015, according to Meat & Livestock Australia's annual projections released this morning.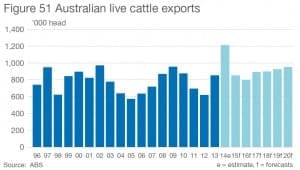 However that will still account for 850,000 cattle, well above the 10-year-average for live cattle exports of 800,000 head.
The main reason for the year-on-year decline according to MLA will be tighter Australian cattle supplies in the wake of the unmatched turn-off that occurred during 2014.
In the 11 months to November 2014 (full official data for the 2014 year is still a few weeks away), live cattle exports totaled a record 1.45 million head, up 60pc from the corresponding period in 2013.
Further out, MLA projects that live cattle exports will hold relatively firm in coming years through to a level of 875,000 head in 2017, as turnoff numbers remain limited by herd rebuilding programs, before slowly increasing again as the national herd expands.
On the demand side, MLA says fundamentals across all markets are likely to remain strong, assuming uninterrupted market access.
Driving the massive jump that occurred in export volumes last year was Indonesia, which took 650,000 cattle, an increase of 84pc on the previous year, and Vietnam, which imported 167,000 cattle in 2014, a 207pc increase on 2013.
Malaysia received 16pc more cattle, at 52,743 head, while shipments to the Philippines lifted 49pc year-on-year to 28,873 head.
In contrast, the largest Middle Eastern market, Israel, received 27pc fewer live cattle for the year-to-November, with 66,181 head.
However, at the same time Egypt went from receiving no cattle in 2013, to 27,900 head over the period – offsetting the decline to Israel.
Large numbers of predominantly dairy cattle were exported to China during the first 11 months of 2014, with shipments at 97,027 head up 57pc year-on-year.
If market access for feeder and slaughter cattle exports from Australia to China is granted this year as expected, numbers to this market will also increase 2015.
Indicative feeder steer prices from Darwin have been strong over the course of the year, with most quotes closing 2014 in excess of $2/kg lwt.
Similarly, indicative slaughter cattle prices have been strong, also exceeding $2/kg lwt.
In terms of sourcing cattle, MLA says the large numbers of cattle turned off in the past year has seen exporters venture further south to secure lines.
"This is likely to remain the case until first round mustering begins this year," MLA states.