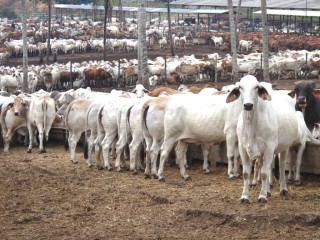 Meat and Livestock Australia has asked for Federal Government intervention to enforce a "controlled system" in Indonesia, a policy that it believes can resolve the animal welfare situation in the market and allow the $320m a year trade to stay open.
The Federal Government continues to face intense public and political pressure to ban live cattle exports in the wake of last week's ABC Four Corners program that showed Australian cattle being subjected to cruel and barbaric treatment in Indonesian abattoirs.
MLA and Livecorp representatives have been working with the Department of Agriculture, Fisheries and Forestry for the past week to develop a solution that guarantees the acceptable treatment of all Australian cattle and avoids the closure of the major market.
MLA chairman Don Heatley said the organisation has asked the Australian Government to regulate that Australian cattle only be exported to accredited and controlled supply chains in Indonesia. A similar system operates with Australia's live cattle exports to Egypt.
Under the system Australian cattle would only be handled in facilities that meet World Organisation for Animal Health standards.
Mr Heatley said the industry was working with the Indonesian Government and industry to accelerate the use of stunning procedures in the market, and had significantly increased the number of animal welfare officers working in Indonesia to ensure installed equipment was "used properly, every time".
The MLA board has also announced that it has undertaken an immediate review of all industry-funded international animal welfare programs in all markets to provide its members with an honest and frank assessment of the return on their investment.
The Federal Government is under growing pressure to implement a policy of zero tolerance, with its own Labor back benchers and Federal Greens and Independent MPs calling for legislation to halt live exports on animal welfare grounds.
A national television campaign funded by online political activist group GetUp! and animal welfare groups RSPCA and Animals Australia was launched yesterday to keep the issue top of mind at public level.
The advertisement, containing images of cattle and sheep being mistreated, calls on Prime Minister Julia Gillard to end live exports. It will continue to run until she does so, the groups have stated.
In response to last Monday night's Four Corners program, Federal agriculture minister Joe Ludwig implemented a protection of animal welfare order prohibiting exports of Australian cattle to 12 abattoirs in Indonesia, which took effect on Friday.
He also launched an independent review of the entire live animal export supply chain.
Mr Heatley said Indonesia was a complex and difficult market environment in which more than 700 abattoirs operated. MLA had been working in 100 of these where the majority of Australian cattle went.
"This issue has made it clear that we must only allow our cattle to reach those facilities where we can be absolutely confident they will be handled in line with internationally accepted welfare practices," he said.
In a statement posted to the MLA website over the weekend, Mr Heatley issued an apology to members and the broader livestock industry for the hurt and anger caused by the footage.
"I have been to abattoirs in Indonesia and have never seen such barbaric acts, actions so depraved they defy any rationale and are totally indefensible…
"I can assure you that if this disgusting cruelty had been witnessed by any Australian industry representatives, it would immediately have triggered action to bring it to a halt."