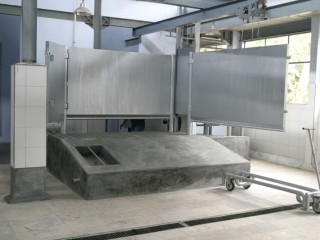 UPDATE 12:05pm: Minister for Agriculture, Fisheries and Forestry Joe Ludwig has announced the complete suspension of live cattle exports to 11 Indonesian abattoirs depicted in ABC's Four Corners program last night.
"I was provided with the footage by Animals Australia less than 24 hour ago. Last night I announced the Government's initial response to the evidence from Animals Australia and the RSCPA aired on Four Corners last night," Minister Ludwig said in a statement released this afternoon.
"I have decided to halt the trade of live animals to the facilities identified by the footage.
"These orders will strengthen the decision I took yesterday to conduct a full investigation into the footage provided.
"Further, I will appoint an independent reviewer to investigate the complete supply chain for live exports up to and including the point of slaughter.
"I reserve the right to add further facilities to the banned list, if required."
6:00am: Australia's agriculture minister Joe Ludwig says he is considering all options available to him following the airing of horrific footage of Australian cattle being killed in Indonesia overnight, including imposing possible bans on live cattle exports.
ABC Current Affairs program Four Corners last night broadcast shocking video footage of Australian cattle being subjected to mistreatment and cruelty in several Indonesian abattoirs.
Minister for Agriculture, Fisheries and Forestry Joe Ludwig released a statement immediately after last night's program outlining his shock at the footage and the treatment of the animals involved.
He ordered his department to launch an immediate investigation into evidence of cruelty in the live cattle export industry. He also imposed an immediate moratorium on the installation of further MLA and Livecorp funded restraining boxes shown in the program.
The program raised criticisms of the restraint boxes which have been installed by the Australian industry to improve upon traditional slaughter practices in some abattoirs, but which drew heavy criticisms from the RSPCA and international cattle handling expert Temple Grandin on the program for still failing acceptable animal welfare standards.
Mr Ludwig said he had asked Australia's chief veterinary officer to coordinate an independent, scientific assessment of the ongoing appropriateness of the Mark I and Mark IV restraint boxes currently in use.
"I have requested a thorough briefing on all of the legislative and regulatory responses available to me for responding to evidence of animal mistreatment, including the banning of trade to specific facilities or destinations," Mr Ludwig said.
"I asked industry at the beginning of this year for proposals on how welfare outcomes could be improved, particularly after animals arrive in importing countries.
"I am currently considering these proposals. It is clear that industry reforms to animal welfare standards have not gone far enough or been fast enough and much more needs to be done."
As the investigation ordered by Mr Ludwig takes place, pressure from other Parliamentary quarters for a ban on live exports is expected to build.
Two members of Federal Parliament last night said they will be calling for new legislation to impose an immediate moratorium on the live export trade.
Independent senator Nick Xenophon and independent MP Andrew Wilkie also announced that they want to see an end to all live exports within three years.
When 60 Minutes aired footage exposing inhumane treatment of Australian cattle in a Cairo abattoir in 2006, the then Howard Government announced an immediate suspension of Australia's live export trade to Egypt.
Egypt had grown to a market of up to 200,000 head per year prior to that, but in the year in which the footage was shown and the ban was imposed, its imports were almost nil.
Indonesia on the other hand is Australia's largest market for live export cattle, taking 520,000 cattle last year, or 60pc of Australia's entire live cattle export trade.
The market was worth $318m to Australia's economy last year.
The Australian live export industry has responded to last night's program by reiterating its condemnation of the animal cruelty shown in the footage.
The industry imposed an immediate ban on exports to three abattoirs that were depicted in advanced footage shown to industry leaders last Friday. It also sent an additional team of animal welfare experts to Indonesia over the weekend to intensify the industry's training programs in the market.
Meat and Livestock Australia chairman Don Heatley said the industry will cooperate fully with the Australian Government' inquiry to immediately investigate any evidence of cruelty.
He said the industry accepted that there was much work to do in Indonesia,and that the treatment depicted in the footage would not be tolerated by anyone in the industry.
"The livestock export industry will be investigating the further facilities identified during Four Corners and will take immediate corrective action, as it did last week when shown footage of four facilities.
"On seeing this footage the industry immediately moved to suspend the supply of cattle to three facilities where cruel practices were identified.
Cattle Council of Australia CEO David Inall said the industry was reviewing every facility that receives Australian cattle.
"The animal cruelty shown on the Four Corners program is indefensible," Mr Inall said.
"Cattle producers are committed to ensuring facilities that receive our cattle are meeting international standards."
Related stories:
Industry to press-on with in-market welfare reform