ALMOST 60,000 cattle were exported from Australia in May, the largest monthly volume for the year.
However, just as trade activity appeared to be gaining momentum after a slow start to 2022, an outbreak of foot-and-mouth-disease in Indonesia has suppressed demand.
In his latest South East Asian report Dr Ross Ainsworth predicts shipments to Indonesia will be far lower in coming months as importers assess the risk of any new import consignments becoming infected with FMD and do the sums on potentially disastrous losses.
However he also predicted the slowdown would last only as a long as a vaccine is unavailable.
"As soon as adequate supplies of vaccine are waiting in the feedlot fridge to protect all the incoming feeders then it will once again be business as usual," he said.
"This is the case in Vietnam where FMD is endemic and our cattle are constantly exposed but are routinely vaccinated within 24 hours of arrival with a second shot one week later.
"In fact, considering the probable decimation of the domestic herd through the combined effects of FMD and LSD I expect that demand for feeders will increase significantly to fill the gap left by large losses in the national herd."
Indonesia this week launched a nationwide livestock vaccination program, which is expected to prevent spread of the disease, the director general of livestock and animal health told media. It is expected the government vaccination program will initially prioritise small holder breeding operations and dairies, with feedlots which import Australian cattle organising commercial orders to access vaccines.
Despite the anticipated slow-down, there was a strong start to exports in June highlighted by the return of the Ocean Swagman, owned by Heytesbury and managed by Wellard, to Darwin for the first time since December, which shipped 5200 feeders, including a number of Heytesbury cattle, to Jakarta for Bondstock Rural Exports.
Indonesian Consul, Gulfan Afero, toured the ship while it was in port with NTLEA CEO Tom Dawkins and Second Officer Ante Kažimir – see picture below.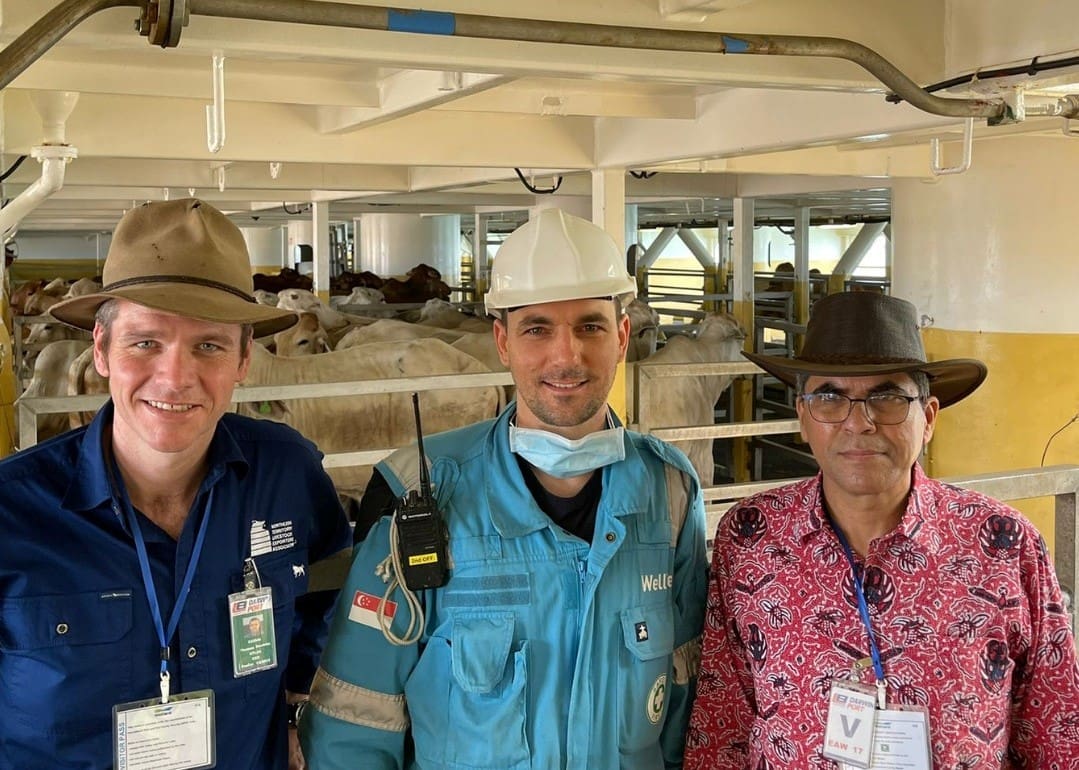 May exports 37pc below five year average
Total cattle exports from Australia totalled 59,443 head in May, which is about 37 percent below the rolling five-year-average for May exports.
That volume was made up with 35,762 cattle shipped to Indonesia (21 percent below the five year average), with a further 14,024 breeding cattle shipped to China (23 percent above the five year average).
Shipments to Vietnam remain subdued with 4566 exported from Townsville in May.
Exports to Thailand (1772 head), Japan (1250 head) and Brunei (1338 head, made up the next largest export destinations.
A total of 536 buffalo were also exported in May to Indonesia, with year-to-date buffalo export volumes now close to 4000 head
A total of 223,550 cattle have now been exported from Australia for the year.
The MLA NTLEA live export price indicator remained steady at $4.70 for feeder male cattle prices ex Darwin when it was updated on June 10.
NACC returns
May was also notable for the resumption of trade by the re-launched Northern Australian Cattle Company, with a small consignment loaded for Indonesia on the Nine Eagle which was in port in Darwin on the last day of the month.
View this post on Instagram
MLA projects annual total of 500,000
Last week MLA revised its projections for live export totals for 2022, winding back the forecast as published in February of 772,000 head back by 33 per cent to just 500,000 head, due to what it described as "several developments over the past few months on both the supply and demand sides".
MLA said that while the herd rebuild has been underway in the north as it is nationally, the recent northern wet season was a relatively poor one for cattle breeders.
"In addition, high cattle prices saw significant numbers of cattle sold and moved south and has continued to tempt some producers to sell a significant number of weaners early, particularly in the northwest of the Territory, which has had a less favourable season," the report said.
"These factors are expected to reduce the numbers of feeder cattle available for live export for the rest of 2022. Two significant factors are weighing on slaughter cattle exports to Vietnam. The first is improved conditions in Queensland following good rainfall, which has encouraged producers and restockers to hang on to their cattle for longer and as a result, caused a further tightening in cattle supply available for live export."
"The second factor is weak import demand from Vietnam, with a surplus of cattle and other proteins in the market. This weak import demand has been exacerbated by continued border closures with China and reduced purchasing power of wet market shoppers due to rising inflation. Strong export numbers for May out of Townsville reflected some delayed shipments from April due to rain event disruptions."
MLA said the fall in the Australian dollar in recent weeks has been a positive for exporters, Australian cattle were still facing significant competition from Indian buffalo meat, which has been averaging 36,000 tonnes swt in sales across South East Asia over the past 12 months.