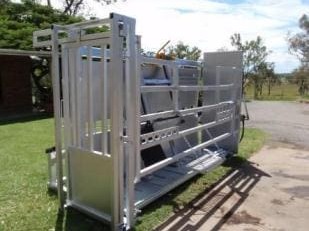 The use of Mark 4 restraint boxes to process Australian cattle in overseas abattoirs will be reviewed for the second time in eight months as a result of footage supplied to the Federal Government by Animals Australia.
Australia's chief veterinary officer Dr Mark Schipp conducted a review last year into the use of Mark 1 and Mark 4 restraint boxes developed by Meat and Livestock Australia to improve animal welfare in Indonesian abattoirs.
That investigation, concluded in August 2011, found that Mark 1 boxes did not comply with World Animal Health Organisation (OIE) standards for animal welfare, but the later model Mark 4 boxes, when used properly, did comply.
However, in a statement released today, Dr Schipp said the footage supplied by Animals Australia to the Federal Government in February raised new concerns that were not apparent during his previous examination of the devices.
As a result of its investigation of the Animals Australia footage, DAFF has today asked Dr Schipp to conduct a new review to assess whether Mark 4 comply with OIE regulations when they are operated with no mechanical head or neck restraints.
"I agree that a new assessment of the modified Mark4 restraint box is required," Dr Schipp said in a statement.
"The more recent footage raises new concerns that were not apparent at the time of these earlier assessments. I consider them substantial enough to require further investigation.
"Both my departmental colleagues and I strongly believe that all Australian animals should be treated humanely. That is why my office will direct all necessary effort and resources towards this assessment."
Dr Schipp said the new regulatory framework did not permit the use of restraint boxes that are inconsistent with OIE requirements.
Work on the report would begin immediately and will be concluded as soon as possible.
DAFF commences monthly ESCAS performance audit reports
Meanwhile, DAFF has also announced that it has commenced regular reporting on performance auditing of ESCAS in Indonesia.
It has released the first performance audit report summaries on its website today, and says monthly reports will follow.
"The independent audits are a key part of the new regulatory framework for livestock exports and provide an assessment of exporter supply chain assurance systems," a DAFF statement said.
"As part of the regulatory requirements, exporters must provide DAFF with a performance audit report on the effectiveness of their supply chain assurance system, including the control, traceability and animal welfare aspects.
"The report must be provided by a fully independent and qualified systems auditor following the end of processing of the livestock consignment or within 190 days from the date of export in the case of Indonesia."
Reports released today summarise the performance of 11 consignments exported to Indonesia during April.
DAFF says it will also publish statistics and summary information of non-compliances that have been reported in exporter supply chain assurance systems.
"Such reporting of non-compliance can occur through routine independent auditing processes, from self-reports by exporters, or via third parties.
"This information is additional to that which is provided in the audit reports and seeks to increase transparency and provide easy access to information on the overall performance of exporter supply chain assurance systems.
"Over time, more audit results and information will become available that will provide a clearer picture of the effectiveness of the new system."
More details are available on the DAFF website