LACK of supply, high cattle prices and COVID disruptions in key markets have becalmed Australia's northern cattle shipping trade since August.
Export sources have been warning for some months that shipments were set to slow dramatically in the face of mounting headwinds, most notably the speed at which the Delta variant of COVID has swept through major cities in the key markets for northern cattle of Indonesia and Vietnam.
Orders locked in before the Delta impact meant shipping activity to deliver those consignments continued through July and August, but much of the wind has been taken out of the trade's sails since then, according to market feedback and shipping data.
Trade activity is still occuring with two ships scheduled to load in Darwin in coming days, another in Townsville and shipments from Broome and Fremantle also expected.
But compared to previous months when it would not be unusual to see around 15 individual shipments of cattle leave Australian ports for Indonesia and Vietnam, trade levels have reduced to below half that level through September.
Of the 30 or so vessels accredited to operate out of Australian ports, at least 10 are currently working on runs outside Australia, taking cattle from New Zealand and South America to China and from Eastern Europe to the Middle East.
Mid-last year the reverse situation existed with about 30 ships simultaneously carrying Australian livestock to markets throughout Asia and the Middle East.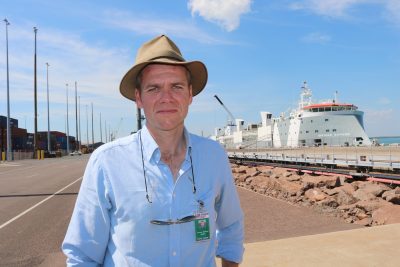 Northern Territory Livestock Exporters Association CEO Tom Dawkins (left) attributed the slowdown to several factors including the erosion of demand in Indonesia and Vietnam due to COVID-19 disruptions, which is in turn slowing down the ability of importers to sell previously imported cattle from their feedlots.
While paying record prices to buy Australian cattle, Indonesian importers are required to sell cattle in line with retail prices which are regulated in Indonesia to maintain affordable access to beef for citizens.
This is leading to negative trading margins of around AUD 60c/kg for Indonesian feedlots selling Australian-sourced cattle.
Availability of cattle is another issue with more drafts of northern Queensland cattle being drawn south by domestic grass, grain and processor buyers, while the dry season mustering period has largely run its course and the traditional wet season lull commences.
Traders in Indonesia and Vietnam have slowed orders try to minimise losses and reduce purchases, which in turn is causing exporters to strategically take a step back from active trading to the extent they normally might, Mr Dawkins said.
Some exporters are also opting not to renew long-term charters in preference for short-term, ad hoc bookings. This was leading to more livestock shipping capacity being redirected away from SE Asia to service other international routes, while other shipping operators were using the downtime to complete maintenance and crew-changes.
"As such, these monthly shipment numbers are set to settle at historically lows while the market re-sets," he said.
Year-to-date export numbers for Darwin had held-up remarkably well in the circumstances, he said, however, a lull had now set in.
"Year-on-year fluctuations don't play out quite as dramatically at the port of Darwin and while trading conditions have been very tough, our dry season volumes have been remarkably resilient," he said.
"But shipping activity really fell away in September and it will remain very subdued now until the start of dry season mustering in 2022.
"The way all the market forces have lined up, the next six months will be the quietest trading period we've seen in a long time."
Mr Dawkins said the Darwin Port was recognised as the busiest live export port in the world, but for the next six months there'll be far fewer road trains delivering cattle to East Arm.
"Hopefully we emerge from the wet season with a much-improved COVID situation in SE Asia and better trading conditions for importers and wet market customers.
"The market is certainly tipped in producers' favour it is good to see northern pastoralists rewarded with exceptional cattle prices."
"Our live export supply chains are a huge part of the NT cattle equation, with around 400,000 cattle shipped to SE Asia from Darwin each year and an estimated 26 million Indonesians eating Northern Territory beef each year."
"The year when a new price era emerged"
Mr Dawkins said the price point of Australian live cattle in SE Asia compared to frozen Indian buffalo meat, boxed product or even live cattle shipped across from South America would always be changing but, for now, Australia's competitiveness was being profoundly challenged.
"I think we'll look back and see 2021 as the year when a new price era clearly emerged.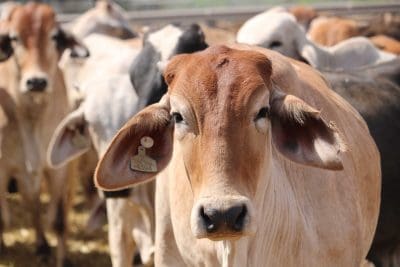 "It seems Australian cattle has moved into a higher price bracket and, while the market always moves in cycles, we've broken through an historic ceiling and it is hard to see any significant downward correction in the pipeline."
He said the recent trade-opening shipment of Brazilian cattle to Vietnam, Australia's second largest market for live cattle, also represented a fundamental shift in trade dynamics.
"Make no mistake, the debut of Brazilian cattle exports to Vietnam is extremely concerning. It highlights we've reached a tipping point.
"No matter how many more Brazil shipments are completed, the entry of South American cattle into SE Asia shows that Australia's cattle prices and supply limitations are absolutely reframing our long-term market presence.
"Just as cheaper frozen Indian buffalo meat has really tested live cattle trading margins in Indonesia, we shouldn't lose sight of the fact so much of Australia's cattle industry will continue to be shaped by our export competitiveness in price sensitive markets."
"We've spent the past decade speaking about the long-term, strategic importance of our live cattle export partnerships. But right now, we've reached this intersection of unheralded cattle prices, a depleted national herd and super-charged global demand for meat. Those market forces are testing Australia's ability to reliably supply importers like Indonesia and Vietnam like never before."
"How that test reshapes these export markets in the long term remains to be seen."