NEW research highlights the complex relationship the livestock export industry has with the Australian community, and the work that needs to be done to build further community acceptance.
The industry's research body, LiveCorp, commissioned a survey of thousands of Australians to gain a representative sample of views on a broad range of topics and support a more constructive conversation between the industry and the community.
Voconiq CEO Kieren Moffat, who conducted the research, says in order to build greater trust and acceptance within the community, the industry must understand how Australians feel about each component of live exports – from farm to destination country.
"As we expected, people are very concerned about the welfare of animals within the industry and expect standards of care to be maintained throughout the value chain," Dr Moffat said.
"What this research reveals, however, is that animal welfare is just one of a number of issues that influence community acceptance. For instance, people recognise the importance of livestock exports to farmers, regional communities and the Australian economy. They also value the contribution the industry makes to improving nutrition in overseas countries by providing safe sources of meat.
"In fact, when we asked Australians to consider the pros and cons of live exports, on balance they currently see the positives slightly outweighing the negatives.
"This pattern was also reflected in responses to whether live exports should be shut down, with opinions evenly balanced for and against.
"The point of this research is to comprehensively and robustly examine this industry through the eyes of the Australian community, to better understand the conversations that are needed, including and beyond specific issues like animal welfare."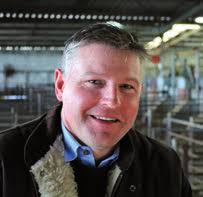 LiveCorp CEO Sam Brown says working through the findings with industry is the next step, to identify where action can be taken to address those areas of greatest concern.
"It was very clear from the survey that there can be no compromise on animal welfare, which was no surprise. As an industry, we need to continue taking on board people's concerns, showing we share their values and that we're responding to them," Mr Brown said.
"What is pleasing, given the survey was representative of all Australians, is that despite what many groups would have us believe, the results show the majority of the community does not oppose the industry.
"Australian livestock are vital in providing fresh, affordable meat in many countries, especially at a time when COVID-19 has affected deliveries of chilled and frozen meat through air freight, and it's good to know the community recognises the role live exports play in improving nutrition for families overseas.
"Live exports, as part of the wider red meat industry, have continued to provide an income to farmers and employment in regional Australia in a time when many other areas of the economy have been affected."
Mr Brown says it was interesting to see a lot of 'neutral' answers to the survey, which suggests there are aspects of live exports that a lot Australians don't know much about.
"This highlights the need to do better at explaining how the industry works and how it is continually improving animal welfare, to help fill those information gaps. We want that to be a two-way conversation, continuing to hear the views of the community and being available to answer any questions.
"There are some great initiatives underway, through groups such as The Livestock Collective and Young Livestock Exporters' Network, and events (pre-COVID) such as vessel tours and regional roadshows. However, it's a good reminder of the need for all players in the industry to increase the visibility of what they do.
"The survey also supports LiveCorp's current research and extension efforts on animal welfare and provides guidance on other areas of focus."
The industry is currently exploring the best way to identify concrete actions that can be put in place to demonstrate that industry is listening to the concerns of the Australian community, and developing a framework to report back on its progress.
The Voconiq report Live export and the Australian community can be found on the LiveCorp website (www.livecorp.com.au).
Methodology
The survey will be repeated annually over three years.
Questions were developed following consultation with more than 60 individuals representing a diverse range of views on the industry. Survey responses were collected via an online research panel of Australians over the age of 18, matched to Australian Bureau of Statistics population data by age, education and gender. Analysis was conducted on 4,830 responses.
Source: Livecorp