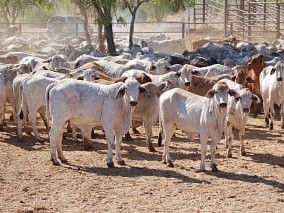 As exporters race to fill final shipments to Indonesia under 2013 permits, their attentions are also now turning to the pending release of new import permits for 2014.
And, as is often the case, they are finding there more questions than answers, particularly in light of the uncertainty created by the recent spying fiasco and the added complexities created by a new system of allocating import permits.
Indonesia recently announced a switch from using a quota-based system to determine import requirements for each quarter to a price-based system.
When the price of beef in the Jakarta wet markets rises above a reference price – currently set at 76,000 Indonesia Rupiah per kilogram – the Indonesian Government will allow greater imports of beef and live cattle in order to increase supply and lower beef prices. When the price drops below that level the Government will reduce or even stop imports until price-movements dictate that they are needed again.
With beef prices in Jakarta wet markets trading above 90,000 IR/kg, Indonesia released new import permits for an additional 100,000 cattle at the start of November, valid until the end of December. Given the volumes of beef required to influence prices in a market of 240 million people, the theory is that Indonesia will require significant imports of cattle and beef imports in the next 12 months if it is to bring prices back to affordable levels for consumers.
Another key aspect of the new regulatory framework is the '80pc rule', which requires importers to deliver at least 80pc of the feeder cattle they receive import orders for to market as slaughter-ready cattle within a 12 month period.
The rule is designed to ensure imported cattle flow through to wet markets in a timely manner and to prevent any potential that exists for importers to withhold feedlot cattle from sale with the view to causing a market shortage and forcing selling prices for cattle higher.
The new system also means there is likely to be less visibility surrounding quota volumes in future, and therefore potentially less certainty for the northern cattle industry.
From now on the overall volume of permits that Indonesia issues for each quarter will be reliant upon how many cattle each individual importer applies for. Those details will also effectively be subject to commercial arrangements with each importer, making overall import volumes difficult to ascertain, if the Indonesian Government does not publicly divulge them.
Under the previous quota system, the Government announced at the start of each year how many cattle would be imported for the coming year, and for each quarter within that year, but now total import volumes are unlikely to be as obvious.
Spying fiasco fallout
In terms of import permits for 2014, one of the big questions now is whether lingering ill-feeling within Indonesia toward Australia over the recent spying fiasco could affect the release of cattle and beef permits for the new year.
Beef Central understands that 10 importers have lodged applications for import quotas for 2014 but with less than three weeks left before the new year begins, none have yet received permits, or any indication as to when or how their applications will be dealt with.
In recent weeks several media reports have pointed to the fact that shipments from Australia to Indonesia have continued without disruption as evidence that the trade has not been affected by the spying scandal.
However the permits under which recent shipments have been exported were released well before Australian-Indonesian relations turned sour over the phone-tapping controversy.
The real test of whether Indonesian anger over the scandal would spill over to the cattle trade was always more likely to come in mid-December, where we are now, when import permits for 2014 are due to be released by the Indonesian Government.
Evidence that the spying fallout has seen negative sentiment within Indonesia directed towards the cattle trade was was on display in the Indonesian media this week when Indonesian agriculture minister Suswono called on importers to temporarily halt cattle imports until normal bilateral relations between Indonesia and Australia have been restored.
The Jakarta Post reported on Tuesday that Suswono was calling on importers to make 'necessary adjustments' in line with the Indonesian Government's stance until Australia 'proved its genuine commitment to rebuilding trust and confidence within Indonesia'.
"When it comes to cattle and beef imports, the deals were made within a business-to-business framework. We can only appeal to importers to act in line with the government's stance, until everything is completely normalised," Suswono said.
Much has been made of Suswono's comments in the Australian media in recent days, but in reality his ministry no longer holds significant sway over import permits, with that responsibility now largely in the hands of the trade ministry.
The Indonesian Government is currently facing very strong internal pressures to increase beef supply to reduce beef prices as part of a pressing need to rein in rampant inflation.
It is likely that any move to cut import permits would work against that goal being achieved, with beef still in short supply across Indonesia, evidenced by continued high prices in wet markets, and would possibly only hurt Indonesia more than it would hurt Australia.
Beef Central understands that Indonesia's Minister for Trade Gita Wirjawan is holding a number of meetings this week and next week which will include decisions on 2014 permits and strategies.
Whether current delays surrounding the release of Q1 2014 permits were linked to the ongoing Indonesian-Australian tensions "we can only assume", one source said.
"The consideration within the Indonesian Government will be influenced by the urge to bring down beef prices on one hand and the political pressure of the Minister of Agriculture's self-sufficiency program and the latest spying issue on the other."
Another experienced trade contact said that despite the lack of certainly about 2014 permits to date, there had been no indication that the Indonesian Government was stalling on their release. He said permits were expected late next week 'at the earliest'.