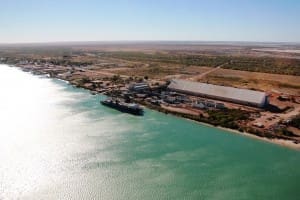 While efforts to establish a new live export trade out of Port Alma near Rockhampton continue to attract political attention, moves are also afoot to increase live export activity out of other parts of Australia.
In far Northern Queensland AgForce is leading efforts to resurrect a live export trade out of Weipa.
At the same time, market options for southern livestock producers have been broadened following what is believed to have been the first shipment of cattle to leave Adelaide for the recently emerged major market of Vietnam (more on this below).
Weipa push underway
Weipa has served as a live export outlet for Peninsula cattle producers in the past, and last exported cattle in 2009, when 1701 cattle were shipped.
Prior to that the port sent annual shipments of cattle totalling 1000-5000 of Cape York cattle per year for several years up until 2004.
AgForce northern regional manager Paul Burke told Beef Central that there is a strong appetite from producers in the region to resurrect an export trade from the port.
The main question surrounds whether the local region, which has seen a large area of former cattle land turned over to conservation areas, can provide the critical mass of cattle needed to fill 2000 head plus live export vessels out of the port.
Mr Burke said some indigenous land owners in the region such as the Aurukun community were now starting to restock with cattle in a bid to create an economy off the land they have. The creation of a local live export market outlet would provide important an impetus for helping their operations to succeed.
Local cattle producer Cameron McLean from Merluna Station on Cape York is only 120km from Weipa but currently sends cattle to feedlots in Central Queensland for finishing prior to processing or to the Mareeba Saleyards several hundred kilometres away.
"It would make a big difference up here, there has only been two boats go out in 11 years that I know of, but if we can get the Indigenous Land Corporation on line I think a boat or two will happen," Mr McLean said.
In December 2013 the Abbott Government committed $210m to seal a further 240km of the Peninsula Development Road, which connects Weipa with Lakeland, south west of Cooktown, 550km away.
Mr Burke said that funding, and an associated commitment to fix damage caused to Kelly's St George Bridge during Cyclone Ita last year, would open the port to a wider potential catchment of cattle from northern Queensland.
He said the port already has ESCAS and AQIS accreditation and is supported by commercial port operators and the local cattle industry.
Finding an exporter willing to take a ship to the port was all that was needed to get a trade out of Weipa up and running, he said.
"If you were doing three or four trips of a couple of thousand cattle a year to Indonesia, you have less sailing time from Weipa (than from Townsville) which also means less feed on the boat so there are savings there," he said.
The former State Government was supportive of the plan, he said, and all the required facilities are basically already there."
Karumba future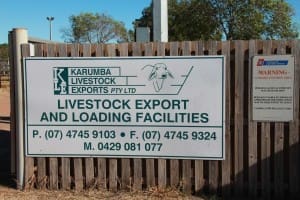 Related to the Weipa push is growing uncertainty around the future of Karumba as a live export port.
Karumba is a key live export market for Queensland Gulf cattle producers, providing an outlet for 10-15,000 cattle annually in recent years, and as many as 60,000 cattle in a single year, which occurred in 1997.
The future of the port is facing some uncertainty however, following confirmation late last year that MMG's Century Zinc Mine will cease its operations in the third quarter of this year.
Since the mid 1990s MMG has transported zinc slurry via a 300km underground pipeline from the Century Mine to the Port of Karumba for export.
Exporting from Karumba requires MMG to dredge the shallow Norman River so transfer vessels can access the port facility at the river mouth, and then transport zinc slurry out to larger export ships anchored in deep water further out in the Gulf of Carpentaria.
MMG announced last year it will cease operations at the Century Mine later this year, and expects to ship the last of its stockpiled product some time in 2016.
MMG funded dredging work of the Norman River would then presumably stop, which has raised questions about the ability of live exports to continue from Karumba after that time.
Karumba Livestock Exports operates the live cattle export facility at the Port of Karumba.
KLE managing director John Kaus told Beef Central this week that it was still too early to predict the long term future of the port, with other users or operations still potentially interested in taking over the infrastructure at the port.
The company's intention was to continue to operate out of Karumba for as long as possible, he said.
"We have a pretty big investment there so we will stay there as long as we can," he said.
The company was waiting to see if funding support to keep the port operating will be provided by the Government and/or other users in the supply chain.
"The previous government was going to support the live export industry out of Karumba but we don't know yet what the new Government will do," Mr Kaus said.
The cost of dredging the port was in the vicinity of a couple of million dollars, he said, and was only required once every four to five years.
However he was confident the company would still be able to get boats into the port at high tide.
"There are about six boats with the right draft that can get in there, which can each carry around 2000 head, so there is so no problem with getting in there," he said.
"It still is a very good facility, it is unique, it is the only place in Australia where you can bring the cattle to the yards, treat them and then walk them onto the ship, so they are not double handled."
Cattle shipped from Adelaide to SE Asia
In other live export related news, Mr Kaus said his company, South East Asian Livestock Services, and International Livestock Exporters (ILE) recently loaded a ship with cattle destined for Vietnam out of Adelaide and Fremantle, which he believed was a first for the southern industry.
ILE sent 10,000 feeder and breeder cattle on the shipment while SEALS loaded 5000 slaughter weight cattle.
Mr Kaus said the cattle were all sourced out of southern Australia and comprised a mixture of flatbacks and tropical cattle.
He said that with strong prices bringing more cattle out of the northern market earlier than usual before the mustering season this year, it was likely more cattle for live export markets would need to be sourced from southern areas as the year progresses.
"We will see how they go with the numbers out of the mustering season, (exporters) may have to keep coming further south".