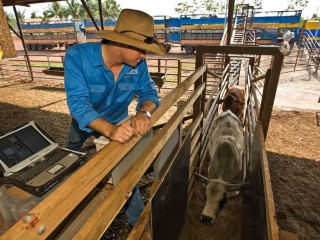 Almost 50,000 feeder cattle were exported to Indonesia during April, according to latest export figures, underscoring expectations that Australia's 125,000-head second-quarter quota is set to run out by early June.
April shipping data provided to Beef Central by the Department of Agriculture, Fisheries and Forestry yesterday confirm that 47,803 cattle were exported to Indonesia during April, with a further 2900 approved for export but not yet shipped.
Total shipments since January 1 now stand at 107,328 head.
Shipments are likely to be higher again during May, with northern cattle turn-off now in full swing and Indonesian feedlot demand peaking ahead of the Labaran religious festival (Indonesia's equivalent of Ramadan), which runs during the third week of August.
Another 50,000-60,000 head during May would leave around 10,000-20,000 to be shipped in June before the current 125,000 head permits are used up.
When that happens, Australia will have filled about 60pc of its 283,000 head annual quota, leaving a meagre 100,000 head to supply in the second half of the year.
By comparison, Australia exported almost twice that number, 192,731 head, to Indonesia in the second half of last year, which included zero shipments during the month of July due to the trade suspension.
With few viable marketing alternatives available, Australia's northern cattle trade is bracing itself for a lean second-half of the year.
About the only way that outlook would change is if Indonesia suddenly decides to increase annual import quota levels for the year, but as the Northern Territory Cattlemen's Association conference in Darwin recently heard, that does not appear likely.
Speakers close to Indonesia indicated that the country's politicians were unlikely to waver on their strong stance in favour of promoting beef self-sufficiency in the lead-up to the 2014 Indonesian presidential elections. With agriculture providing almost 40pc of employment in Indonesia, the promotion of self-sufficiency was a politically popular strategy.
However it also risked a possible consumer backlash for the Government if not managed properly, with increasing reports emerging of meat shortages as a result of the cutbacks forcing meat prices up and impacting heavily on households.
Elders International Trading's groups general manager Tony Dage said that while there was no expectation or indication that quota levels will be increased, any change would occur in the next few weeks if it was to happen.
"The Labaran ceremony is in the third week of August, and about the only thing that would create additional demand is if the Government felt it was short and put additional orders on importers, but we have no new information to suggest that quota is going to change," Mr Dage told Beef Central this week.
"Unless cattle are getting into the feedlots there this week, they're going to miss Labaran."
Elders International Trading's export arm, North Australia Cattle Company holds, about 30pc of Australia's feeder cattle export trade to Indonesia.
Mr Dage said the group expects to ship about 33,000 head to Indonesia this quarter, based on 7000 head during April, 13,000 during May and 14,000 during June.
While NACC is spacing its exports out over the quarter period, some importers using larger vessels have reportedly already filled their entire second quarter permit allocation, with almost two months left to run in the quota period.
Credit squeeze in wet markets
Trade sources have told Beef Central this week that Indonesia's quota restrictions are impacting at all points of the supply chain:
With more cattle available than orders, feeder cattle prices across northern Australia have dropped in recent weeks, with steer prices falling from $1.85/kg to $1.75 and reports of some producers now accepting $1.70;
Some Indonesian importers/lot feeders report that their sales during this year's Ramadan will be back to around 30pc of 2010 sales (the last time an open market was in place prior to the imposition of 350kg weight limits and reduced import quotas);
Beef prices in Indonesia have risen by 5-20pc depending on the wet market;
Local cattle prices are now so high in parts of Java that they are said to be "almost un-buyable";
The impact of higher beef prices in Indonesia is playing out in the wet markets: "The unsecured credit lines which the wet markets survive on are being severed as debtors cannot make sales to pay creditors," one industry stakeholder, who preferred not to be named, said. "Butchers will not increase beef prices further as they are afraid the consumer will turn away from beef and in turn threaten their cash flow and payment obligations."
The "choke point" of this squeeze is at the carcase level. Downstream food processors (such as those who produce bakso and sosis), who depend upon imported beef for raw product, are understood to have been making considerable lay-offs as beef supplies dry up.
"It is not good for anyone, and not good for Indonesians also, with the price of beef now 20pc higher than this time last year," another source told Beef Central.
The impact of the quota squeeze in northern Australia is likely to be at its most acute during the peak turnoff months of June and July, when producers have to sell cattle to meet financial commitments.
On current estimates the industry is only likely to have quota permits available for 50,000 head for July through to September, and the same amount for October through to December. Australia was exporting more than 50,000 head per month in the final months of 2011.