Export cattle prices out of Darwin have managed to defy weak demand conditions for most of this year, due largely to the comparatively short supply of feeder steers available for export to Indonesia.
However, a 4c rise in the Australian dollar in the past month has added downward pressure to export prices.
For the first time in over a year quotes for feeder steers out of Darwin have eased to 320c/kg, a level not seen since June 2016 as the below chart shows: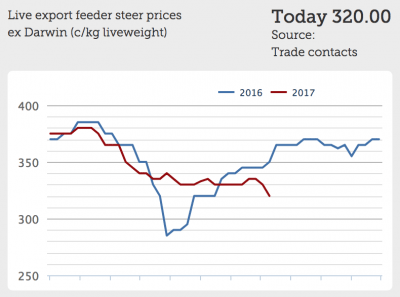 A rising $A makes Australian cattle more expensive for Indonesian feedlots to buy, even if the price here in Australia does not change.
The difficult trading conditions Indonesian lot feeders have been facing for well over a year have been well documented, particularly from the introduction of large supplies of lower-priced Indian buffalo meat and the direct pressure now being applied to feedlots from the Indonesian Government restricting the price at which they can sell finished cattle.
The only strategy available to Indonesian feedlots to avoid sustaining heavy losses is to use their feeding expertise to try to offset the high price of Australian cattle by buying light  feeder steers (320kg av) and seeking to maximise average daily gains and reduce cost-of-gain over a 120 day feeding program.
In February the Indonesian Government expanded the weight at which cattle can be imported from 350kg to 450kg. However, exporters say most Indonesian feedlots have shown little appetite for buying heavier cattle because of the ongoing legal requirement to feed them for 120 days, and, commercially, they have no realistic chance of making a feeding margin from those cattle.
One exporter said Indonesian buyers are in fact discounting any cattle over 380kg by 20c/kg.
Exporters cannot pass the additional costs caused by the higher $A onto importers so the price of Australian cattle is starting to come under pressure.
North Australian Cattle Council (NACC) principal Patrick Underwood said there had been a short-lived increase in demand after the Lebaran festival in July, as lot feeders looked to top feedlot numbers back up to 50pc or 60pc of capacity.
"There was a bit of demand there but that has been replenished, and now with this tough dollar, and the difficult conditions in all of our markets, there has been a softening of demand," he said.
He said the tough trading conditions also meant fewer exporters were actively buying cattle right now.
"Normally there would be three or four exporters openly trying to buy cattle at this time of year, but those exporters without a ship on time charter are not going to sub-charter a vessel unless they can do so at a profit."
Mr Underwood said there were still reasonable numbers of export cattle relative to demand in western Queensland, and decent numbers on the floodplains around Darwin.
"I don't think the market will peak in December because of all the flood plain cattle we have around," he said.
"I think it is more likely to peak in January and February, and I don't think it will be as high as it was over the last two years, I think we will see a flatter year, a higher low and a lower high.
"There are cattle around, particularly in Western Queensland, although these cattle tend to have a bit of weight in them as Australian feedlots will buy them at a heavier weight than the traditional Indonesian feeder spec."
Other exporters Beef Central contacted this week suggested a price of 310-315c may be more in line with what Indonesian lot feeders are prepared to pay.
Some of the factors believed to have been holding prices up despite the weak demand conditions include a reluctance by producers with fair seasonal conditions to sell, as they seek instead to put weight on cattle, and shipping pressure keeping some exporters in the market buying cattle despite having to trade at a loss.
Drier seasonal conditions may also be starting to increase more cattle being offered for sale.