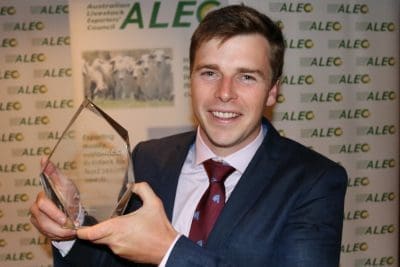 LANDMARK International operations manager Andrew Kelly was named as the winner of the Australian Livestock Exporters' Council's 2018 Young Achiever of the Year Award at a Gala Dinner in Adelaide last week.
Mr Kelly, who has been employed in the export industry with Landmark since 2013, started his livestock career working as a stockman on Northern Territory stations and is a graduate of Marcus Oldham College.
He is also part of a small group of emerging leaders within Landmark who have been selected to undertake a professional development and leadership course.
ALEC chief executive officer Brett Pointing said Mr Kelly was among a number of outstanding young professionals working in the livestock export industry and committed to its future.
"The livestock export industry's recognition of its stand-out achievers reflects exporters' commitment to innovation, leadership and world-leading practices," Mr Pointing said.
"The Australian livestock export trade relies on the passionate, professional men and women working across the industry. We congratulate Andrew on his outstanding contribution to our industry and look forward to his ongoing contribution in the years to come."
Landmark International general manager Andy Ingle, himself a previous Young Achiever award winner, described Mr Kelly as a passionate industry professional who "lives and breathes" the livestock export trade.
"He has a thorough understanding of the industry and knows what it takes to get a shipment from the initial point of signing a contract through to the safe delivery of livestock to its destination," Mr Ingle said.
"This includes the procurement, quarantine, the loading of the ship and engagement with clients while they are here in Australia and overseas in markets including Israel, China, Russia and Mexico."
Mr Kelly is also involved in livestock industry committees and trade development, working with fellow exporters on protocol negotiations and in strengthening livestock traceability frameworks.
"Andrew has also worked hard to bring new staff to Landmark International and ensure they understand the trade the importance of attention to detail, with regard to the livestock in our care," Mr Ingle said.
"Andrew's patience and thoroughness is something that is greatly valued, acknowledged and admired within Landmark International and he is very deserving of this industry recognition."
Source: Australian Livestock Exporters' Council.