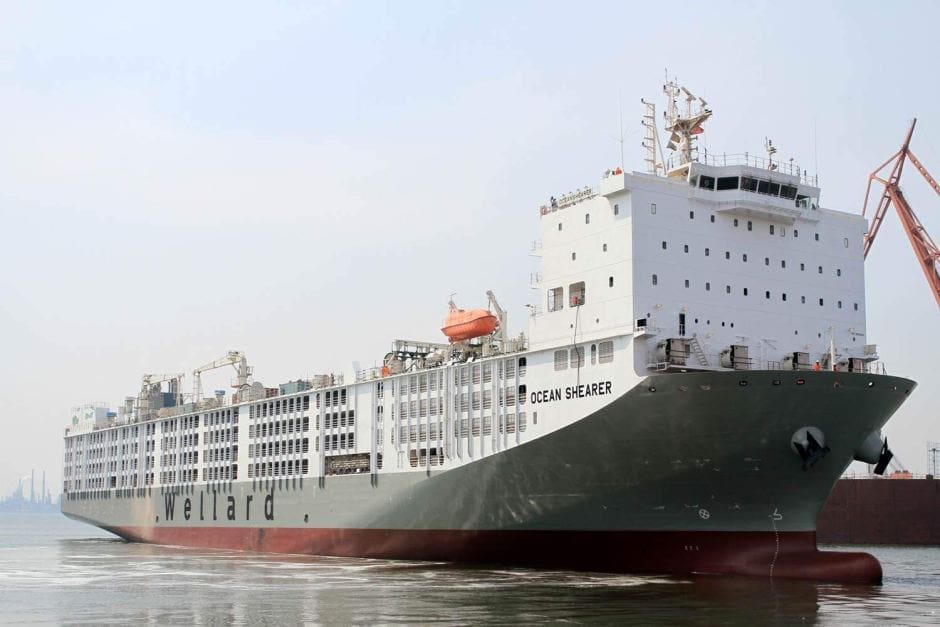 CAPABLE of carrying over 20,000 cattle in a single load, the world's largest purpose-built livestock ship was launched in China on Wednesday – fittingly a country to which it seems destined to return many times in future with Australian beef cattle.
The imposing $90 million Wellard Rural Exports vessel is almost two football fields long, towers eight stories above water level, and incorporates 23,500 square metres of pen space across nine decks.
The M/V Ocean Shearer is now the fifth ship in Wellard Rural Exports' fleet, and a sixth, to be called the Kelpie, is currently under construction in Croatia. The Shearer immediately increases the fleet carrying capacity of Australia's largest livestock exporter by 50 percent.
It is a big ship built to take advantage of the big opportunities emerging for Australia's livestock export industry, particularly in China.
Wellard CEO Mauro Balzarini confidently predicts the Chinese market will soon buy one million Australian cattle a year.
"I believe in the next 12 months China will start to take serious numbers," he said.
"They slaughter between 40 and 50 million cattle a year, so one million is just 2 percent.
"There is a study that says China will eventually consume as much beef as any developed country per head.
"So one million is really a drop in the ocean."
The Ocean Shearer is due to leave on its maiden voyage on Wednesday night headed for South Africa. There it will load up with fodder before cruising to Sao Sebastao in Brazil to collect 22,000 light-weight (280kg av) Nelore-cross bulls for final delivery to Turkey.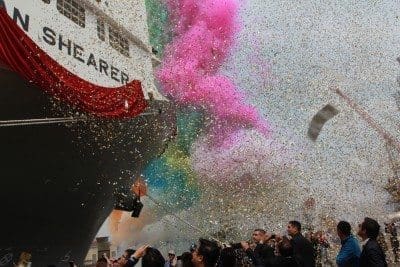 In sea trials completed on April 9 the Ocean Shearer cruised at speeds of around 20 knots.
It will be capable of supplying cattle from ports in Southern Australia to customers in northern China within about 16 days.
The Shearer has a fuel range of 18,000 miles and can carry 3000 tonnes of fodder.
It is the 15th livestock export vessel personally designed by Wellard's CEO Mauro Balzarini, who is also a naval architect by trade.
Its ventilation system harnesses more than 100 powerful fans to fully replace air throughout the vessels 60 times every hour.
Five onboard reverse osmosis systems produce 850,000 litres of fresh water per day.
The ship includes its own power station in the form of four 1700 kilowatt generators to operate the various livestock watering, feeding and ventilation systems.
A further two generators completely isolated from the primary source of power can also operate all livestock services in the event of a main power failure or mechanical breakdown.
Mr Balzarini said he was often frustrated to hear people without direct knowledge of livestock exports portray the trade as a "bunch of cowboys".
"You can see there is science, there is money, there is intellectual property, there is sweat and blood poured into this," he said.
"This vessel is $90 million, it is an investment.
"Some times the people in the city do not realise that we invest more than many other industries that they consider more sustainable. We have spent more on vessels in the past 10 years than anyone has spent on any abattoir in Australia."
Several loading points on every deck and stock handling systems designed with straight laneways and uniform pen sizes allow the vessel to efficiently load or unloaded with stock within 24 hours.
The ship also has a "double hull" as a safety measure which prevents any punctures to the outside hull affecting the ship's sea-worthiness.
Four of the nine decks on the Shearer alone can carry as many cattle or sheep as an average-sized livestock export vessel currently operating in Australia.
The Shearer can carry 20,000 adult sized cattle or 75,000 sheep or a combination of both. With 23,500 square metres of pen space, it is 500 square metres larger than its sister ship the M/V Ocean Drover, and is now the world's largest purpose-built livestock carrier.
Why has Wellard settled on this sized vessel?
Mr Balzarini said Wellard had always had a global focus, serving the Middle East and South East Asia, and needed vessels that was flexible.
A 23,000 square metre vessel was an ideal combination of efficiency and scale that markets can handle, he said.
"I never believed in (consignments of) 100,000 – 130,000 sheep or more – too big, too many to buy, too many to load.
"Our ideal size has always been around 70-75,000 sheep, that is what the market can take, and 15,000 and 20,000 cattle.
"These vessels (at 23,000 square metres) are so efficient, they are the right size," he said.
"When you build new, you don't have wasted space, you build what you need."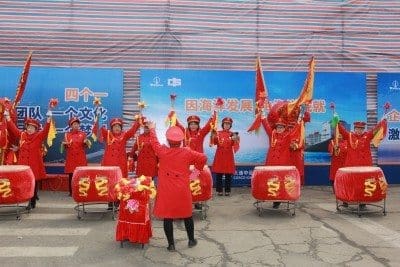 Mr Balzarini said the vessel used twice the fuel of a smaller 4000 head vessel but transported five times the capacity.
"It is five G-Class vessels but only one engine, one crew," he said.
The size of the ship afford every crew member their own accommodation, where on many ships four crew typically share one room.
Construction on the vessel initially began in a Korean shipyard five years ago, however when that company collapsed financially the job was transferred to the China Ocean Shipping Company (COSCO) Shipyard at Dalian near Beijing in China.
The State-owned Cosco has five shipyards. Its Dalian site employs 14,000 workers, who build on average about 18 new ships every year and service and repair a further 150.
The size of the construction job was reflected by the fact the ship took about $5 million worth of paint alone.