The strength of pre-Ramadan demand for export feeder cattle and a shortage of suitable stock has prompted a Northern Territory livestock agent to use a sale-by-tender process to market one of the few remaining large lines of sought-after high-grade steers for shipment in the coming weeks.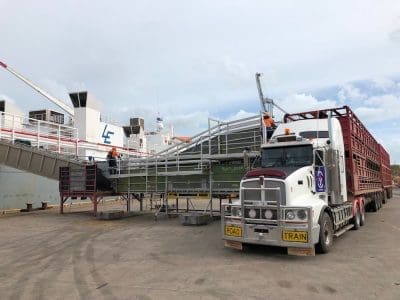 Scott Riggs, co-principal of Top End Livestock at Katherine, a business he co-owns with Rhys Hebberman in partnership with Nutrien, has 3500 forward-condition, high-grade Brahman steers and bulls weighing 300kg to 420kg, including some feeder heifers, currently available for the Indonesian trade on behalf of his clients.
The timing of Ramadan in early April this year means Indonesian feedlots must have feeder cattle imported and on feed by late February at the latest to reach market weights in time for the Labaran festival in early May.
That time-pressure, combined with wet season constraints on supply, exacerbated by Cyclone Tiffany earlier this month, has caused a short-term spike in competition from exporters. The higher demand has dictated a hike in prices for the limited number of high-grade export steers currently available, with top lines commanding 515c/kg last week and now 520c/kg this week, Mr Riggs said, setting a new price record for northern export feeder steers.
Mr Riggs said that with several exporters chasing cattle at the same time, a tender system seemed to be the fairest way to give them all equal opportunity to bid for the large line he is offering for his clients.
"There's not many around for February, we have got a good hold on them, and we've decided we're going to tender them," he explained.
"We have got most of the available cattle, so I just want to make it a fair system instead of a Dutch Auction so to speak."
A tender is a sale process in which potential buyers are invited to submit an offer, or a tender, for cattle, with the best offer or offers chosen at a closing date.
"Going back over the past years I could have 5000 or 6000 at this time of year and spread them over three exporters and try to keep everyone a little bit happy," he said.
"But at the moment with 4000 you have really only got one maybe two exporters that you could supply to make a ship warrantable (because of the numbers each exporter would need to fill a boat order)."
Mr Riggs said the NT cattle he has available are being offered to livestock exporters.
"The Queensland job is fantastic, and there is an article that suits Queensland out of here, there is no doubt about that, but we have got a big backbone towards the live export industry, so it is clients of mine that are very supportive of the industry," he said.
"So they hear they could get higher prices for their steers to go Queensland if they were mouthed up, but some clients have brushed that aside because we're here to support the live export.
"Queensland will be dry again one day and things will turn, but we still have boats swinging out of Darwin. It is our prerogative to support the industry that supports us."