Meat & Livestock Australia says Indonesian wet market price data does not fully support suggestions that importing customers are showing price resistance to the increasing cost of live cattle from Australia.
The levy-funded producer service company reports in its 2016 projections report today that the price of feeder steers from Darwin constantly found new highs last year, commencing the year at 253c/kg liveweight before finishing at 340c/kg liveweight – up 87c/kg for the year.
It notes that there have been recent reports that importing countries are showing resistance to those price levels.
However, MLA says its price data from Jakarta wet markets shows that there has been a simultaneous rise in wet market prices, which is working to offset some of the pressure of rising live cattle prices from Australia.
"In fact, many of the indicative monthly Jakarta Wet Market prices ended 2015 at record, or near record, highs," MLA said, referencing the chart below.
MLA believes that Australian live cattle exports will reduce in volume by 17 percent this year compared to last to a total of around one million head (see chart below).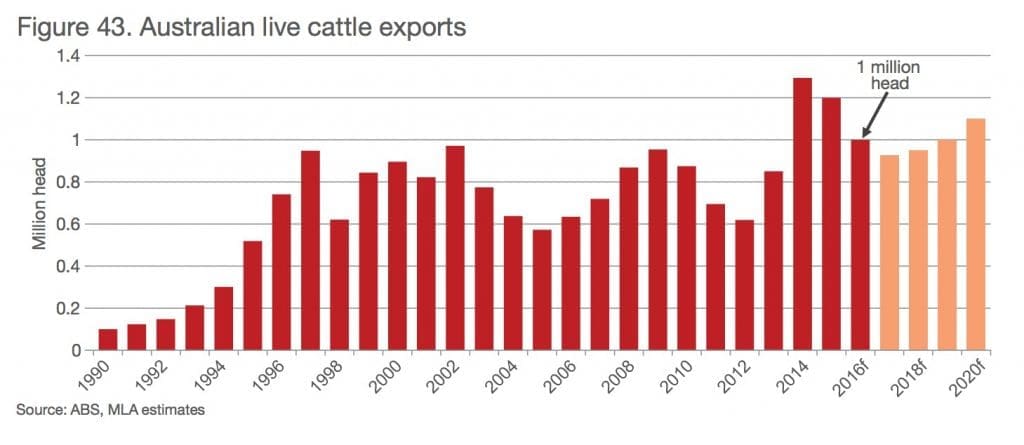 This is primarily because there will simply not be enough cattle to meet what is expected to be strong continued demand from Indonesia and Vietnam in particular this year.
Contributing to the rise in shipments during 2015 was a significant increase in the number of cattle exported from Townsville.
MLA says stronger local competition from processors and restockers for the reduced cattle supply is likely to further impact on available cattle for export orders this year.
The tighter supplies are also expected to curb recent export growth to Malaysia, Israel and Thailand, and continue the recent declining trend in exports to Egypt, the Philippines and Russia.