A young Australian agribusiness graduate says a recent tour of Indonesia's livestock industry demonstrated a strong animal welfare focus in the market that contrasts with how the trade is often publicly portrayed in Australia.
University of New England animal science graduate Rozzie O'Reilly was one of 18 students who participated in a 16 day tour of Indonesian livestock supply chains late last year, led by Professor Wayne Pitchford and Dr Mandi Carr from the School of Animal and Veterinary Sciences, University of Adelaide's Roseworthy Campus.
The tour was the third in three years led by Prof Pitchford and involved students studying agricultural science, animal science or veterinary medicine who had completed at least three years of their degree.
The 2012 and 2013 tours were partly supported with funding from Meat & Livestock Australia while the most recent tour was funded by the New Colombo Plan.
The 2014 tour was organised with the assistance of John Ackerman and Cameron McDonald from MLA's Indonesian office and involved visits to a wide cross section of cattle breeding and feeding systems, beef supply chains and wet markets and supermarkets in western Java, southern Sumatra and Lombok islands.
Cross-cultural focus
Professor Pitchford said an important focus of the annual program was to not only provide a valuable learning experience for Australian agricultural students but also for their counterparts in Indonesia.
"In July we hosted five students from Bogor Agricultural University and took them to South Australia, the Intercollegiate Meat Judging at Wagga and the Northern Territory," Prof Pitchford explained.
"They hosted our students when we arrived.  Most were already friends on Facebook and in regular communication.  The sister tour is outstanding at building relationships."
Prof Pitchford said the tour ticked all the boxes for combining his passions: "cattle, agriculture in a developing country, helping the underprivileged, and agricultural education".
The three years of touring so far has demonstrated marked changes in Indonesia's beef industry.
Despite a series of ongoing political and economic challenges, this year's group witnessed a "very bullish industry", he said.
"The first year we visited the feedlots were only half full and still recovering from the ban on live exports, just opening up quota and really struggling," Prof Pitchford said.
"Last year there were a lot of issues with Indonesia trying to become self-sufficient for beef.
"Beef prices were sky high and feedlots were forced to have breeder cattle in the feedlot- many of these cows were too fat to get back in calf which had a huge impact on their profitability.
"This year their cattle prices are still double ours, and nearly all their feedlots are at capacity and expanding, and profitability is high.
"One feedlot is expanding from 35,000 to over 60,000 and the rate of concrete pouring is amazing."
'A fantastic insight'
Tour participant Rozzie O'Reilly said the tour gave her a fantastic insight into each sector of the supply chain in which Australian cattle are exposed to in Indonesia, as well as some aspects of the broader Indonesian agricultural industry.
As a young graduate who is currently undertaking a beef supply chain traineeship with a lot feeding company in Australia, she said was particularly intrigued with how cattle are lot fed in Indonesia.
"The lot feeders' ability to successfully use numerous by-products as animal feeds, whilst maintaining similar weight gains to what Australian feedlots achieve, was fascinating and demonstrated that these companies are very resourceful and certainly suitable to the Indonesian production environments," Rozzie said in her report on the tour.
"This ability to feed rations almost entirely composed of by-products, also demonstrated to me that the Australian lot feeding sector potentially has room for improvement in terms of feed resource efficiency, considering a significant proportion of Australian rations are currently composed of feed products which are solely grown for feeding cattle. "
She said she was also fascinated with the feedlot infrastructure she encountered in Indonesia.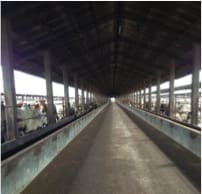 "In contrast to Australian feedlots, many of the Indonesian feedlots had iron roofing over either all of the pen space or a large proportion of the pen, with concrete flooring which is scraped clean on a daily basis (as shown in these pictures). This really helped me understand the Indonesian climate as well as how cheap labour is."
In terms of cattle slaughter standards, Rozzie said she was surprised to see that the Elders abattoir in Bogor utilised the same infrastructure and slaughter process as used in Australia, and that the company implemented the practice of 'dry-ageing.'
Another highlight was the visit to TUM abattoir which was purpose built to comply with the introduction of Exporter Supply Chain Assurance System requirements.
Rozzie said the tour clearly demonstrated that animal welfare is dealt with the utmost importance in Indonesia.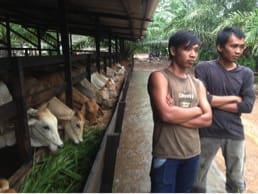 "This had a great positive impact on me, as it is quite contradictory to how live export to Indonesia is portrayed by a number of groups in Australia," she said.
"Ultimately, this experience gave me the confidence to be able to promote live export upon returning to Australia."