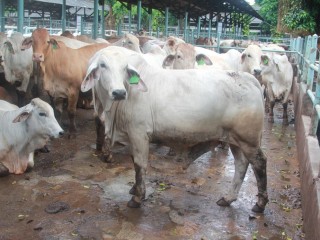 "Happy cattle, fat cattle". It is a mantra you hear repeated time and again as you walk with lot feeders in Indonesia through shaded rows of Australian cattle feeding on rations of tapioca and copra in feedlots throughout eastern Sumatra.
It is no secret that contented cattle are better performing cattle, and it is why millions of dollars have been poured into building better livestock ships, low-stress stock handling systems and world-class feedlots in Indonesia over the past 15 years.
In the past 12 months, the industry has invested similarly significant amounts in improving welfare at the point of slaughter, after an expose by ABC's Four Corners triggered a dramatic and controversial Federal Government decision to temporarily suspend the trade.
Prior to the program, large numbers of Australian cattle were processed through modern abattoirs that used pre-slaughter stunning, such as those owned by large-scale importers Elders International and the Indonesian-owned Santori. However, other Australian cattle were also slaughtered in smaller abattoirs that still practiced traditional slaughter.
Senators investigating the trade last year questioned why Four Corners largely overlooked the "good abattoirs" in its expose, noting that it dedicated just 35 seconds of its content to footage from modern abattoirs, but more than 15 minutes to footage from smaller abattoirs using traditional slaughter techniques.
The program triggered waves of public outrage that resulted in the dramatic suspension of the trade by the Australian Government on June 7 last year. The trade resumed two months later under new rules that required exporters to maintain full control of exported animals through to the point of slaughter.
Beef Central visited Java and Sumatra last week to see first-hand what has changed in welfare terms in abattoir facilities since the ban one year ago.
You don't have to look far to see that the simple answer is "a lot".
This is based not on a some vague, subjective assessment but on the tangible, physical upgrades that have been made to abattoir infrastructure, such as enclosed handling systems, RFID technology and in many cases stunning equipment, and in the number of vets and animal welfare officers that now oversee every kill.
The post-ban accreditation system has ultimately required those abattoirs that did not meet Australian welfare standards before the ban to either improve their practices or forego the right to handle Australian cattle.
Pre-slaughter stunning, which is over and above the requirements of the ESCAS system, is now used in more than 90pc of the abattoirs that process Australian cattle.
There is a strong expectation that rate will soon reach 100pc, if for no other reason than the fact that stunning has been proven to bring significant improvements in efficiency, meat quality and ultimately commercial returns to the Indonesian abattoirs that use it (see separate story).
(Somewhat ironically, it is said that one of the main reasons for ongoing delays in the uptake of stunning has been a slow response by Australian Government officials to process the audit requests required for stunning to proceed).
Many importers are also installing CCTV throughout supply chains to monitor welfare practices, deter bad practice and to provide an ongoing record of performance.
Significant investments
In many cases individual investments by importers have been significant.
In the weeks following the ban, the Hasan family's TUM group, which operates two modern and professionally-operated feedlots in Jakarta, made the deliberate decision on the advice of its supplier, NACC, to build a brand new abattoir incorporating stunning equipment and CCTV from the ground up.
It took 75 workers seven weeks to build, just in time for the re-opening of the trade in early August. The family also covered the costs for every abattoir in its it supply chain to make ESCAS-required modifications, plus stunning.
"All the feedlotters, not just us, all of us spend a lot of money," Pudjantoro (PJ) Hasan told Beef Central last week.
"After the animal welfare, everybody is accepting what you (Australia) are doing."
In eastern Sumatra, importer and lot feeder Greg Pankhurst has spent more $500,000 to supply pneumatic stunning equipment to the 20 abattoirs his company's two feedlots at Bandar Lampung and Medan supply. He estimates that ESCAS-related activities now cost his business around $50,000 a month, which includes the cost of running five full-time administration staff and 30 animal welfare officers across the abattoirs it supplies.
When ABC aired "A Bloody Business", reporter Sarah Ferguson described images of cattle being mistreated "as the pictures the cattle industry doesn't want to you see". A year on, the same point could perhaps be made in reverse.
Images of cattle moving calmly through closed handling systems, under the supervision of full time vets and animal welfare officers, and in the vast majority of cases being stunned before slaughter, could well be described as the pictures "the animal rights movement doesn't want you to see".
Animals Australia, who's footage initiated the Four Corners expose, has offered little public acknowledgement of the significant advances made in animal welfare programs in Indonesia in the past 12 months. Rather, as recently as last week, it was pledging in an email to supporters to continue to campaign against live exports until the trade is shut down.
And it is true that for all the industry's progress, the system is not yet perfect.
As one exporter explained, achieving 100pc compliance is a very tough thing in any business, any industry or any market, let alone in a foreign country with a vastly different culture to your own.
"To completely reshape a regulatory environment in a foreign country requiring significant infrastructure, investment and cultural and work practice changes is an enormous effort, and teething problems are not unexpected.
"We have in place an array of controls, but the structure means we do rely on our import customers, feedlotters and process owner/operators to work within those standards every day also."
High stakes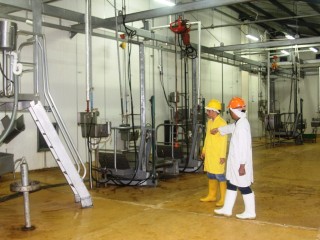 There is no doubt that the combination of infrastructure upgrades, intensive abattoir employee training, round-the-clock presence of vets and animal welfare officers and independent auditing systems means that the chances ofAustralian cattle being exposed to unacceptable standards are much lower today than they were one year ago.
The industry well knows that its efforts to bring supply chains up to 100pc compliance will be matched only by Animals Australia's determination to find any new examples it can of wrong doing to sink the trade.
In February Animals Australia supplied footage of alleged animal welfare breaches directly to ABC Lateline.
The footage was understood to have been filmed in Indonesian abattoirs by an Indonesian worker using a secret camera hidden in a belt buckle.
The ensuing DAFF investigation said the footage provided evidence that two exporters, NACC and ILE, had not been able to demonstrate full control of their supply chains, and both would therefore face greater monitoring and auditing requirements.
Further breaches could result in the possible suspension of both company's export licenses, the regulator warned.
(In response to the DAFF investigation report, NACC issued a statement that the video footage obtained was from a single abattoir (one of more than 22 NACC has in its supply chains) and did not show animal cruelty, but rather that non-compliances related to a small number of technical work-practices, and only when the animal was in an accredited and approved box in the final stages. NACC added that the footage only involved four cattle and only assessed five performance measures of more than 130 in place across that supply chain.)
With the peak annual cattle processing period around the corner in the approach to Ramadan in July/August, the battle facing the industry to prove its welfare credentials is only set to intensify.
For exporters and importers who have pumped millions of dollars into a market that has shrunk in size due to Indonesian quota cutbacks at the same time,with no guarantee of increasing, the stakes are high.
Despite the pressure the trade is under, industry stakeholders both in Australia and Indonesia remain deeply passionate and committed to the industry, and the role it provides in generating employment through feedlots and abattoirs in Indonesia and an important source of protein to a Muslim dominated population of 240m people.
All hold a consistent view on one issue – the Indonesian trading relationship is critically important for Australia and Indonesia needs Australian cattle – but much work needs to be done to repair trust and diplomacy at the Government level.
There is a also a strong feeling that the exporters are being asked to do more than their counterparts in Australia. "It is not well understood that millions of dollars have been spent and continue to be spent on the ground in Indonesia to implement an ESCAS system that we don't even have or enforce in Australia," one said.
"The industry – and in particular our Indonesian partners – need and deserve recognition for the widespread changes made and the 99pc compliance being achieved – the ESCAS system needs to be a positive and encouraging framework – not something seen as designed to simply hurt."
• Beef Central travelled to Indonesia last week to inspect supply chain developments at its own expense.