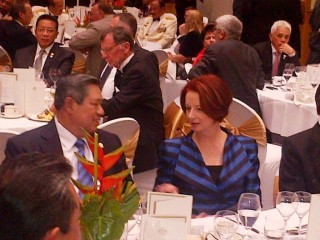 Indonesian president Susilo Bambang Yudhoyono had little comfort to offer northern cattle producers hoping for positive news on feeder cattle quotas when he visited Darwin last week.
Instead he held firm to the self-sufficiency script that has dominated Indonesia's agricultural and trade policy in recent years.
His simple message was that Indonesia wants to expand its local cattle herd so it can reduce its dependence on beef and cattle imports, and believes there is a place for greater Australian investment to help it achieve that goal.
The president said that with demand for beef growing so strongly in Indonesia, a dual-track investment approach would benefit both countries.
The obvious question for Australia is whether, in helping Indonesia to breed more cattle, it will effectively rob itself of a major long term market at the same time.
At least one person who thinks that is unlikely is Cattle Council of Australia chief executive officer David Inall, who attended last week's high-level meetings in Darwin.
He believes that rising beef consumption in the rapidly growing country and the inherent challenges that stand in the way of breeding in Indonesia will continue to underpin demand for Australian feeder cattle and beef long into the future.
"Indonesia is now 235 million people, they have serious constraints with regard to landmass, which they are acutely aware of, they are an archipelago of 18,000 (900 permanently inhabited) islands and moving product around is challenging," Mr Inall said.
"I really think that with their current breeding capacity they are some time away from being able to support their domestic consumption."
When Mr Inall visited Indonesia in February as part of a delegation with Federal ministers Joe Ludwig (agriculture) and Craig Emerson (trade), Indonesia's trade minister Gita Wirjawan expressed a desire to see Indonesian beef consumption rise from 2kg per person per year to 20kg per person per year.
Whether such an ambitious target is likely or not, Mr Inall believes there is no doubt Indonesia will need far more beef in future, and that will ultimately tie Australia and Indonesia closer together.
"I believe that what comes behind a dedicated breeding program is in fact larger numbers of feeder cattle going into Indonesia, because without the feeder cattle, they will consume their breeders.
"There are anecdotal reports that on any given night in Indonesia, up to 70pc of the cattle being killed are females."
He said the key challenge for Australia at this point is to develop a clear understanding of Indonesia's intentions with regard to breeding cattle programs, the policy instruments it will use to support breeding initiatives in the market, and where investment opportunities for Australian companies are likely to lie.
He said Australia's peak industry bodies including CCA, the National Farmers Federation, the Australian Livestock Export Council and Northern Territory Cattlemen's Association are forming a strategy to assess how future agribusiness opportunities in Indonesia can be pulled together.
Part of that process will involve talking to agribusiness investors about the roadblocks that currently stand in the way of investment of Indonesia, and providing that feedback back to Indonesian officials.
Mr Inall said last week's meetings in Darwin had given Australia's cattle industry a clearer sense of what needs to be done to rebuild trade with Indonesia going forward.
While Indonesia is inviting Australia to invest in breeding programs, senior Indonesian ministers have made public comments about opening the country's doors to imports from countries where Foot and Mouth Disease is prevalent, such as Brazil and India.
Mr Inall said was such remarks were concerning.
"From an Australian perspective and from a biosecurity perspective we don't want to see Indonesia going far afield and getting meat and livestock from other countries," he said.
"While it is their right do so, being such a close neighbour of ours, Australia worked collaboratively with Indonesia in the early 1980s for them to be recognised as FMD-free, and I think we should do everything in our power to help make sure they retain that status."