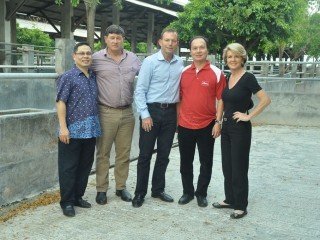 An Indonesian lot feeder who recently hosted senior coalition figures, including Federal Opposition Leader Tony Abbott, on a tour of his Jakarta supply chain says beef shortages in the country are biting harder as imported cattle numbers dry up.
Import quotas of 90,000 head for the current semester were issued by the Indonesian Department of Trade back in July, and most of those cattle have now all but worked their way through the Indonesian feedlot system.
Pudjantoro "PJ" Hasan and his brother Buntoro Hasan, Sanko own the TUM importing and lot feeding company which runs high-quality feedlots and abattoirs in Jakarta.
On the advice of their main supplier Elders, the Hasans made the significant investment decision to build a brand new abattoir to Australian Government standards last year after the trade was shutdown for two months following footage of animal welfare breaches on ABC television.
Mr Hasan told Beef Central this week that the company's feedlots are now 75pc empty due to import permit cutbacks that have occurred since last year's ban, and will run out of imported cattle by Christmas.
With local cattle numbers proving to be extremely tight and not able to fill the supply shortfall, he predicts that already-high beef prices in Indonesia will climb above 100,000 Indonesian Rupiah again by Christmas.
Abbott sees conditions first-hand
In mid-October the Hasans hosted Federal Opposition Leader Tony Abbott, Deputy Opposition Leader and Shadow Minister for Foreign Affairs and Trade Julie Bishop and Shadow minister for Agriculture John Cobb on a tour of their supply chain.
The Federal parliamentarians were joined by representatives of the Indonesian cattle importers and lot feeders association APFINDO and the members of the Australian livestock export industry.
"We commented to Mr Abbott that the sudden stop of export cattle by the Australia Government to Indonesia without any discussion with the Indonesian Government made our Government unhappy, and therefore a good relationship and discussion is important, and that is why we hope that Mr Abbott can help this situation," Mr Hasan explained to Beef Central.
"After this action, our government made a drastic drop of import live cattle and beef as the reaction to the two month stop of live cattle export to Indonesia."
"We showed Mr Abbott and his team how empty our feedlot was and how important our business is to the prosperity of the local community.
"We also explained the benefit of the high quality Australian cattle and their performance and overall how important Australian cattle are to supplement the local supply.
"Mr Abbot and his team also visited our abattoir facility at Selapajang, which is of very high standard including first-class animal handling equipment."
"It was very good for Mr Abbott, Mr Cobb and Ms Bishop to take time to visit our facility and reassuring that they understand how important and logical the trade is for both countries."
Mr Hasan said that people who understood the cattle industry in Indonesia (both Indonesian and Australia) were not optimistic about the chances of Indonesian Government's target of achieving self-sufficiency in beef production by 2014 being achieved.
"(This is) because of the growing good economy in Indonesia with more and more middle class people making good demand for beef, and Indonesia still need to import a lot from Australia, the nearest country from Indonesia and free from Foot and Mouth Disease.
"Mostly our feedlots here in Indonesia are now 75pc empty, and we predict that by the end of this year our feedlot will be 90pc empty.
"We are trying to buy local cattle for fattening but we cannot get many, and I think every feedlot only can buy about 1000 head per month and some less.
"This is far from their expectation, but it seems our Government does not believe with the shortage.
"We have to wait until they come to the realisation of shortage."
Mr Hasan said the Indonesian Government has recently issued a clear policy statement saying that future beef import requirements will be divided into a ratio of 60pc live feeder cattle and 40pc boxed beef.
"Why live cattle more? Because our Government understand that feedlot create jobs and absorbing local farmers products," Mr Hasan said.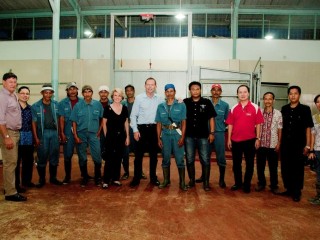 Mr Hasan said the beef shortage would not improve until first quarter quota is released for the new year in January, and he predicted prices will reach unaffordable levels for Indonesian consumers in the meantime.
"The price of beef at the wet market has been increasing to the highest ever," he said.
"Before, the normal the price at wet market was about Rp 55,000-6O,000/kg, but now Rp 80,000-90,000/kg meat.
"Many people believe that the price by the end of December or early next year will exceed Rp 100,000/kg.
"This situation is because of the shortage created by the import permit cutbacks."
Click on images below to view each picture in larger format