A DROP in Australian cattle export volumes to a more-than 10 year low and climbing fuel prices were reflected in the financial results of publicly listed livestock shipping operator Wellard Limited reported to the ASX on Friday.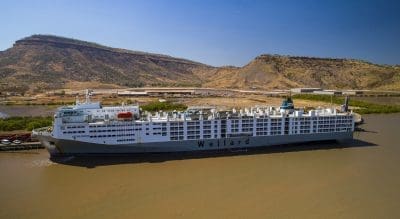 Wellard Limited announced an A$7.2 million loss for the half year ending 31 December 2022.
Wellard said its revenue levels held firm compared to the corresponding period the year earlier, when it reported a A$0.7m profit, but expenses increased with fuel prices driving the biggest cost-hike of A$5.8m.
Wellard Executive Chairman John Klepec said while it was disappointing to break Wellard's recent run of profits, a strong balance sheet has helped to ensure it can weather the current trading conditions.
Australian cattle exports in 2022 totalled 590,968 head, the lowest calendar-year volume since Australia's 2011 suspension on cattle exports to Indonesia, and 42 percent lower than the rolling five-year annual average of 1 million head.
"Whilst cattle producers continued to enjoy high prices, the first half of FY2023 was tough for the rest of the Australian live export supply chain – with the outbreaks of both Lumpy Skin Disease (LSD) and Foot and Mouth Disease (FMD) in Indonesia causing both a fall off in buying activity and a changed charter market dynamic towards smaller vessels in that market," Mr Klepec stated in Wellard's official half-year announcement.
"Fortunately, the demand for breeding cattle from North Asia remained strong and VLSO prices have retracted from their historical highs, though they still remain relatively expensive when compared to prior years."
Revenue for H1 FY23 of US$22.8 million, only marginally lower than the US$23.2 million in recorded in H1 FY22.
This was despite a 35-day dry-dock for the M/V Ocean Ute's special survey class renewal.
However, Wellard's Cost of Sales increased by US$5.0 million, which the company attributed to largely to a 55.5pc increase in Very Low Sulphur Fuel Oil (VLSFO) prices when compared to H1 FY22.
"Normally Wellard passes on fuel price fluctuations through the freight rates paid by its customers.
"However, with livestock export traders and importers suffering either losses or tight margins themselves, Wellard's ability to fully pass on increased bunker prices was compromised in H1 FY23 (as well as in H2 FY22), creating an imbalance between increasing costs and stagnating revenue, which impacted the Company's EBITDA and NPAT."
Wellard says the tough trading conditions experienced at the end of Q2 FY23 have prevailed into Q3 and may extend into the start of Q4 when the supply of export cattle post-northern wet season will increase.
"Australian cattle exports to Indonesia and Vietnam will be crucial to utilisation of the M/V Ocean Swagman and M/V Ocean Ute, both of which are currently unemployed and not expected to be fully utilised again until the start of Q4 FY23 when Australian cattle volumes increase again.
"LSD and FMD infections in Indonesia, combined with high Australian cattle prices and a backlog of cattle and beef, continue to hamper cattle exports to Australia's traditional main market for live cattle exports.
"Other than producers, many participants in this market have either ceased operating or sustained significant financial losses in the past year."
The statement notes that live export steer prices in Australia have fallen by about 15 percent from late 2022 to early 2023, albeit on very small trade numbers.
"As high Australian cattle prices have been a significant impediment to purchasing activity by Indonesian and Vietnamese importers, the continuation of this change in trend will be the key determinant of live export activity and therefore charter demand for Wellard vessels from northern Australian ports when cattle availability increases in Q4 FY23."