DESPITE challenging times in Australia's trade relationship with China positive developments are still occurring, evidenced last week by a shipment of cattle from Western Australia to Hainan Island which marked the opening of a new trade pathway that has been some six years in the making.
The development has significance not just for the future of Australia's cattle export trade to China, but also as a lower-tariff pathway for Australian beef into China.
On July 3, South Australian Cattle Company managing director Ashley James and his team successfully delivered a consignment of 1785 slaughter-weight cattle sourced from Western Australia to a new purpose-built feedlot and abattoir in the province of Hainan Island, which lies just south of China (see map).
The shipment marked the culmination of six years of work between the exporter, its Chinese directors and the customer Hainan Huaao Fresh Cattle Company aimed at developing an Australian cattle trade to Hainan Island.
Hainan Huaao Fresh Cattle Company has developed an impressive and vast new lot feeding and processing hub (shown in detail in videos below) specifically for imported Australian cattle on the 35,000 square kilometre island.
Most of the cattle imported to Hainan from Australia will supply a large modern wet market on the island, serving its nine million residents.
But the facility also incorporates a modern new boning room, which will enable beef from higher quality cattle to supply supermarkets on the island and on the Chinese mainland.
It is understood the customer also plans to import carcases processed in Australia and break them down in the Hainan Island facility for export to the Chinese mainland.
Tariffs on Australian boxed beef exported to China have just risen from less than 5 per cent to 12 per cent for the final six months of 2020, after a quota safeguard was triggered in June.
There is currently no tariff on Australian cattle imports to China under a trade agreement signed in 2015.
Under the same agreement Australian carcases and half-carcases currently attract an 8pc tariff into China, which drops to 6pc in January 2021 and 0pc by January 2024.
"With the relationships our Chinese owners have made, Hainan Island is going to be a hub both live cattle and boxed meat," Mr James explained.
"Their main business is live cattle, the beef from the shipment we sent was all pre-sold prior to the vessel arriving, they just haven't had the opportunities (on Hainan Island) for fresh meat and especially from Australia until now."
Pictures that appeared in Chinese media reports about last week's shipment to Hainan highlighted the popularity of the new source of beef on the island, showing long lines of customers queuing up to buy it.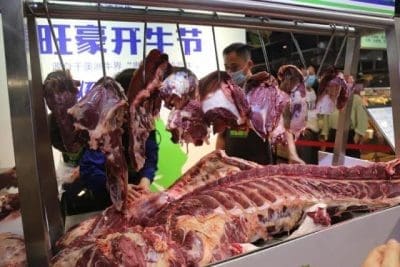 Market well suited to WA cattle
The new trade pathway appears to provide the most promise for cattle producers in Western Australia for two specific reasons. The sea-voyage from WA to Hainan is at least a few days shorter than from other Australian States, reducing freight costs. And perhaps most importantly, the vast majority of WA lies outside Australia's Bluetongue Possible Transmission Zone (see map below right) which frees WA cattle from the seasonal constraints that prevent cattle being sourced from other large parts of north Australia in the southern hemisphere summer.
"It really works out of WA because of the bluetongue line," Mr James said.
"We could source British bred cattle for the whole market, not only Hainan, from the east coast, but the extra freight cost really prices us out of it, so it is really a WA market due to the proximity."
The climate on Hainan Island, which lies on a parallel latitude to northern Vietnam and shares the same hot and humid conditions in summer, also lends to leaner, tropical cattle.
Like their neighbours in Vietnam, Hainan residents have a distinct preference for hot, freshly-killed meat from wet markets. But the major port island also has a large and growing tourist population which prefers chilled or frozen supermarket product.
Chinese import protocol still strictly requires imported slaughter cattle to be processed within 14 days of arrival in China.
In order to secure the cattle required to meet that protocol, exporters compete with buyers for 90 to 100 day grainfed cattle not already forward sold to supermarkets.
A range of different breeds and types of cattle were included in the first shipment, giving Hainan Huaao Fresh Cattle Company an opportunity to test the optimum products for its wet market and supermarket customers.
The shipment included British, Euro and Tropical breeds (predominantly Droughtmaster and Santa) and steers, heifers, cows and bulls, all bought out of Western Australia.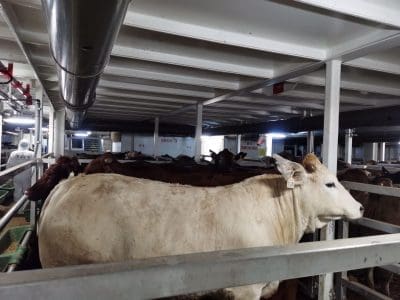 "We were able to deliver them a diverse product for the first shipment with a mix of British, Euro and pastoral cattle, which was really for them to start measuring what is best for them to sell in the wet market."
Another shipment is planned next month. The new trade pathway could see regular shipments every six to eight weeks, but trade flows will be influenced by the availability of suitable grainfed cattle and the purchase price.
As reported earlier this year by Beef Central, SACC also conducts a custom kill in Australia to supply boxed meat to customer in China.
The company was directly impacted by the recent Chinese Government decision to suspend imports from four abattoirs, which affected the abattoir it was using at Casino.
Mr James said the company has since been able to secure custom kill space elsewhere to keep that trade moving.
He said that despite the strained relations between Australia and China at Government to Government level, shipments of both breeder and slaughter cattle for the market were continuing to move without significant impacts. The main challenge for the trade at present surrounds being able to secure suitable cattle given the constraints on supply as more producers hold onto cattle to make use of recently replenished grass reserves or to rebuild herds.
"While the price is heading north we're finding it really hard to find the cattle, and that is also the same for Vietnam and Indonesia," he said.
"We're seeing a real shortage of cattle at the moment, and the question is going to be answered very soon, is the customer able to pay what is needed for these cattle."
Media outlets in China reporting the arrival of the cattle shipment to Hainan last week emphasised the low-tariff opportunities created.
One quoted Wang Bo, the head of the Carrefour supermarket in Hainan, who explained that the retail price of beef produced from local cattle on the island is about 136 yuan per kilogram.
"Due the zero-tariff policy, the price of the imported beef is lower than before, which will decrease the cost and make the imported beef more affordable," he told a local Hainan media outlet.
"About 130kg of Australian beef has arrived at our supermarket today. The beef is in short supply and it was sold out within less than 30 minutes. Due to the great demand of the beef, we will restock the beef for about 1,000kg tomorrow."