Cattle export prices in northern Australia have staged a gradual rise since early June, the first sustained price increase for export cattle in close to two years.
Export feeder steer prices in Darwin have climbed from 265c/kg liveweight in early June to 290c/kg this week, for orders one-to-two weeks out.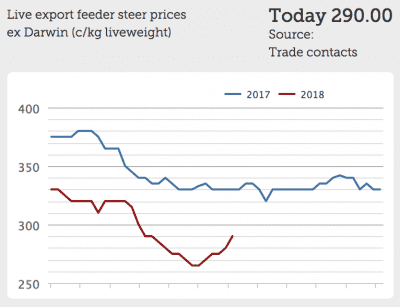 The rise reflects emerging green shoots in demand from Indonesia in particular after importers recorded better than expected sales during Ramadan.
However the extent of the price recovery could depend on how quickly prices rise from here. Trade sources point out that demand from Indonesia is relatively elastic, and a sharp and strong rise would itself have the effect of slowing demand and orders again.
Consolidated Pastoral Company has a stake at both ends of the market as both a producer of export cattle and the owner of substantial lot feeding interests in Indonesia.
CEO Troy Setter said a shortage of heavier feeders was one of the drivers of the recent price rise.
"You can't buy the 400kg plus feeder cattle at a substantial discount so it is pushing people who usually buy heavier cattle, particularly Vietnamese buyers, into the lighter feeder cattle spec," Mr Setter explained.
He said the recent Ramadan period had helped many Indonesian feedlots to clear some long-held cattle which had been bought at expensive prices.
How importers will handle the latest increase in price was still a little too early to tell.
"I don't think they will handle a rapid price increase, demand will slow down if the price moves up too quickly," he said.
But provided prices moved steadily, increases in sales volumes were now likely.
"One of the biggest limiting factors to volume into Indonesia in the last two years has not been anything other than Australian cattle prices being high," Mr Setter said.
"And if the price goes up again we will see the volumes match historical years.
"If the price stays where it has been over the last couple of months or into the early 300s it will probably see an increase in volume."
One issue confronting the trade is the question of whether enough shipping capacity can be found to handle an increased volume of orders.
Subdued export volumes to Indonesia and Vietnam in recent years have seen several ships either diverted to longer haul destinations such as to China, moved to non-Australian trade runs such as from South America to the Middle East or Europe, or placed in dry dock.
Mr Setter said the current dry season mustering period was running well for CPC with their cattle continuing to gain weight. While the eastern side of the Barkly was still quite dry, which had led to a herd decline that region, the rest of the north WA to the Queensland Gulf was in good stead with herds either holding or growing.
Grass and water right, ready to add the cattle to make beef @ConPastCo pic.twitter.com/8cTnjSICbl

— Troy Setter (@troysetter) July 14, 2018