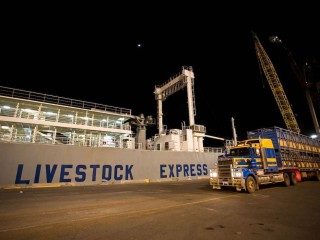 One month after it brought Australia's northern cattle industry to a standstill, the Federal Government has lifted its ban on live cattle exports to Indonesia.
In a statement released tonight agriculture minister Senator Joe Ludwig said he had issued export control orders that open the way for trade in live feeder cattle to recommence with Indonesia.
"These new orders allow the export of live cattle only where animals can be managed through supply chains that meet international standards," Mr Ludwig said.
"These strict new conditions have been written into all export permits," Mr Ludwig said.
"They require exporters to trace cattle from properties, onto vessels, into feedlots and into abattoirs that meet agreed international standards.
"Permits will only be issued to those exporters who can demonstrate that this will be the case."
Mr Ludwig said the appropriate standards to apply to the trade were those contained in the World Animal Health guidelines (OIE).
"Exporters will have to collect and make public data on the consignments they take to market, including where animals are fattened, how they are transported and where they are slaughtered.
"Supply chains will be verified by commercial independent auditors with the entire process to be independently audited on a regular basis. These audit reports will be made public.
"The Government understands that producers and other businesses particiating in the industry have been doing it tough.
"These reforms will provide the industry with a sustainable long term future.
"We will continue to work closely with industry to ensure the welfare of Australian cattle remains at the heart of this trade – a trade that has a strong future."
There is no word yet on when cattle exports can recommence, because the Indonesian Government is yet to issue new import permits for the current quarter.
The director general of livestock with the Indonesian Ministry of Agriculture, Prabowo Caturroso, told the AAP news agency today that Indonesia still intended to import a total of 500,000 head this year, if and when Australia lifted the suspension of the trade.
However he also indicated his office would recommend a dramatic cut in live cattle and boxed beef sourced from Australia next year.
This was based on its plans to achieve self-sufficiency in beef production by 2014.
AAP reported that the preliminary results from the ongoing cattle census in Indonesia suggest the country has around 14.43 million domestic cattle available for slaughter, well above the 14.2m it believed it required to become self-sufficient in beef production by 2014.
Mr Caturroso described the Australian ban on live exports as "a hidden blessing" because it had highlighted that Indonesia was already self-sufficient.
The official results of the Indonesian Government's census are not expected to be released until later in July.
Indonesian media reports have recently challenged the credibility of the Ministry of Agriculture's cattle population data.
In May the Jakarta Globe reported that tallies of cattle in East Java province "miraculously" climbed from 2.7 million head to nearly 3.4 million head in 2008 according to Ministry of Agriculture figures, with no reasons given to explain the 680,000 head rise.
The article suggested Indonesian cattle numbers were likely to be much lower than officially reported. "According to Indonesian and foreign industry experts, this much is known: the country has no hope of becoming self-sufficient by 2014, or even by 2020, despite what the Minister of Agricuture claims," it said.