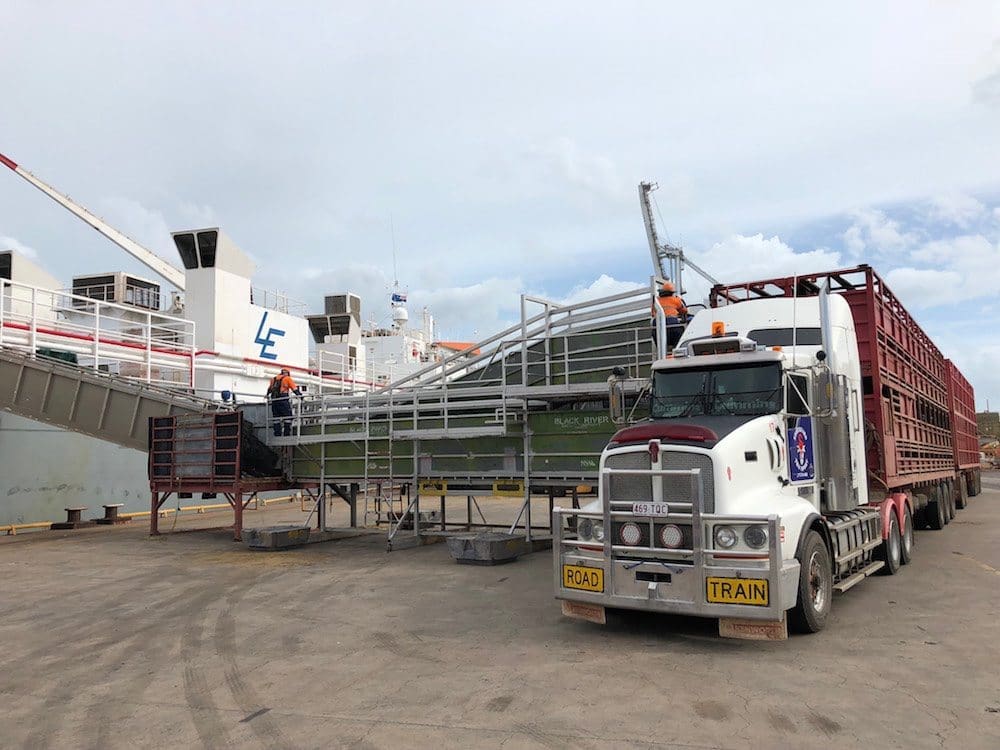 The Bison Express loading cattle in Townsville for export to China.
AUSTRALIA'S growing cattle export trade to China has marked another milestone, with the first shipment of slaughter cattle to be sourced and shipped from northern Australia set to leave Townsville for China this evening.
The North Australia Cattle Company (NACC) loaded 1600 steers aboard the Bison Express this morning. The shipment is scheduled to depart Townsville later today and is due to arrive at the Port of Ningbo south of Shanghai in 10-11 days' time.
The consignment comprises grassfed steers averaging 570kg, and with breed types including Brangus, Charbray, Simbrah, Droughtmaster cross and Santa Gertrudis cross.
Twelve months ago NACC became the first exporter to send a sea-shipment of Australian cattle to China under the new trade, which was established with an export agreement signed between both countries alongside the China-Australia Free Trade Agreement in 2015.
NACC has now played another key role in the trade's development by coordinating this shipment which opens access to the Chinese market for cattle producers in northern Australia.
The health protocol governing the Australia-China cattle trade applies additional conditions on cattle sourced from within northern Australia's Bluetongue Virus (BTV) possible transmission zone (Although it is important to note that the strain of BTV that can be found in northern Australia has never caused an actual clinical case of bluetongue disease in Australian cattle).
All previous shipments of slaughter cattle to China from Australia since the trade commenced – comprising three small air-consignments in 2015-16 and four sea shipments in 2017 – have been sourced from southern Australia.
But, as illustrated in the below graphic (click on images to enlarge), the protocol allows for the export of cattle from northern Australia, provided extra treatments, tests and quarantine measures are carried out prior to shipping.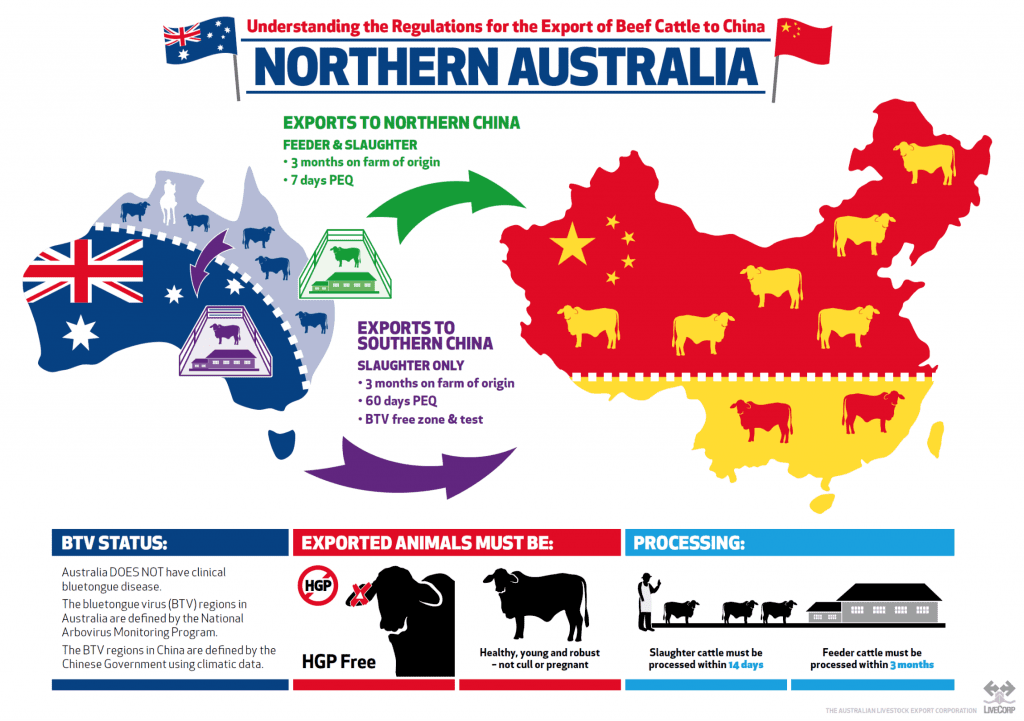 NACC was sold by Elders last year and is now owned by the company's Australian-based managers and Chinese investors.
NACC managing director Patrick Underwood said that with the new ownership structure the company was very excited to have been involved in this week's shipment. He said the company's Chinese team was very confident of developing a growing customer base in the market.
The cattle were sourced from as far south of Townsville as Springsure, Emerald and the Belyando regions of Central Queensland.
The challenge of finding suitable cattle in Queensland within the correct specifications while also being free of Hormonal Growth Promotants (HGPs) – a primary condition of China's protocol – was a key reason why the exporter had to cast the net so far.
The shipment is due to arrive at Ningbo Port in China's Zheijang Province in late January. Chinese protocol conditions require that imported slaughter cattle must be processed within 14 days of arrival at port.
The timing of this shipment will allow the beef from this consignment to be available in the Chinese market just in time for Chinese New Year festivities which commence on February 15.
"The customer has already pre-sold a couple of thousand beef gift packs for the Chinese New Year with product from these cattle," Mr Underwood said.
In addition to a professional Australian stockman and the team of livestock workers who are members of the Bison Express crew, an Australian-Government Accredited Veterinarian (AAV) is also on board throughout the voyage.
Strong demand outlook
The five sea-based shipments of cattle that have now been exported from Australia to China have gone to four different importers, highlighting a strong demand base in the emerging market.
"There are seven or eight customers there who are all gearing to take Australian cattle and who have all made considerable investments," Mr Underwood said.
Mr Underwood said China's growing market strength was coming at an important time for the cattle export trade, as the traditional markets of Indonesia and Vietnam experienced demand challenges, reflected in the unusual easing of northern cattle prices that had occurred so far in January.
While the rising Australian dollar was working against the trade, Mr Underwood said growing demand from China could help to curb the extent of a looming price reduction for Australian cattle.
The Australian Livestock Exporter's Council described today's shipment of northern cattle as "a significant breakthrough and testament to the enterprising nature of Australian livestock exporters".
Red Meat Advisory Council independent chair Don Mackay added that it demonstrated what can be achieved "when members of the red meat industry work together with government and our overseas customers".
"The forging of new markets complements our existing export supply chains, while adding extra competition for producers and increasing the overall value of Australia's $18 billion red meat sector," Mr Mackay said.
Cattle Council of Australia President Howard Smith said the Australian livestock export trade was an economically significant alternative to domestic processing, creating essential market diversity and competition for Australian cattle producers.
"The departure of this shipment of slaughter cattle from Townsville to China is a perfect example of the beef sector's diversification," Mr Smith said.
"The shipment also continues to demonstrate that our domestic biosecurity protocols protect our sector and, importantly, receive recognition from overseas markets."
Port of Townsville Limited acting Chief Executive Officer Claudia Brumme-Smith said the shipment represented a very exciting day for northern Australian agriculture exports.
"The Port of Townsville is Australia's second largest export port for live cattle, facilitating the movement of more than 200,000 head over the past 12 months," said Ms Brumme-Smith.
"The potential for growth in export numbers with the addition of the Chinese market cannot be understated.
"The development of a live cattle export supply chain from Townsville could be a real win for regional producers who can offer cattle which are suitable for the Chinese market.
"Our port has undergone infrastructure upgrades over the past few years to improve logistics infrastructure for cattle exporters, giving us the capacity to export up to one million head per year."
"The $40.7 million upgrades to Berth 4 will very soon give us extra capacity to accept these livex vessels, and the $193 million Channel Capacity Upgrade will ensure bigger ships can access our port by the year 2023."