The value of industry research can be measured in savings worth tens of thousands of dollars a year to the bottom line of the Mohr-Bell family's Northern Territory cattle property Mathison Station.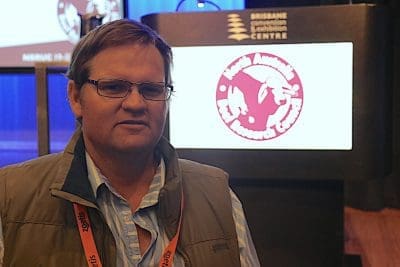 Jay Mohr-Bell gained an early awareness of the benefits of industry research while growing up on a cotton farm near Moree, and is now actively engaged in northern beef industry research as a cattle producer near Katherine.
Mr Mohr-Bell chairs the Katherine Pastoral Industry Advisory Committee (KPIAC) and sits on the Northern Beef Research Advisory Council (NBRAC).
Mathison Station was purchased in May 2011, then a subdivided lease from a larger station with limited developments including a homestead, a couple of bores and some fencing.
The new operation had just about the toughest start imaginable.
Just 23 days after Mathison was purchased, the Australian Government suspended cattle exports to Indonesia.
The family stuck to a plan of putting in more fencing, new bores and new cattle yards before bringing cattle onto the property, and focused their management decisions on key profit drivers and taking advantage of existing research.
Weaning rates started in the early 40pc range, and, through a combination of selecting for fertility, matching stocking rates to carrying capacity, decreasing distance to water and providing supplementation with licks, have gradually lifted to almost 60pc – although this year will fall back again due to the failed 2018-19 wet season.
The primary goal is to maximise growth rates, and, more specifically, to turn off more than 50 percent of male cattle within a year of weaning.
The operation has outperformed that objective, achieving turn-off rates of 60-70pc within 12 months of being weaned, through a number of strategies.
One example, which also highlights the Mohr-Bell's willingness to embrace previous research, has been the use of controlled mating.
"We do one round now, and that is as a result of CashCow, which showed the cost benefits of doing a branding round and then a weaning round don't stack up in our country, Mr Mohr-Bell told Beef Central at last week's NBRUC conference in Brisbane.
"It is such a small thing but you're saving $30,000 or $40,000 a year just in mustering costs by doing that.
"It is a huge saving in helicopter hours, and it is a time saving as well, you pick up a few weeks doing that."
Not castrating and selling feeder bulls instead of feeder steers has also worked well so far on the property.
The move capitalises on strong market demand from South East Asia for entire male cattle, and makes it easier for the smaller-scale operation to sell its annual turnoff.
"As a small producer relative to northern Australia, trying to get cattle onto a boat can be quite difficult," Mr Mohr-Bell explained. "With steers you can be at the back of the line but if you have got bulls you can be at the front end."
Pluses have in the past included premiums of around 20c above steer prices, savings in labour and HGP costs, and, most importantly, faster growth and turnoff rates.
Mr Mohr Bell said the property is able to turn off a greater number of feeder bulls within 12 months of weaning than it can with steers.
"The first year we did it we did half and half, and the balls beat the pills in the ear hands down by significant kilograms.
"You're not cutting balls out to put a pill in the ear."
The main challenge is to prevent uncontrolled breeding. This involves aiming to sell all entire males as feeders before they reach the 350kg maximum weight limit for Indonesia, and ensuring cows are joined before weaner bulls reach sexual maturity.
The Mohr-Bells have also looked to diversify their breed type to improve fertility, lift growth rates through hybrid vigour and appeal to more markets. A switch to using locally bred NT DPI composite bulls overcame the long period it took for bulls purchased from interstate to adapt to the conditions before they could perform.
In recent years they implanted embryos into their best performing cows to produce their own Brangus bulls. The first crop hit the ground in March last year, and have surpassed the weight gain of the feeder bulls born in the previous calving period (September 2017/January 2018).
Looking to where research may help the operation in future, Mr Mohr-Bell sees promising potential for the use of walk-over-weighing and auto-drafting technology to monitor and manage grow rates, cow condition and time of weaning on Mathison Station.
The property is already engaged in a project with Central Queensland University and Meat & Livestock Australia looking to prove if the technology can work in the region.
At present the Mohr-Bells weigh cattle regularly to monitor growth trends, handling which also provides the additional benefit of educating young bulls to improve their temperament and ease-of-handling.
Mr Mohr-Bell also sees automated walk-over-weighing and drafting as a potentially less expensive way than technologies such as genomics to gather and build information for herd profiling.
"I think these other technologies are great, but I think they are quite expensive, this might be a cheaper way to actually get to it an end goal faster for us."
"This isn't there at the moment, but the ability to preg test by walking over a set of scales instead of putting cows through the yards would be another cost saving and, they are setting up algorithms now to auto draft off weaners, instead of mustering a paddock.
"It is also about getting them off mum at the right time, before the cows start doing it tough.
"We don't have a tight joining window at the moment, but we're working on this to further improve our fertility and efficiency of turnoff."