Australian cattle exports to Indonesia appear likely to drop to the lowest annual level in almost a decade this calendar year as high sustained feeder steer prices and lockdowns caused by the spread of the COVID-19 Delta variant impact trade volumes.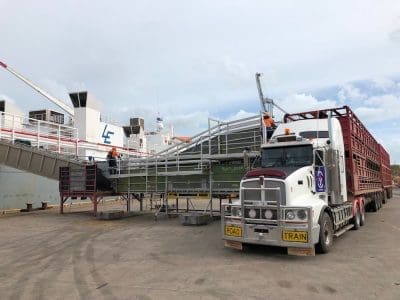 Latest trade data shows that Australia exported 71,451 cattle in total to all markets in July, well down on the 96,845 head shipped in June, and also below the five-year average for July of 80,015 head.
Year-to-date Australia has now exported 506,820 cattle so far in 2021, a 23 percent drop on the 657,918 exported to the same point of 2020.
Shipments to Indonesia in July totalled 32,360 head, a 36pc fall from the 50,543 cattle exported in June, and also well below the five-year July average 44,614 head.
Year-to-date cattle exports to Indonesia have totalled 261,500. That compares to 295,082 for the same period last year, a year when total exports to the country finished at 474,167 head, the lowest annual total since 2013, when 452,239 cattle were exported. With the headwinds currently facing the trade, particularly through emergence of the Delta variant, current trade volumes suggest this year's total shipments will fall short of last year's volumes.
Exports to Vietnam held up more strongly in July, with shipments that were organised before Vietnam was forced to implement strict lockdowns due the rapid spread of the COVID Delta variant in high-density areas, particularly in Ho Chi Minh City. Vietnam reported just 1,500 coronavirus cases last year, but the number of people infected has now soared past 230,000, with most of those cases recorded since May.
July cattle shipments to Vietnam totalled 29,075 head, which was higher than the 25,906 exported in June and also above the five-year July average to Vietnam of 21,508 head.
Despite a return to stronger export volumes to Vietnam in June and July, overall exports to Vietnam for the year to date at 124, 847 head are still running well behind the same period last year of 183,841.
Shipping data shows Australian cattle exports to China fell to 0 in July, while activity has improved to Brunei, which has now taken 11,123 head this year, the highest volume to that trade for several years. Shipments to Malaysia have also been running at higher levels so far in 2021 than previous years, running at 15,314 for the year to date.
In western Australia exports from Broome are now outpacing exports from Fremantle for the year, with 57,182 head exported from the northern port for the year to date, boosted by 13,820 head shipped in July. Exports from Fremantle have totalled 43,956 head so far this year.
Exports from Darwin totalled 23,233 head in July, down on the June figure of 31,103 and well below the five year average for July of 37,951 head, while Townsville exported 23,241 head in July, which was up on June  (22,241) and also above its five year July average.
Reported pricing for export steers from Indonesia out of Darwin remains steady at $4.15c/kg according to export industry sources.
Larger numbers of mixed-age dry cows have been selling for export to Indonesia in recent months, presenting a lower cost per kilogram compared to feeder steers and a more affordable alternative for Indonesian customers.  However supplies for export from Darwin are reportedly becoming tighter in the north.
Despite the demand challenges caused by COVID lockdowns in the major markets, prices have been holding at high levels for export cattle. Several ships have loaded in Townsville in a relatively condensed period in recent weeks, keeping upward pressure on short term price levels. More ships have been booked from Townsville for Vietnam in August but export sources suggest the lag factor from the latest COVID lockdown will start to show up in export trade volumes in September and October.