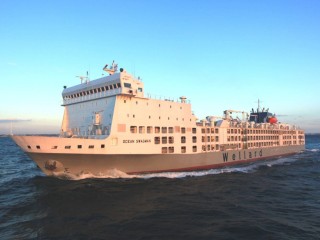 Wellard managing director Steve Meerwald sees a continued strong future in live cattle export out of Australia despite logistical, political and other problems that have continued to impact on the trade during 2011.
Some of these included political unrest in the Middle East, flooding and supply challenges early in the year in northern Queensland, and then the Indonesian market closure (see separate story "Wellard responds to slow payment claims").
Despite these setbacks, Wellard has continued with its capital investment program in developing markets, both through construction of new vessels and targeted programs developing breeding stock markets in both the Philippines and Indonesia.
"We see that as being a very important part of the Australian live trade going forward, working with the importing countries in developing in-market breeding programs," Mr Meerwald said.
Recent comments out of Vietnam have indicated similar interest in developing the country's cattle breeding capacity.
"Many of these Southeast Asian countries realise they an enormous resource base, but it is very much under-utilised. In the case of Vietnam, the intention appears to be to try to commercialise their breeding operations, taking more of the industry into structured consolidated breeding programs on a large scale," he said.
Projects like that would definitely continue to emerge in the region, because the importing countries had all the important attributes: good quality and cheap labour; feed resources, either grown specifically or as a by-product from another industry; plentiful rainfall; and high and growing demand.
"We think it will provide some great new opportunities," Mr Meerwald said.
Despite the recent trade difficulties, Wellard had continued to reinvest shareholders' funds back into the business, with a significant increase in shareholder equity over the past 12 months.
"That's a reflection of our own direct confidence in the fundamentals of the live export trade and the opportunities that are ahead," he said.
While the events in Indonesia had raised a lot of issues and caused a lot of grief across the industry, they had also brought-out the fundamental case into the public arena as to why the trade existed, Mr Meerwald said.
"That includes the value of the trade not only at an economic level, but socially and a whole range of other dimensions that the broader community had not thought about."
He said he thought the 'broader interpretation' of Indonesia's self-sufficiency policy was now shifting to a point where northern Australia was now accepted as a legitimate breeding hub for the country's feeding and slaughter process. 'Self-sufficiency' was no longer seen as restricted to cattle bred in Indonesia.
"That increasingly appears to be the case, and nobody in Indonesia seems to be denying it when it comes up in discussion," Mr Meerwald said.