HIGH prices are still managing to lure cattle out of northern paddocks for live shipping orders, but how many cattle are still available and how much higher the market can rise to bring them forward is now the overriding question.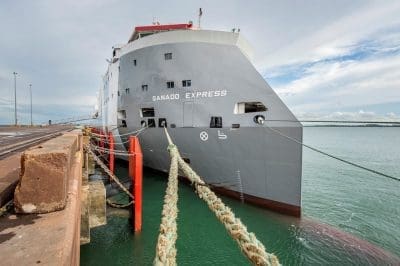 Flood plain cattle around Darwin are said to be of high quality this year but in smaller numbers than last year, and beyond that the talk is generally that there are simply no longer many cattle around at all.
However, despite the tight supply environment, high prices are still drawing cattle 'out of the woodwork'.
Trade sources say steers in Darwin to Indonesia have commanded $3.85 to $3.95 in some significant recent sales, while in Townsville slaughter steers to Vietnam are fetching $3.65-$3.70.
The prices have helped to keep trade volumes flowing relatively strongly with 90,754 cattle exported from Australia in October, the biggest month for cattle exports since June.
Price resistance in Indonesia
Indonesian lot feeders are still buying cattle but they are said to be struggling with the higher purchase prices for Australian cattle.
While the price that they can sell their finished cattle for in Indonesia has increased marginally, reported to be roughly by the equivalent of about AUD 5-10c/kg, the prices they have to pay for Australian cattle to enter their feedlot has increased by well over 100c/kg over the past six months.
A number of the major recent flood plain sales of cattle to Indonesia were negotiated when the AUD/USD exchange rate was around the 70c mark, but a rise to 73c has since had a further negative impact on sale prices in US Dollar terms for international customers.
Latest shipping figures indicate that while Indonesian buyers are still importing cattle, demand is reducing as high price levels test their economic buying capability.
Indonesia imported 35,984 head in October, well down on the five-year October average to Indonesia which stands at just over 60,000 head.
Shipping data points to the reduced demand trend continuing this month with only a handful of vessels travelling to Indonesia in the 30 days to mid-November, far less than the dozen or so shipments which have sailed to the market each month for the past six monts.
For the year to date Indonesia has imported 413,158 cattle, 32 percent below the number shipped during the same period last year (571,036 head).
Vietnam powers on
By contrast, demand from Vietnam continues to power on, with the SE Asian market taking 26,326 slaughter-weight cattle last month to record its largest October export volume on record.
A further four ships have travelled to Vietnam in the past two weeks, including three from Fremantle, and another four are scheduled to load in Townsville over the next week, including the large the Al Kuwait (formerly the Ocean Shearer).
Vietnam's imports for the year reached 244,907 head by the end of October, outpacing the 214,021 cattle it imported from January to October last year.
China above last year's levels
Cattle export activity to China is also running higher than last year's levels, with the 13,583 breeding cattle and 3498 slaughter cattle shipped in October pushing year-to-date numbers up to 120,336 cattle, ahead of 113,733 for the same period of 2019.
The suspension of export activity from New Zealand in the wake of the Gulf Livestock 1 tragedy is likely to have resulted in more cattle being sourced from Australia for China during that period. The NZ market is now open and operating again under new conditions, with four ships returning to the country to load cattle for China in the past two weeks.
Total YTD exports back on last year
In total for 2020 Australia has now exported 912,701 cattle, 13 percent down on the 1,048,585 head exported for the same period last year.
Some of that reduction would partly reflect the disruptions caused by COVID-19 to supply chains, shipping, ports and export markets this year, but as a whole the industry has worked through those impacts very effectively.
Mostly the lower export volumes this year are indicative of the tighter supply of cattle in 2020 and corresponding levels of buyer resistance to the high prices now required to secure Australian stock.
Shipping volumes from major northern ports also reflect the lower trade activity this year. The Port of Darwin exported 20,397 cattle in October, taking year-to-date numbers to 307,721 head, slightly below last year's corresponding period (314,562).
22,245 were shipped from Townsville, bringing the 2020 total so far to 233,584 head, well behind last year's levels (303,268).
Broome exported 13,189 in October, taking year to date exports to 97,942, down from 110,987 in the same period of 2019.
By contrast trade activity from Southern Australia is holding close to 2019  levels.
The maintained strength of exports to China saw Portland export 13,593 cattle in October, bringing the 2020 total to 129,131 head, ahead of last year's corresponding period (126,839).
Export activity has returned to Fremantle in October with 13,722 head shipped for the month, taking total exports for the year to 91,219 head, with a number of ships loading in the southern WA port for Vietnam.
Positive producer vibe at northern forums
Queensland Livestock Exporters Association representatives Greg Pankhurst and Peter Watkins held a series of producer roadshows in the Queensland Gulf last week and also travelled to the very well attended AgForce cattle forum in Mount Isa on Friday.
Mr Pankhurst said the feeling from producers was extremely positive and buoyant on the back of current prices.
The big question on everyone's mind was how long current price levels are likely to last.
"If it rains, and everything is pointing to it should rain in the next six to eight weeks, it will be very difficult to secure cattle," Mr Pankhurst said.
"But if it doesn't rain it probably will ease back.
"However, on the other hand, the cattle are just not there to be sent out."
Mr Pankhurst said Agforce "did an amazing job" with the forum it hosted on Friday, noting the event attracted a particularly large number of younger producers and was characterised by a very positive vibe throughout.
Exporters typically struggle for numbers through September, October and November but this year are finding it even more difficult to find cattle.
Attention now focuses on cattle that have been moved onto flood plains near Darwin, which are still accessible during the wet season months.
The quality of cattle on the flood plains cattle is said to be very good this year but there are not as many as exporters would like.
Producers holding cattle are waiting for the market to kick again before selling, while exporters are saying the point where there is no more room for prices to move higher has been reached, with rain patterns in coming weeks likely to determine which way the market moves next.