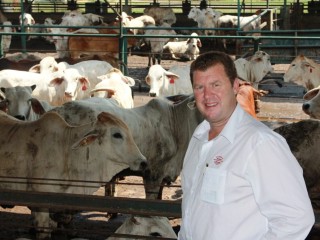 Elders International Trading has recently appointed Tony Gooden to the position of Senior Marketing Manager – International Livestock Exports.
In his new position, Mr Gooden, who's 26-year career with Elders has included senior livestock sales and management roles, will assume responsibility for Elders' global livestock marketing team.
Mr Gooden has worked closely with the live export trade in his most recent roles which have included the position of Elders executive sales manager and North Australian Cattle Company (NACC) sales manager for the past two years, and Elders state livestock manager for Queensland and the Northern Territory prior to that.
His career in agriculture commenced in 1983 when he worked as a jackaroo and then overseer at Nonning Past Company in South Australia. That was followed by a year working in Montana in the United States under an agricultural exchange program, before he joined Elders as a trainee in South Australia in 1987.
Mr Gooden worked in various sales and sales management roles throughout Southern Australia before being appointed to the position of SA/NT livestock manager in Adelaide. In 2003 Mr Gooden transferred to Brisbane to take on the role of North Australian livestock manager.
Mr Gooden said that despite the current downturn in the key live export market of Indonesia, longer-term supply and demand fundamentals pointed to a strong future for the trade.
He said Australia's presence in foreign markets continued to play a positive role in driving animal welfare improvements in other countries.
"I see a strong future for Australia as a source of quality breeding stock and protein, for not only our Asian neighbours but on a global front," Mr Gooden said.
"The fact that Australia is involved in many of these markets means that animal welfare practices are going to continue to improve in many developing nations.
"It is a pity this fact is not acknowledged and embraced by many in the animal rights movement."
Elders Group General Manager Trading, Tony Dage confirmed that the appointment further added to the global cattle trading business.
"Tony brings both a professional and personal style that is well received across all stakeholders. He has a unique blend of commercial and technical skills honed through many dedicated years involved in the cattle game," Mr Dage said.