Livestock exporter Landmark International is confident that a fire on the Awassi Express has not caused structural damage to the livestock carrier and will not result in significant delays to its operations.
Fire crews were called to reports of smoke billowing from the livestock carrier as it stood at port at Portland on Victoria's southwest coast on Tuesday night.
The ship was scheduled to load cattle for Russia but no livestock had been loaded onto the vessel when the fire was reported in a fodder tank holding 800 tonnes of pelletised stock feed.
Upon boarding the Awassi Express, Victorian Country Fire Authority (CFA) crews discovered that the front, starboard side of the fodder storage silo was on fire and spreading to the rest of the storage area.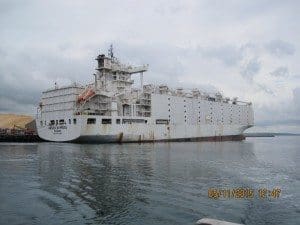 Fire-fighting activities have included the use of inert gases, the injection of water and suppression mediums into the silo.
As of 9am today, the fire was still evident and contained within the confines of the ship, the CFA reported.
A CFA spokeswoman said the grain may have self-combusted but the cause will be investigated.
Livestock exporter Landmark International has the Awassi Express on charter.
Landmark International general manager Lach MacKinnon told Beef Central that the company expected to begin removing fodder from the ship today.
He said the company will then await the outcome of investigations and AMSA and AQIS re-inspections and approvals before recommencing the loading process.
He said information received to date indicates there has been no structural damage to the ship.
At this point the likely impact of the fire will be to delay the loading of the ship by possibly up to a week until the safety inspection and re-approval process is finalised.
The CFA said there had been no fire-related waste or effluent released into the environment.
The ship has a carrying capacity of 20,000 cattle with an above deck fodder storage compartment.
The Port of Portland operations have not been affected by the fire onboard the ship and business continues as normal.
Emergency services are continuing to ask that people avoid the area.