There are still many unknowns as to how the new feeder and cattle export trade from Australia to China announced yesterday will impact on cattle demand and pricing in Australia.
Key questions at this point include how many cattle China will seek to import each year, what weight and breed type its importers will prefer, whether Chinese demand will favour cattle from northern or southern Australia, what effect it may have on supply for other live export markets and what price it will pay.
Many of those questions cannot be answered conclusively until live exporters actually see the full protocol – which they are yet to – and begin to crunch numbers and assess where the real commercial opportunities will lie.
But from what we have seen so far some likely outcomes are emerging.
For a start, it seems likely that while China has the potential to become an enormous market for Australian live cattle in time, its initial growth will be more slow burn than rocket propelled, because of the strict conditions contained in the new agreement.
The same strict conditions on balance also indicate it will be easier for exporters to source cattle from southern Australia than northern Australia for the new trade, initially at least.
For example, the new market is HGP-free. A large percentage of the male cattle herd in northern Australia is currently treated with implants to generate weight gain benefits.
Second, while the new protocol provides access to cattle from all parts of Australia, it places more conditions and restrictions upon the export of cattle from the Bluetongue Virus (BTV) possible transmission zone of northern Australia (denoted in yellow on the below map).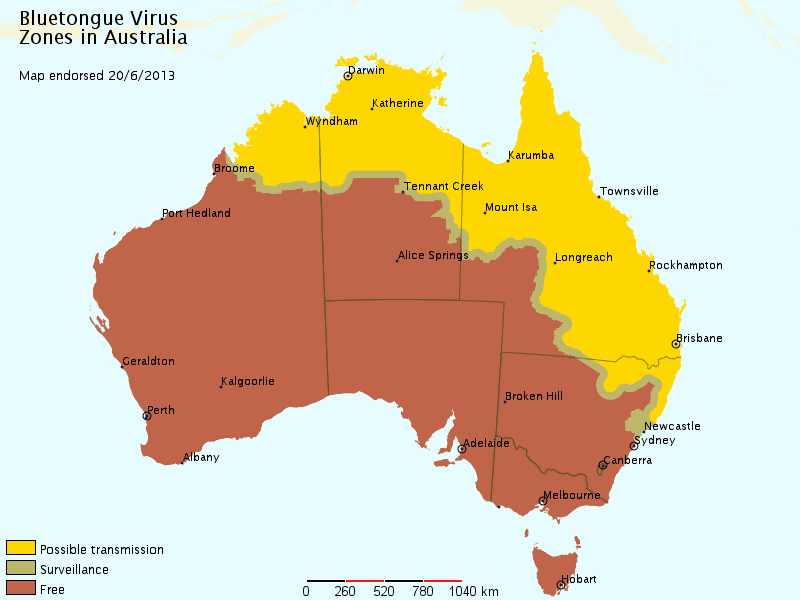 Feeder cattle from the yellow area will not be allowed to be sold into southern China, where the largest markets are said to lie, and will only be able to sell into northern China.
Slaughter cattle from within the yellow area can be sold into southern China, but must first spend 60 days in a pre-export quarantine facility in Australia's BTV free zone. That effectively means slaughter cattle would have to be transported to export quarantine in southern Australia prior to export.
Cattle from the yellow zone would also be subjected to more testing before export to China than cattle in the brown areas, which will add further costs.
This does not mean that cattle from northern Australia will not have access to China, but does suggest that in the initial stages at least, it will be more viable and commercially attractive to source cattle for the market from the brown region.
Wellard Rural Exports chief operating officer Scot Braithwaite said the company's preliminary view is that the first commercial trade to develop will be feeder cattle from the southern BTV-free zones, as the quarantine requirements are not as onerous and there is greater flexibility with maximum processing time frames. (Slaughter cattle must be slaughtered within 14 days of arriving in China, and feeder cattle must be slaughtered within 90 days of arrival, according to the protocol).
Frontier International Agri managing director Hamish Browning agreed that the combination of the HGP-free requirement and the BTV clauses would likely push demand for cattle to China towards the south, in the initial stages at least.
"It is probably a market that will compete more with southern Australian feedlotting and processing than with the other live export markets such as Indonesia and Vietnam as such," he said.
China is known to be highly meticulous when it comes to negotiating import protocols – partly why this deal has been several years in the making – and requires a higher level of scrutiny and oversight to cattle import consignments than many other markets.
"It is good access, but it will be no cakewalk," is how one export industry source explained it last night. "It is not quite as simple as 'we have struck gold, start digging'. There is quite a lot of work to do."
Nor is it likely to be a market for "freshman" exporters, Australian Livestock Exporters Council CEO Alison Penfold told Beef Central.
Exporters with a strong history of exporting dairy and beef breeding cattle to China and who understood the level of oversight that China applies to every consignment would be best positioned to make an effective go of the trade in the early stages.
"There are a lot of freshman exporters out there looking at China, but this is a market that needs runs on the board," she said.
It is also important to note that the Australian strain of Bluetongue Virus does not cause clinical disease in cattle. However, despite that fact, the Chinese have insisted on the inclusion of strict conditions for cattle imported from within Australia's BTV possible transmission zone.
Preferred weight specifications for China are also not yet clear.
However, the protocol does point toward favouring feeder cattle at the heavier end of the scale, because it stipulates that feeder cattle must be slaughtered within 90 days of arrival in China, and slaughter cattle within 14 days of arrival.
Key points that have been revealed about the trade so far include:
Cattle must be HGP-free;
Must be resident on the farm of origin for three months prior to export (which rules out sending recently traded cattle to China);
must be preg-tested empty;
Bluetongue requirements are detailed in the table below;
Pre-export yards will only be able to hold cattle destined for China while they are in the yards, and will not be able to hold cattle for any other market at the same time.
Slaughter cattle must be slaughtered within 14 days of arrival in China, feeder cattle within three months.
Chinese Government veterinarians will oversee the full preparation of all consignments in Australia.
Another key question of interest is when the first consignment to China is likely to occur.
Before that can happen, commercial agreements must first be finalised exporters and importers, supply chains in China must gain formal ESCAS approval and import permits have to be formally issued by Chinese authorities.
Some exporters may already be commercially well down the path to negotiating commercial agreements with their import customers, but it would seem unlikely that the first consignment will be shipped for at least a few months.
Eligibility of cattle from different Bluetongue Virus Zones: