LIVESTOCK exporters continue to face a range of challenges but there were also positive signs for the sector heading into 2022, the Queensland Livestock Exporters Association forum in Townsville was told this morning.
QLEA president Greg Pankhurst said that of the 720,000 cattle expected to be exported from Australia this calendar year, about 250,000 will be exported from Queensland.
The northern cattle export sector is under pressure from a range of factors including low cattle numbers in Australia, strong ongoing competition for cattle from restockers and southern buyers, ongoing Covid disruptions, short supply and rising feed prices in Vietnam and Indonesia, and emerging competition in markets such as the recent shipment of cattle from Brazil to Vietnam.
However, positives which may swing in the industry's favour heading into 2022 include that shipping is freeing up and there are at least seven ships at anchor waiting for cargo.
Indonesia will need fat cattle in the end of March for the Lebaran holy month, with Ramadan falling on May 3.
"This means cattle need to be on feed December to January to be ready," Mr Pankhurst said.
The supply of frozen Indian buffalo meat into Indonesia also appeared to be faltering.
"2022 will be that year to buckle up or maybe buckle down and see what the Livex Gods bring us," he said.
QLEA/YLEN recognition award
This morning's session also saw Kate Anderson, logistics manager at the Reid River Export Depot, bestowed with the inaugural Queensland Livestock Exporters Association/Young Livestock Exporters' Network recognition award.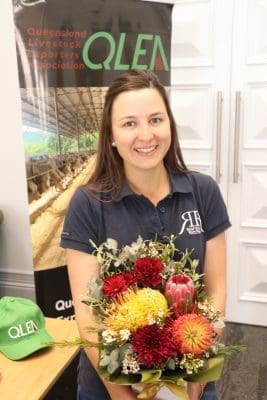 The award acknowledges a young person for their achievements in and contribution to the livestock industry.
Kate has been affiliated with the livestock export industry since her childhood growing up on her family's cattle property near Charters Towers.
YLEN chair Kari Moffat said Kate epitomised the "heart and the soul" of industry efforts to share its story, demonstrated by her voluntary initiative to establish a social media platform to increase supply chain transparency and share the behind the scenes stories of  Queensland industry stakeholders.
"I wanted an informing page to counteract anti-live export pages here in North Queensland," she said. "I wanted to show the faces and families of the trade and the truth of what actually happens on the ground."
Kate serves on the committee of the Northern Beef Producers Expo, is an active member of the Young Livestock Exporters Network and has represented QLEA in youth engagement activities including organising social networking events for young members.
Kate receives a $1000 bursary for a professional development course of her choosing and a 2022 QLEA associate membership as part of her award.
Scroll below to see some of the faces at today's Townsville forum