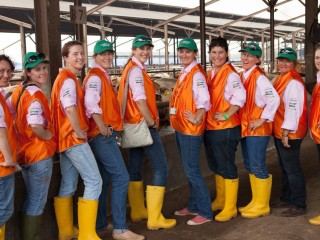 A group of Kimberly and Pilbara female pastoralists are calling for the Australian Government and industry to invest in Indonesia and ensure the survival of the northern beef industry after a ground-breaking visit last week.
In what is believed to be an industry first, a group of 10 women including five cattle producers, visited abattoirs and feedlots as part of an Influential Women's four-day tour of Lampung and Jakarta.
Kirsty Forshaw from Nita Downs, 200km south of Broome, said it was clear Indonesia wants more security from Australia through investment and this was a direct consequence of the live cattle ban.
"Australian investment in Indonesia is especially important with their presidential election coming up in 2014, so next year will be a critical year," Mrs Forshaw said.
"Some people might ask why we should invest Australian money in Indonesia, but I feel it's investing in our whole industry, which will make ours in Australia viable."
Northern Territory Cattleman's Association executive director Luke Bowen met with the Influential Women's Group in Jakarta and said investment in relationships was equally important as commercial investment.
Critical to the investment in relationships is cultural understanding and developing people to people links.
"It might not immediately change things but in the longer term, it will and the success of our trade is dependent on the people to people level," Mr Bowen said.
The member organisation this year invested in an eight-week pilot program for eight animal husbandry students from Indonesian universities to work in the northern beef industry on stations to foster understanding.
On the ground in Indonesia, Dr Ross Ainsworth who works in animal health for importer PT Agro Giri Perkasa, is leading a research project called Way Laga with support from Meat and Livestock Australia.
The project focusses on increasing Indonesia's cattle breeding capacity in feedlots by grazing breeding cows on pastures between rows of trees in palm plantations. There are hundreds of thousands of hectares of palm plantations in Indonesia, used to produce palm oil for cooking and other purposes, and the land represents an under-utilised resource for cattle breeding.
Initial results are positive and if successful, the program could translate into opportunities for companies needing to boost corporate social responsibilities allowing investment in feedlots which will in turn provide employment opportunities for local females.
Catherine Marriott, organiser of the Influential Women's Group trip believes the focus has until now been on animal welfare but investment in local people and hygiene is what is needed.
It can be as simple as hanging lines and side rails in abattoirs to improve hygiene standards while making it easier and safer for workers.
"That's where Australia could really invest and build relationships with the Indonesian people," Ms Marriott said.
The passionate advocate for the northern beef industry has made her own investment by setting up Influential Women.
The business was started after Ms Marriott won the WA Rural Industries Research and Development Corporation (RIRDC) Rural Women's Award earlier this year.
The aim is to engage women to act as ambassadors and advocates for agriculture by sharing positive stories and values, in what has been traditionally a male dominated arena.
For the women who attended the tour, of which only one grew up on a station, Ms Marriott said they are now able to speak from experience and integrity on what's happening in Indonesia.
"They have also been given an appreciation for the passion and speed that the Indonesian people have created change."
To learn more about the trip, visit Influential Women on Facebook or visit www.influentialwomen.com.au
The writer's accommodation and internal transport was sponsored by Landmark Broome, Wellard Rural Exports and Coopers Animal Health.