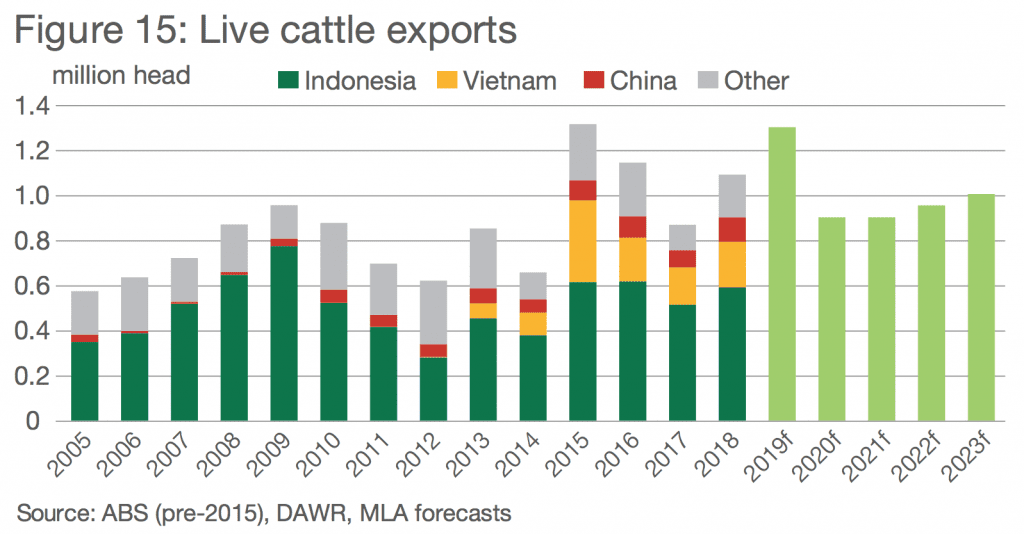 Meat & Livestock Australia is tipping a significant contraction in Australian cattle exports in 2020 due to an anticipated void in northern cattle numbers.
Australia shipped 1.3 million head of cattle in 2019, up 19 percent on 2018 shipments.
The year saw growth in volumes recorded to all major markets, with exports to Indonesia rising by 15 percent to 676,000 head (feeder cattle), and exports to Vietnam increased by 32 percent to 267,000 head (feeder and slaughter cattle).
A key reason for the surge in shipments in 2019 was the increase in available supply created by drought forced turnoff.
Depending on what seasonal conditions do and how quickly herd recovery occurs, MLA believes Australia will not see another one million head plus export year for at least another four years.
It sees supply conditions in 2020 as being similar to the 2017 year, when Australia exported 867,000 head, of which 513,000 head were shipped to Indonesia.
MLA says demand for Australian cattle in South East Asia is expected to remain robust despite increased competition from Indian buffalo meat and Brazilian beef in Indonesia.
In the first 11 months of 2019, Indonesia imported 81,000 tonnes swt of Indian buffalo meat, double the volume recorded over the same period in 2017.
Brazil was permitted 50,000 tonnes swt of frozen beef access to Indonesia in August and in November sent its first shipment of 3,500 tonnes swt to the market (but then nothing in December).
The additional product entering Indonesia is yet to have a marked impact on Australian cattle exports and prices, MLA says, reflecting the current low volume of beef consumption and ability of the market to readily absorb any increase in supply.
MLA said factors including a more diverse array of suppliers servicing the Indonesian market and an expanding pool affluent consumers are creating demand for better quality meat, facilitating a shift to greater tiering within the beef offering in Indonesia.
The market in Vietnam was also maturing to more sustainable levels after the volatility of recent years, MLA said.
While still dominated by slaughter cattle (85 percent of shipments in 2019), feeder exports doubled last year, as importers looked to weight gain to boost margins.
"The demand fundamentals supporting beef consumption in Australia's cattle markets remain strong," MLA said in its projections report.
"However, many markets across South East Asia remain price-sensitive, which will continue to challenge the trade in light of the current supply outlook and elevate the threat of increased competition from low-cost competitors."