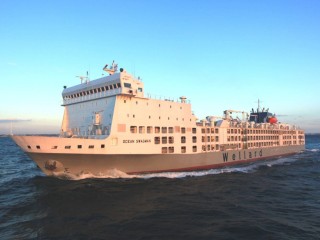 The Australian Government should be encouraged to appeal to Indonesian authorities seeking a rise in live export weight limits from 350kg to at least 380kg, trade stakeholders told Beef Central last week.
And they see NLIS and the traceability system implemented since the trade re-opened in early August as playing a critical role in securing the protocol adjustment.
As clearly indicated by current supply difficulties, the numbers of suitable cattle in northern Australia currently under 350kg were simply not available, having grown beyond the existing 350kg limit, sent south for finishing in other areas, or sold into other live export markets, one respected Indonesian-based trade source said on Friday.
The supply shortage is reflected in current prices for eligible cattle which have risen up to $2.20/kg FAS Darwin. Even at this level, the trade is still struggling to accumulate numbers to fill boats.
Import permits for trade out of Australia for the fourth quarter started October 1 were issued on Thursday, according to APFINDO sources, with permits totalling 142,000 head. That contrasts with permits for the first three quarters of the year combined, for 429,000 head. Actual trade for the year to date, however, was just 271,000 head, as a result of the market closure and difficulty in meeting weight specifications.
Reliable trade sources say nothing like 142,000 head will be exported for Q4 by December 31, and that overall trade for the year is not likely to exceed 350,000 head, due to lack of eligible cattle, and the reduction in shipping capacity to carry them. That would suggest total shipments for the last quarter ending December 31 of about 80,000 head, under current weight protocols.
A 2011 level of trade at around 350,000 head could also create a 'precedent' for a quota limit of only a similar number next year, because 'that was all Australia was able to supply in 2011,' he warned.
Some live export shipping operators had already sent their ships to other trade routes because they knew they could not get the cattle out of northern Australia within current weight limits, and once gone, it was difficult to bring those ships back.
Beef Central's source said any movement on weight limit allowance had to be conducted delicately, at Government-to-Government level, to make any real progress.
He stressed that any upwards adjustment in entry weight limit was not designed to reduce the feeding period and time-to-market in Indonesia.
"It would not be intended as a shortcut to slaughter, which would work directly against the Indonesian Government's principle of seeking greater self-sufficiency in beef production," he said.
Prior to the imposition of the 350kg weight limit, live weights per consignment often ranged from 250kg to 400kg, and average about 340-350kg. That gave the Australian cattle suppliers an opportunity to get about $650-$700 for those heavier steers, which no longer existed.
Secondly, with the 350kg limit imposed, many producers were battling to get more than a 305-310 average weight, per consignment, further reducing returns per head.
25pc restriction in 'natural supply'
One leading Australian exporter estimated that the 350kg weight limit had now effectively cut out 20-25pc of the 'natural production supply' of cattle out of northern Australia – not just this year, but any year – due to northern calving and seasonal weightgain patterns.
"This year has quantified it because many northern cattle producers sold a lot of cattle at the end of 2010, to avoid them getting too heavy in the first quarter this year. It is cutting cattle out of that market," he said.
Trade stakeholders backing the move to a higher import weight limit say the full traceability system now in place in the supply chain could play a critical role in monitoring time spent by each beast in the feedlot before slaughter.
"Indonesia's self-sufficiency principle can still be supported, by simply ensuring that each beast, regardless of its arrival weight, spends its required duration in the feedlot, rather than being 'harvested' early for slaughter," the trade source said.
"Up to now, the Indonesian Government wanted Australian cattle to remain in the feedlot for a minimum of 65 days, but had no way of policing that, except by proxy, through limiting weight. But the implementation of the traceability system provides a solution to allowing heavier cattle into the trade."
Additionally, having some heavier carcases at feedlot exit would help fill the high demand/low supply gap that currently exists in the Indonesian market.
"The Australian Government could advocate the use of the traceability system to ensure that Indonesia's ideals regarding the local industry are upheld. There would be no compromise in the self-sufficiency process," the trade source said.
WA Ag Minister Terry Redman earlier floated the 380kg weight limit idea with some Indonesian authorities during recent Indonesian visits, but so far it had gained little acknowledgement. That was prior to the suggestion that traceability systems could underpin the process, however.
The situation in approved Indonesian feedlots is that many are currently only half-full, or less, on average. 'Old-era' cattle (shipped prior to the ban) are now almost gone, and the 'new era' cattle (exported post market re-opening in August) still have some way to go before they complete their minimum feeding cycle.
"There was obviously 65-70 days with no Australian cattle arriving, so there's quite a big void in the market," Beef Central's contact said. "We're going to see a period when virtually no cattle are sold at all, because of the shadow caused by the transition into the 'new era' stock."
Beef in the Indonesian market is currently selling at about 75,000 Rupiah per kg, near record highs, reflecting the growing shortage of beef in the market, despite this traditionally being a quiet time of year for trade.
Traceability adds $10/head to costs
Importers say at current process around $2.20c/kg FAS liveweight purchase price ex Darwin, there was 'nothing in it' for Indonesian lotfeeders at present, despite the high retail prices evident in the market.
The added cost burden of meeting traceability requirements has also added significantly to production costs in Indonesia, adding an estimated $10 per head to each beast fed and slaughtered.
"We have had to put on an extra expat employee, 25 additional local staff, new cars, phones, and new stunning equipment in order to comply," Beef Central's trade source said.
One Indonesian stakeholder had bought 35 stunners at an installed cost of $30,000 each, which added up to more than $1 million in stunner equipment cost alone. That has further eaten into margins at the Indonesian end.
"But meat prices in Indonesia are not likely to go down much – this is the new level," the contact said. "The economy is still going strong – average income is now around $3800 per year, and is projected to go to $5000 in the next three years."
"Next year, if some of the bottlenecks in the trade can be sorted out, Australia could do 600,000 cattle easily to Indonesia, no problem. Even supply at that level would not impact dramatically on wet market beef price."
"There's talk that the market may need two million cattle a year within the next few years. Many now see that as highly likely."