A Brazilian court judge has moved to ban the export of live cattle from all ports in the country, just as a long-flagged ban from New Zealand also takes effect.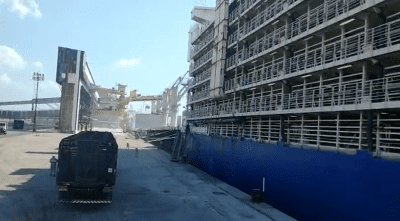 The court decision in Brazil is the latest development in a lawsuit filed by The National Forum for the Protection and Defense of Animals in a Sao Paulo court in 2017 requesting all live cattle exports be banned.
Brazilian judge Djalma Gomes handed down a verdict in the case last week.
"Animals are not things. They are sentient living beings, that is, individuals who feel hunger, thirst, pain, cold, anguish, fear," Gomes wrote in the ruling.
Animal rights groups have hailed the ruling as "historic" for its recognition of "the suffering caused to animals … in an activity similar to human trafficking at the time of slavery."
The verdict can be appealed.
The decision also does not mean exports from Brazil have been banned or necessarily will be. The ban ordered by the judge could not take effect until judgment in a higher Federal court, where the Ministry of Agriculture, Livestock and Food Supply (MAPA) has influence and power to intervene.
A lower level court also previously moved to ban live exports from Brazil in 2018 but without success.
It is also understood from trade sources that trading continues from Brazil despite the order.
Carlos Favaro, Brazil's agriculture minister, told Reuters he had not spoken with the solicitor general about whether the federal government would appeal the decision.
According to Reuters he said the court orders must be complied with, but defended Brazil's live cattle trade, saying overseas buyers would not invest in livestock that may potentially lose weight during transportation.
He added "the accommodations" the animals travel in are adequate and "favour" the continuation of the cattle's development.
Brazil is the fifth largest exporter of live cattle in the world, exporting around 150,000 head in 2022 according to USDA data.
Its major markets in recent years have been Iraq, Jordan, Egypt, and Saudi Arabia.
A shipment of slaughter bulls from Brazil to Vietnam was also completed in August 2021, but no further shipments have followed.
In 2021, Brazil's exports of live cattle fell 69 percent, according to USDA, mainly because of the limited supply of cattle and higher cattle prices.
The Brazil verdict comes as a two-year phase-out of exports of live animals by sea from New Zealand came to an end on April 30, with the ban now in force.
In 2021 the Government announced live exports by sea would be banned following a review of the practice.
The last shipment left Napier last week with 5600 cattle destined for China.
Live Export New Zealand chief executive Mark Willis told NZ media it had been a sad wind-down for an industry which was working to an incredibly high standard of animal welfare.
"Animal welfare standards now well exceed international best practice. We've worked collaboratively with the Ministry for Primary Industries (MPI) to develop a superior set of standards to ensure that animals experience the highest levels of care during export."
Willis said a lot of people were disappointed by the ban with many left without work, but despite the ban, there was hope that could change.