CATTLE exports from Australia reached a seven month high in May, boosted by a return in normal monthly shipping volumes to Vietnam.
A total of 88,424 cattle were exported during May, according to the latest departmental data, the highest monthly volume since October 2020, when 90,754 head were exported.
May exports comprised shipments of 40,582 feeder cattle to Indonesia, 25,499 breeder, feeder and slaughter cattle to Vietnam, 8,513 breeders to China, and 7,175 feeder cattle to the Philippines.
Exports to Vietnam dropped to zero in March and improved only slightly to 3,713 head in April before returning to more usual monthly volumes in May.
A total of 118,400 cattle have been exported in the calendar year to date from Darwin, including 26,935 head shipped in May.
Exports from Townsville for the year to the end of May have totalled 104,510 head, including 30,888 head in May.
The 2021 export season also got underway from Broome in May with 13,521 cattle exported.
Successful delivery of 15,000 cattle to Darwin Port amid COVID lockdown
Meanwhile export activity from Darwin has stepped up a gear this week, with a total of 15,000 NT cattle worth more than $20 million loaded at the Port of Darwin since Monday,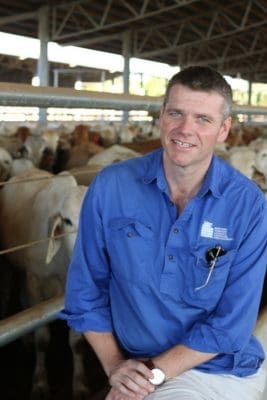 NTLEA CEO Tom Dawkins (right) said cattle deliveries continued through the night and were completed on Tuesday morning via a total of 100 road train movements.
Of that number exporter AUSTREX loaded 11,500 NT cattle on the MV Ocean Drover, sourced from producers around Katherine and the VRD.
About 7500 cattle were delivered from the Brett family's Coomalie export yards near Adelaide River, with the balance delivered from export yards like Berrimah and Noonamah inside the greater Darwin area.
The Wellard-owned ship The Ocean Drover, the largest purpose-built livestock carrier currently operating in the global live cattle export trade, arrived at Darwin Port early Monday afternoon, travelling from Townsville with 7500 Qld cattle.
After loading in Darwin it is now on its way to Indonesia, carrying 18,500 head.
Exporter Halleen Livestock also loaded 3800 cattle delivered from the White family's Bridge Creek export yards south of Adelaide River on the Ganado Express (below), which arrived in Darwin on Monday morning and is also now enroute to Jakarta.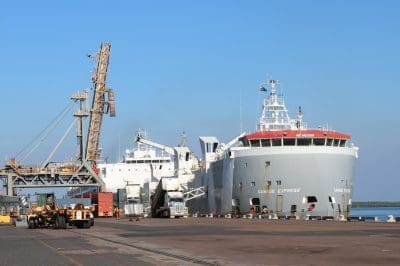 Across both shipments, more than 11,000 cattle delivered from beyond the Greater Darwin lockdown area.
Significant coordination was initiated by the NTLEA on Sunday afternoon and evening across the supply chain and all relevant information was shared with the NT Government, via Luke Bowen in his capacity as Deputy CEO at the NT Department of Industry, Tourism and Trade.
This ensured checkpoint officers were aware of the significant volume and avoided any uncertainty or unnecessary delays.
All livestock transporters and others in the livestock export supply chain (including vets and stevedores) are classified as Essential Workers under both the Freight Services' and Primary Industries provisions.
Mr Dawkins said that, as per previous lockdown plans, truck drivers demonstrated they would complete these deliveries in a COVID-safe manner, by remaining in their cabs at the cattle yards and/or port, thus not coming into contact with others who are involved in loading or unloading cattle.
"Drivers from Road Trains of Australia (RTA), Schubert Transport and Barkly Transport, as well as Linx stevedores at the wharf, have completed this mammoth task in a very professional and orderly manner, upholding the welfare of the cattle in transit at all times," he said.
Mr Dawkins said the The Ocean Drover and Ganado Express shipments had pushed Darwin's live export cattle numbers over 30,000 head for the month of June, with more than 25,000 of that trade going to Indonesia.
Over that period, prices quoted for feeder steers for export to Indonesia from Darwin remained steady at the $4.10/kg mark.
"With several Darwin shipments scheduled for the first week of July, exporters are encouraged by the success in the past 48 hours and confident that supplies to our customers, especially our major Indonesian markets, will not be delayed by any ongoing COVID-19 control measures."