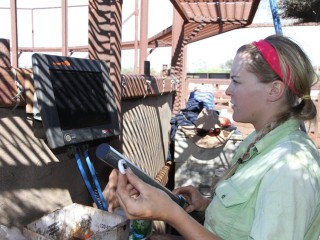 Australia's world-leading National Livestock Identification System will play a critical role in delivering a watertight individual animal history reporting process in any live export trade resumption with Indonesia, industry sources say.
Requirements to deliver a thorough and indelible history of every animal from arrival in Indonesia to slaughter is well within the capability of NLIS, program managers confirmed on Friday.
Individual animal identification tags would be read as animals as exported, on departure from Australia, re-read at entry into the designated and approved Indonesian feedlot, and again at the designated and approved abattoir during slaughter.
It would be relatively easy to audit each NLIS device number (unique ten digit number for each animal) through the system. Any departing animal's tag number which did not show up among processing records after a designated period – say, 180 days – could then be subject to a full investigation.
Making such a system work would be simply a matter of providing NLIS wand readers at each designated and approved abattoir and feedlot – possibly in the hands of an independent inspector – to provide indelible evidence of each animal processed. Even abattoirs in areas without electricity could still run a wand, an NLIS hardware expert said.
One issue would have to be addressed to make such a system work. Currently not all Australian cattle carry an NLIS ID device at time of export. Tag exemptions currently apply in WA and the NT, for cattle consigned directly from property-of-birth to the port.
Up to now, there has been little interest in the use of NLIS in the Indonesian market, because traceability is not a high priority in this relatively unsophisticated market environment. Despite this, many cattle from these regions do, carry an NLIS tag regardless – fitted voluntarily by their owners for management and other reasons.
For such a system to work effectively, AQIS would simply have to mandate that every Australian beast being consigned to Indonesia would have to carry an NLIS-approved identification tag.
These could be fitted either on property of origin, or even in the export marshalling depot.
Livecorp chief executive Cameron Hall said there was no reason why partial re-opening of trade with Indonesia through approved supply channels could not recommence 'sooner, rather than later.'
"There are supply chains from feedlot to abattoir in place in Indonesia right now that will meet every requirement put in place by Australia in the area of animal welfare," Mr Hall said.
The five modern processing facilities that had been using stunning devices for a long time were 'very substantial' abattoirs, by Indonesian standards, with total capacity of between 80,000 and 100,000 cattle per year, he said.
"It could be more, but the market has been soft, and they have not been killing anywhere near their capacity. They are not under the same efficiency pressures as processing plants in Australia, and are not run at anything like the same levels of throughput, relative to capacity."
"We also believe that there are a number of other facilities that have very strong animal welfare standards in place already, that could also be brought on-line fairly quickly. They range in size, but we believe they, too, will meet the requirements without any significant change from what is already being practised, from a welfare viewpoint," Mr Hall said.
He said while the plants might well qualify in terms of slaughter practices, other requirements yet to be defined included the level and method of reporting, the level of assurance required, auditing and other Australian government requirements. Mr Hall agreed that NLIS could play a 'very strong role' in delivering those assurances.
Respected national finance and business commentator Robert Gottliebsen on Sunday wrote that about 45pc of Australian cattle sent to Indonesia are killed at just three facilities, which rank in quality with processing operations in Australia.
The facilities are owned an operated by Elders, the Consolidated Pastoral group (one of Australia's largest privately owned cattle companies) and the Indonesian listed Japfa group, which is also one of the largest chicken producing entities in the world, according to Gottliebsen.
"These large corporations have invested about $100 million in modern Indonesian abattoirs. If we immediately gave them approval to kill Australian cattle, almost half the problem is solved," he said.
MLA chairman Don Heatley told Beef Central on Friday that Australia's NLIS system was perfectly suited to deliver traceability outcomes in the Indonesian market when it re-opened.
"There is no doubt NLIS will play a major role in re-establishing the trade," Mr Heatley said.
Finance industry sources contacted late last week said even a partial re-opening of trade would ease concerns in northern Australian areas located within the live export cattle catchment.
Property values in northern Australia could come under considerable pressure under any protracted closure, but even a partial re-opening would help moderate that effect.