Australia's live cattle exports exceeded $1 billion in value for the first time on record in the 2013-14 financial year, according to official statistical review released by Meat & Livestock Australia yesterday.
The previous record was set in 2009-10 when Australia exported more than 900,000 cattle worth just over $700 million.
In the past financial year Australia exported a record 1.13 million cattle, driven primarily by renewed demand from Indonesia, which imported 624,749 cattle, or 55pc of all Australian cattle exports,  and the emergence of Vietnam as a major market, which imported 131,367 cattle.
Other major destinations for the 2013-14 year were Israel (108,053 head); China (94,211 head – dairy cattle); Malaysia (55,438 head) and Russia (50,080 head).
Overall cattle exports for the 2013-14 fiscal year were valued at $1.05 billion, 79pc higher than 2012-13.
Darwin was the largest live export port for cattle in 2013-14, shipping 415,427 head that were valued at $305 million FOB. Townsville (203,824 head) was the second largest port in 2013-14, followed by Fremantle (140,932 head).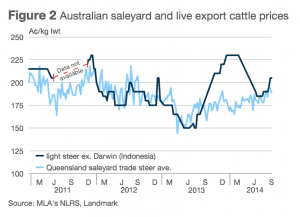 Dairy cattle exports increased 6pc in 2013-14, to 92,629 head, worth A$200 million FOB. During 2013-14, China remained the largest dairy cattle export market.
In 2013-14, Australian live sheep exports totalled 2,020,941 head, back 2pc on 2012-13, and valued at A$185 million FOB.
The Middle East accounted for 97pc of Australian live sheep exports for the fiscal year.
Kuwait remained the largest market for Australian live sheep in 2013-14, at 758,944 head, up 9pc on 2012-13 – valued at A$62 million FOB.
The largest export state for live sheep during 2013-14 was Western Australia, shipping 1,719,007 head, and was worth A$154 million FOB. The second largest export state was Victoria (186,033 head), followed by South Australia (104,527 head).