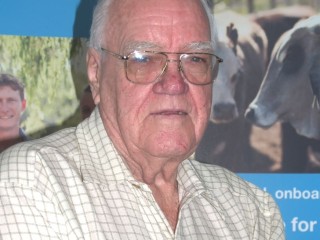 A contribution spanning more than 50 years to the development of Australia's live cattle export trade to south east Asia has been recognised with Australia Day honours for industry pioneer Sid Parker.
Mr Parker, considered a founding father of the northern live cattle trade to Asia, has been named a member of the Order of Australia in the general division.
The accolade recognises his service to the Australian livestock industry and to horse racing.
Mr Parker was born in the Central Queensland town of Comet where his parents owned a hotel. He served in the Royal Australian Navy during the second World War, and then worked for Vesteys pastoral company, which took him to the Northern Territory.
There he was introduced to the live export trade through working as a cattle buyer for American entrepreneurs Charlie Henderson and Gus Trippe, who were exporting cattle to Hong Kong, and then as the Territory manager for the operations of Sir William Gunn, which were focused primarily on the development of Tipperary Station.
In the early 1970s he returned to the live export business full time, coordinating plane loads and then shipments of buffaloes and cattle to a range of South East Asian markets for Carabao exports. In the early 1990s, after that business was sold to the Brunei Government, Mr Parker established South East Asian Livestock Services with former Carabao colleague John Kaus.
Mr Parker was a founding member of the Northern Territory Livestock Exporters Association and served as its chairman in the 1990s and again in the 2000s. In October 2002 the organisation recognised his years of service to the livestock export industry with induction into the Livestock Exporters Hall of Fame.
"Sid Parker is quite simply a legend in our industry," the NTLEA wrote at the time. "For experience and longevity he is without peers. In an industry that has claimed many careers, Sid has survived and thrived for more than 40 years —making him in the eyes of many, the father of our industry,"
"There are so many involved in our industry today that Sid Parker has left an indelible stamp on.
"Many have worked for him at some time or another, and he has trained and mentored many others.
"Always happy to give advice, Sid is incredibly honest and true to his word. Both in Australia and overseas, the name Sid Parker is legendary. In both regions he is welcomed as a man to be trusted. He has well earned the honour that is extended to him everywhere.
"The fact that live export markets have expanded rapidly in the last two decades is due in no small part to the vision and tenacity of Sid Parker. He is known far and wide as a great cattleman and a great judge of livestock."
In the year 2000, to commemorate Mr Parker's 75 th birthday, the Northern Territory Government commissioned a book in his honour, titled "Old Sid – The Life and Times of Sid Parker".
Mr Parker has also been an active member of the Northern Territory horse racing industry throughout his life. He was a committee member of the Darwin Turf Club from 1968 to 2000, serving as chairman and vice-chairman during that time, and was inducted in the Northern Territory Racing Hall of Fame in 1997.
He was also inducted into the International Trade Hall of Fame by the Northern Territory Chamber of Commerce Northern Territory in 1988.
AO recognition for Victorian livestock vet
Long-serving Victorian agricultural veterinarian Dr Michael Harrison has been recognised for his service to veterinary science after being named as a member of the Order of Australia in the general division.
Dr Harrison's distinguished career has straddled private practice, Government posts, tertiary education and extensive industry-level service.
After more than a decade of working in a private veterinary practice from 1965 to 1976, he joined the Victorian Department of Agriculture as a district veterinary officer in 1977. From 1983 to 1995 he filled the role of principal veterinary officer for the department of agriculture.
He lectured in animal health at the Melbourne University's school of veterinary science until his retirement, and is the current convenor of the Retired Vets Group.
Dr Harrison has undertaken many industry roles. He has been a board member, treasurer and financial control of the Australian Veterinary Association (AVA) and as a president, secretary and treasurer of the Victorian division of the AVA.
He served as president of the Veterinary Board of Victoria and as Victoria's representative on the Australasian Veterinary Boards Council from 1990 to 1993, and was a member of the Australian College of Veterinary Scientists Beef Cattle Medecine Chapter in 1977.
He has been a consultant to many organistions including the Victorian Meat Authority, Veterinary Pathology Services, Department of Natural Resources and Environment, Department of Primary Industries, the Australian Meat Research Corporation, the National Office of Overseas Skills Recognition and Genetics Australia.
Other awardees with a connection to the beef industry and rural communities included:
Ian Roy McBean, Douglas-Daly NT: For service to the livestock industry of the Northern Territory, to the improvement of animal health, and the Australian Brahman Breeders Association. (Member (AM) in the General Division).
David Graham Russell RFD, QC. Brisbane solicitor and grazier: For service to the National Party of Australia and to politics, taxation law and legal education, and to the community (AM)
Susan Patricia Marriott, Wallington, Vic: For service to conservation and the environment through the Secretariat for International Landcare, particularly the development of programs dealing with climate change and rural land management. (AM).
Professor Ivan William Caple, Lara, Vic: For service to veterinary science and education through national consultative roles on animal welfare and through professional organisations. (AM).
Peter John Brooke, Hamilton, Qld: For service to the community as a pilot with the Royal Flying Doctor Service, Queensland. (Order of Australia Medal (OAM).
Brian Douglas Cooke, Waramanga, ACT: For service to conservation and the environment through biological management programs for rabbit population control. (Medal (OAM) in the general division (OAM)
Judith Ann McLean, Launceston, Tas: For service to the rural community of Tasmania (OAM.