Australian cattle exports to all destinations from January to April 2018 were 25 percent above year-ago levels, according to recently released shipment data.
Australia exported 311,521for the first four months of the year, including 210,852 feeder cattle, 72,640 slaughter cattle and 28,029 slaughter cattle.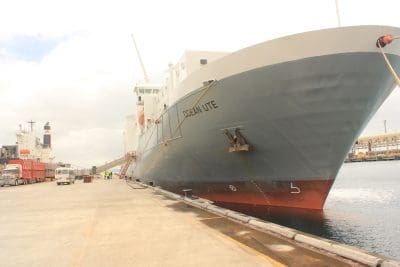 The biggest increases were recorded to Vietnam, which took 59,094 slaughter cattle from January to April, 45 percent above the same period of 2017; China which received 27,825 breeder and slaughter cattle, 26pc higher year on year; and Israel which took 12,820 feeder cattle, 31pc above the same period last year.
The overall rise masks an 8 percent downturn in shipments to Australia's largest cattle export market Indonesia.
Cattle exports to Indonesia in April amounted to 33,327 head, comprising 32,227 feeder cattle and 1050 breeders.
Australian cattle exports to Indonesia started the year with a defiant bang, overcoming the continued of impact lower priced Indian buffalo meat in the market to exceed year-on-year export volumes as importeds increased shipments to place cattle on feed in time for the Ramadan and Lebaran period from May 16 to June 14.
However the increase proved short lived, with calendar year volumes to Indonesia for the first four months of the year totalling 146,803 head, down by 8 percent compared to the first four months of 2017.
For the 2017-18 financial year, cattle exports to Indonesia are down by 14 percent to 499,740 head, comprising 484,476 feeder cattle and 15,264 breeder cattle.
At Beef 2018 Wellard executive director, operations, Fred Troncone said high Australian cattle prices had been great for producers over the past three years but had created difficult trading conditions for exporters and importers.
That has been reflected in total cattle export volumes from Australia during that time, which have fallen from 1.2 million in 2015 to 850,000 last year.
Mr Troncone said recent falls in the price of Australian export cattle were starting to add more balance back into the trading environment.
"At the moment, it is only just this month, we are starting to see some easing in the price of feeder steers to Indonesia, 10c, maybe 20c, that is just beginning to make the job to Indonesia viable again," he said.
It was interesting to note, he said, that after the big price rises since the last Beef expo in Rockhampton three years ago, the EYCI had returned to almost exactly the same level as three years before: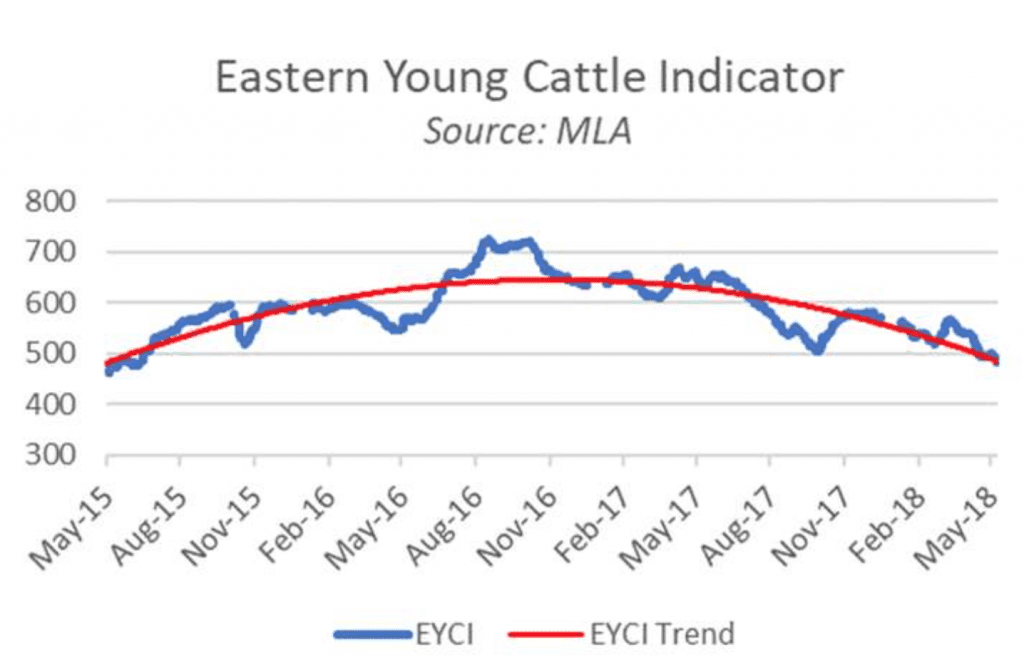 Protocol restrictions constraining China slaughter cattle growth
In the 10 months from July 2017 to April 2018, a total of 15,597 slaughter weight cattle were exported from Australia to China.
Mr Troncone said the trade has the demand and infrastructure capacity now in place to take much greater volumes, but protocol conditions continue to restrict its flow.
He said that almost immediately after a new protocol was signed opening the slaughter cattle trade from Australia and China, rising Australian cattle prices made the trade commercially unviable.
Prices are returning to 2015 levels, but protocol issues now stand as the biggest barrier to growth.
Mr Troncone said he recently visited some of the major Chinese cattle importers who have built new feedlots and abattoirs along the coast in China specifically to accept imported cattle from Australia.
"Great facilities, a lot of money is being spent, but what is holding them back at the moment is the protocol
"They have to import cattle and process them all within 14 days, and then they have to leave the facility empty for a month before they can import the next lot.
"So you can imagine every six weeks you are importing cattle for two weeks, you have to process them all in the first two weeks, and then do nothing for a month
"So commercially that is not ideal at the moment, and until the Chinese Government actually relaxes that rule or they start allowing imports under their feeder protocol, where you can hold cattle for 90 days, that business is not going to flow."