The Young Livestock Exporters Network is calling for applications for positions on the next LiveCorp Shipboard Stockperson Training Course, which will be the first to be held in Darwin.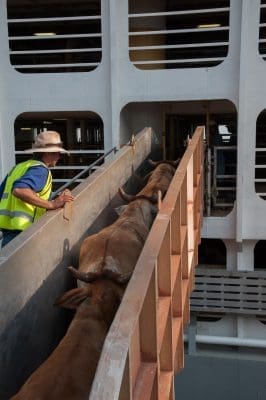 The positions are supported by Meat and Livestock Australia and the Foundation for Rural and Regional Renewal (FRRR) through funding from the Australian Government's Future Drought Fund.
The LiveCorp shipboard stockpersons' training course is part of the certification program for people responsible for the care of livestock exported by sea.
The program aims to produce stockpersons to service the livestock export industry in accordance with the Australian Standards for the Export of Livestock (ASEL).
The training course covers all aspects of shipboard care and management of livestock, including cattle, sheep and buffalo.
Topics include:
*   The role live export plays in times of drought & employment
*   Adapting to life and work on board
*   Low-stress livestock handling, restraint and treatment
*   Detection, diagnosis, treatment and prevention of livestock diseases
*   Feed budgeting, water and deck management
*   Humane livestock euthanasia
*   How to stay safe
*   Crisis management
Presenters:
*   David Petersen – Veterinarian
*   Byron O'Keefe – Livestock handler
*   Blythe Calnan – Livestock handling and welfare consultant
*   Richard Leitch – Head Stockman – Q&A
*   Amelia Nolan – Drought resilience
The course will be held over four days from the 23-26th of August 2022.
The course combines theory sessions in the classroom with practical sessions at export facilities on animal handling, restraint and treatment.
Evening sessions will be held on days 2 and 3 where the trainers will present slides and DVDs of on-board activities and export destinations, and answer questions.
For further details click here