Animal rights groups are pressuring banks to choke off capital to industries and practices they oppose, with livestock exports, intensive farming and mulesing among their key targets.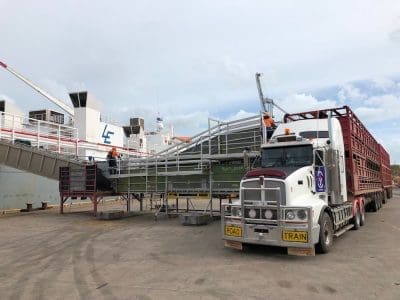 In March Animals Australia published a "scorecard" ranking banks on whether they have an animal welfare policy, if they finance live export or intensive farming and if they require businesses they finance to use pain relief on animals.
Animals Australia told Beef Central it has been engaging with the senior management of many of Australia's banks for the past two years, calling on them to publish transparent animal welfare policies which detail their approach and expectations relating to animal welfare within the businesses they finance.
"Where they do not have a policy, we have actively encouraged them to adopt one, to enable their customers and the community more broadly to better understand how they manage this issue of significant social concern within their client businesses," an Animals Australia spokesperson said.
Anecdotal reports have also emerged of major rural lenders refusing to do business with some customers directly involved in the livestock export sector.
Earlier this month Victoria's Weekly Times newspaper reported that a livestock exporter was told by NAB that any income he received from live export could not be included in a loan application, because of 'sensitivities' surrounding the trade.
One livestock exporter, who asked not to be named, told a similar story to Beef Central about having had a personal loan application denied in similar circumstances two weeks ago.
Another said his recent application for a simple business transaction account was rejected by several banks  before he found a bank prepared to accept his business.
The trend has prompted anger among industry representatives who have accused banks of stepping beyond their remit to appease agenda driven groups, and contributing to the business model of activism (see separate story).
Beef Central asked major rural lenders to outline their position in relation to lending to the livestock export sector.
In their responses none said they would not finance or deal with individuals or businesses in the livestock export sector.
However, they all also emphasised their adherence to Environmental, Social and Governance (ESG) assessment processes and their expectation that customers comply with animal welfare standards and regulations.
Animals Australia said that following its engagement with banks, a number had published statements outlining their approach to animal welfare,  including Bendigo and Adelaide Bank, Bank of Queensland and HSBC Australia.
"All of the banks we have engaged with have confirmed that animal welfare is an issue they take seriously within their due diligence processes, lending standards and expectations of their clients," a spokesperson said.
"To its credit National Australia Bank, the nation's largest agribusiness lender, was sufficiently concerned about animal welfare as both a financial risk and an issue of community and business concern that it developed and published its Animal Welfare Principles document in November last year.
"Out of interest, you may be aware that Rabobank is a significant domestic agribusiness financier and they have had a detailed global animal welfare policy in place for many years."
The only bank to meet all Animals Australia criteria for animal welfare was Bank Australia formerly the CSIRO Cooperative Credit Society, a customer owned banking cooperative with 20 branches around Australia.
"The live export industry constantly insists that it takes animal welfare seriously so should have no concerns about providing the assurances and transparency required by the institutions that lend to them," the Animals Australia spokesperson said.
They said research conducted for the Federal Department of Agriculture by Future Eye in 2018 found there was a gap between societal expectations and the regulatory reality surrounding the treatment of animals in Australia, and significant community concern about the treatment of farmed animals and current levels of regulation. It said the report showed that not responding to evolving societal expectations was "a key threat to these industries".
Asked if it is within consumer and competition law for banks not to provide services to individuals or businesses working in an industry that may be the focus of some public sensitivity but which operates legitimately, an ACCC spokesperson said the commission was unable to comment on specific businesses.
However, in most cases, businesses had the right to decide who they do business with.
Statements received from each bank on their approach to lending to the live sector are:
NAB
"As Australia's leading agribusiness bank, we understand the agricultural industry is a fundamental part of Australia's economy and note that Australia is the world's largest exporter of livestock.
We continue to support customers in this agribusiness sub-sector.
NAB's commitment to lending and supporting growth in the Agribusiness sector has not changed. The Animal Welfare Principles we announced on 15 November 2019 are a continuation of our efforts to support our customers as they continue to improve the welfare standards of their agribusinesses. We are working with our customers to help them understand the principles, and ensure their practices meet the relevant legislative, regulatory and industry standard requirements."
Westpac
"We value customers that operate in ways that avoid or minimise environmental and social impacts; support the adoption of better management practices and technologies – particularly animal welfare, land and soil management, labour and community rights, biodiversity protection, emissions management and water use – and active participation in industry initiatives and roundtables which focus on improvement of environmental and social performance.
We seek to develop relationships with customers that… Treat livestock with due care, in compliance with relevant jurisdictional animal welfare regulations and in line with industry best practices."
CBA:
"We adhere to an Environmental, Social and Governance (ESG) assessment process, that considers environmental and social impacts of all institutional and large business loans. This is a key step in our due diligence process.
"We also expect our business customers and suppliers to adhere to the minimum standards outlined in our Environmental & Social Framework.
"Our Regional Banking teams regularly engage with a number of community and industry stakeholders, across a variety of industries,  as part of our continued commitment to environmental and social risk management."
Rabobank:
"Rabobank's lending policies are unchanged.
Australia has among the strictest regulations for animal welfare standards in the world. These have been determined between government, regulators and industry.
Rabobank expects those standards to be maintained or exceeded by our clients and their service providers on all forms of animal transportation.
Animal welfare in farming and the agricultural supply chain is a key element of Rabobank's sustainability focus in Australia and globally.
As part of a major global agribusiness specialist, the bank has client relationships with companies which have involvement in the live export trade, as well as producers who supply this market."