Amid further headlines of reported animal mistreatment on a livestock export voyage, this time involving Australian cattle on a vessel to Israel, Australia's peak cattle industry council has called for perspective to be maintained.
Vision of cattle matted with feed, sawdust and manure while being unloaded at the port of Eilat in Israel triggered a new round of media headlines criticising the livestock export trade last week.
A spokeswoman for the animal activist group that distributed the footage, Israel Against Live Shipments, said the images showed cattle had been mistreated and justified the trade's closure.
However both the Federal Department of Agriculture and Water Resrouces and the Cattle Council of Australia say the broadcast vision was not reflective the conditions the cattle had experienced throughout the journey.
Cattle Council said it had been in consultation with industry and DAWR to determine the cause of the matting shown on the cattle in the footage.
Cattle Council said it had determined that the matting was caused a direct result of the animals utilising water troughs, resulting in damp faces which had then picked up sawdust, feed products and manure.
CCA said DAWR had advised that wash down of cattle had been occurring every two days prior to the vessels arrival in Israel.
However, due to environmental constraints, wash downs could not occur while vessels are in port.
Cattle Council said the animals appeared to be good condition, with no strong indication that their welfare was at risk.
It said the below picture was taken after the cattle had unloaded in Israel: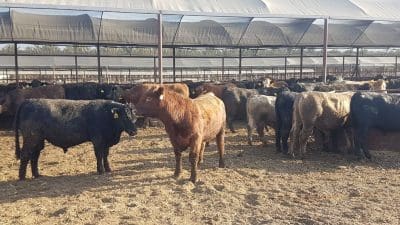 "Positive animal welfare outcomes were good for the animals, producers, and communities," Cattle Council Chief Executive Officer Margo Andrae said.
"That's why as an industry we aim to achieve best practice welfare for our livestock."
She said the Department had confirmed the following details:
Evidence provided to the department for this 22–day voyage was positive in regards to the animals' health and welfare.
There was an independent observer on board the voyage-an experienced qualified veterinarian who provided the department with daily updates.
The Israeli veterinarians were reported to be very happy with condition of livestock on arrival.
The footage does not reflect the conditions of the cattle throughout the journey.
Ms Andrea said Cattle Council will continue to work with the government and supply chain participants to ensure we continue to meet the standards set out by industry and the regulator.
Source: Cattle Council of Australia